How P2E Is Threatening To Disrupt The Traditional Gaming Industry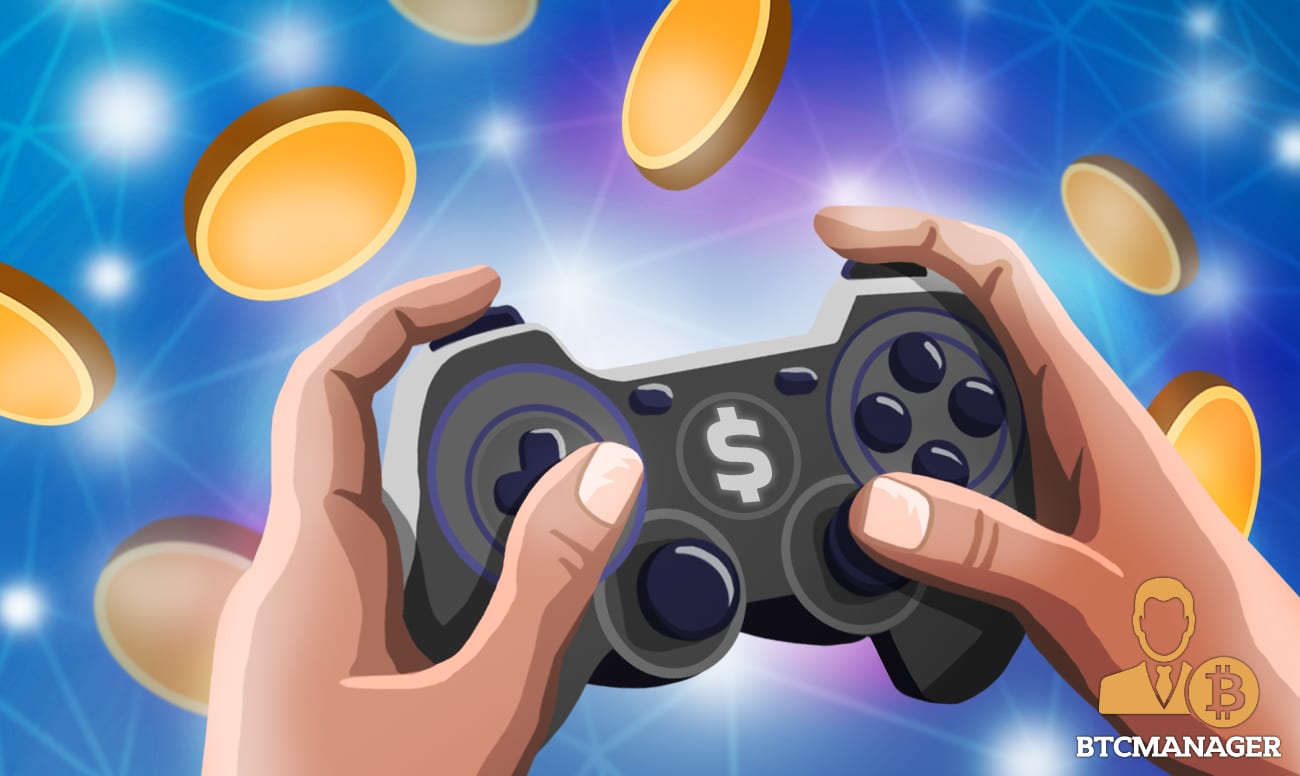 The world of cryptocurrency offers multiple ways for believers to make money. Whether it's buying and simply "hodling" specific tokens in the hope they'll go to the moon, creating and trading NFTs, or the more elaborate world of DeFi, which enables staking and yield farming, there are numerous avenues through which it's possible to become rich, or at least earn a decent bit of pocket money. 
The rise of play-to-earn gaming however presents what may well be the most exciting opportunity so far – people can now earn crypto rewards that they can sell for real-world money, simply by playing blockchain games. It's a reality that has seen the popularity of P2E games soar, with 52% of active cryptocurrency wallets now linked to some kind of game, according to a January report by DappRadar. 
What Are Play-to-Earn Games?
P2E games, also known as crypto games, NFT games or blockchain games, are video games that allow players to earn cryptocurrency or NFTs simply by playing and completing challenges. The in-game currency and NFT-based items they earn can then be traded for Bitcoin, Ethereum or another cryptocurrency on decentralized exchanges. 
The ability to earn assets that can be traded for real world money is a massive incentive for players and explains why P2E gaming has grown so fast. These games fall under the "GameFi" umbrella, which refers to the marriage of gaming and decentralized finance, or DeFi. 
The best known P2E games are Spinterlands and Axie Infinity. They're both similar to Pokémon, and involve players collecting and nurturing NFT-based cards or characters and pitting them against other player's cards. The winner earns coins that can be used to unlock upgrades, making their in-game characters more likely to win future battles. Those coins can also be sold, making it possible for some players to earn a living simply from playing the game successfully. It's also possible to breed new NFTs in these games.
Splinterlands is the most popular P2E game of all with more than 360,000 daily active users according to DappRadar. However, Axie Infinity comes out top in terms of total value locked, with over $1 billion worth of assets locked in smart contracts associated with the game. 
How Much Can People Earn From P2E Games?
Video game enthusiasts will no doubt be wondering if they can earn enough from P2E to pay their rent and bills, buy food and clothes and perhaps, even quit their day job. As unbelievable as it sounds, it's not impossible, though it depends on where they live and how much money they need to live on. 
P2E games have become huge hits in markets such as the Philippines and Venezuela for very good reason. In those countries, it's possible to get by on a lot less. Add to that, most jobs' salaries are much lower than in the West too, hence P2E has become a viable option for many gamers. 
Dominic Lumabi told The Bangkok Post that he plays Axie Infinity for around two hours a day and earns between 8,000 to 10,000 pesos ($380 to $475 per month) for his endeavors. That's almost half what he earns from his day job working as a content moderator for nine hours a day. 
Lumabi, who started playing Axie Infinity after losing his job at an advertising agency and a failed venture into selling products online, told the Post he initially thought it was some kind of Ponzi scheme. However, he quickly found out that there's real money to be made. 
"As long as I can earn 100 pesos or a thousand a month, my perspective is it is still a profit," he said. "It's another source of income." 
For those who put in more hours the rewards become even more lucrative. RK Secretario told Rest of World in a September interview that he calculated his earnings from Axie Infinity at $18,000 a year. Data from International Living suggests that the average annual cost of living in the Philippines comes to $13,512, meaning Secretario earns more than enough to live on from his gaming efforts. That might explain why almost half of all Axie Infinity players live in the Philippines and in Venezuela. 
How To Get Started With P2E? 
This is where many budding P2E gamers come a cropper. To get started playing any P2E game, it's necessary to set up the right crypto wallet, buy the relevant tokens and then purchase the required NFT to get started playing the game. Problem is, in any game where it's possible to earn an actual living, the costs of getting started quickly become very expensive. 
The supply of NFTs is limited, and they're in big demand, especially the more valuable ones. Last year for example, a single Axie Infinity NFT sold for over a million dollars. 
So how do people in the Philippines and Venezuela get started? For many, the simplest route is to become a "scholar" at one of the major P2E gaming guilds, where they receive training on how to play the games before loaning an NFT that's required to play the games.
Guilds are groups – many of which are decentralized autonomous organizations, or DAOs – that have earned or acquired multiple NFTs with the intention of loaning them to other players. One of the best known guilds is Yield Guild Games, which offers players a split on all rewards they earn, in return for borrowing one of its NFTs. Those profits are then re-invested to buy more NFTs, so the guild can support yet more scholars. YGG also invests some of its profits into making educational content and training programs for its scholars, intending to make them better, and more profitable players. 
"We provide the players with the assets that they need to generate income for themselves," Luis Buenaventura, who runs Yield Guild Games in the Philippines, told the Bangkok Post. "In exchange for that, we ask for 10% of their earnings".
Some P2E games have built-in mechanisms to help new players overcome the high barrier to entry. Take DOGAMI, which is a P2E "petaverse" pet simulator where players have to raise and train their puppies, pursue a career in adulthood and even take care of them in the afterlife. 
DOGAMI has a unique feature known as DOGAMI Day Care, which provides a way for new players who don't have enough financial resources, to get started playing. At the DOGAMI Day Care, they can find an NFT to rent from other players (who may have created new DOGAMI by breeding their existing NFTs). Players who rent DOGAMI will naturally have to split some of their rewards with the NFT's owner. DOGAMI also offers the DOGAMI Academy, where players can even rent adult DOGAMI and share rewards in a 50/50 split. 
Are P2E Games Here To Stay?
Perhaps the strongest sign of how much promise the P2E industry holds is the amount of money pouring into the space. One of the highest profile rounds which took place earlier this month saw the Australian NFT startup Immutable raise a cool $200 million to expand its operations into other countries. Immutable is the creator of two extremely popular P2E titles – Gods Unchained, which has $6.86 million in assets locked in smart contracts, and Guild of Guardians, with more than $6.2 million in total value locked, according to DappRadar.
Also this month, the blockchain gaming platform Banger Games raised €10 million in funding from a ton of big names in the crypto capital space, including Avalanche, Shima Capital, GSR, Flori Ventures, Poolz Ventures, G20, LucidBlue Ventures and Belobaba fund, to name just a few. Banger Games purposely imposed limitations on its funding round to ensure no single backer can has too much influence over the project. Yet the wide range of backers clearly illustrates just how much interest there is in the P2E space. 
Banger Games is a hot prospect, with its gaming hub allowing it to turn any game into a P2E game. In fact, even traditional, non-blockchain games can use the Banger Games platform to integrate P2E functionality. The company could well be onto something there. Last week, one of the world's biggest cryptocurrency exchanges, FTX, announced a similar crypto gaming platform that's described as a "crypto-as-a-service" offering. It's designed to help game developers include P2E features within their titles. FTX said it's looking to partner with developers of well known titles in the video game industry, and that it may provide some updates on this during the Game Developers Conference in San Francisco later this month. 
"Our primary focus is providing Web3 [decentralized web] support for gaming companies," said Steve Sadin, chief of FTX's new crypto gaming platform. "Whether you are a one-person indie or a global developer/publisher with tens of thousands of employees, we want to enable you to safely and easily build and operate fully compliant crypto games that will be enjoyed for decades."
We can expect to see big demand for platforms such as Banger Games and FTX as more people look to get involved in the growing P2E space. As more gamers hear about the possibility to earn money from playing, no doubt there will be many who fancy their chances of succeeding. And you can bet there will also be greater demand for more varied games. 
One of the criticisms of P2E at present is that some of the biggest games are not all that exciting. For all its success, Axie Infinity is a good example of this, with many players inferring that the gameplay is not all that enjoyable and that it's primarily the earnings potential that keeps them playing. That leaves plenty of opportunity for newer P2E games that are more focused on creating a compelling and enjoyable gaming experience while earning rewards. 
Battle Drones is one such game that's aiming to capture the attention of traditional gamers outside of the crypto space. It's focused on creating an immersive and enjoyable shooter game experience – a tried and tested game genre – complete with a competitive ranking system and daily rewards for players. Its real-time multiplayer combat environment promises some unique gameplay scenarios that will allow for multiple playing styles and the chance for players to beat their opponents through skill alone. It will mean fewer opportunities to win for richer players. That addresses another complaint of Axie Infinity and Splinterlands, which is that those who possess greater resources to invest in items and power ups are far more likely to win battles. 
While no one can tell how big the P2E gaming space will eventually become, what is clear is that it is still in its early days of growth. Developments in the video game industry take time, though we can already see that as more and more people start playing games to earn money, the number of projects too, is also growing.
Ultimately, the promise of P2E is far superior to that of the traditional concept of "pay-to-play", where players must purchase items in order to compete. It means gamers spend lots of money, with nothing to show for their efforts once they eventually get bored of a game. With P2E, gamers earn real world benefits for doing what they love, and they get to keep them. And the growth stats show they love doing it. As interest rises, so do the possible rewards. So it's only natural to expect that we'll see a lot more P2E titles emerge – both with superior gameplay and more sophisticated ways of making money. 
The fusion of NFTs and DeFi into gaming applications threatens to massively disrupt the traditional gaming market. Incentive is a powerful thing and it explains why the popularity of P2E games has exploded, both in terms of upcoming titles and new users. So much so, that it's not too much of a stretch of the imagination to think that one day soon, GameFi could capture a significant chunk of the overall gaming market.