Pay with crypto company, YES WORLD, doubles transaction count to two million in two months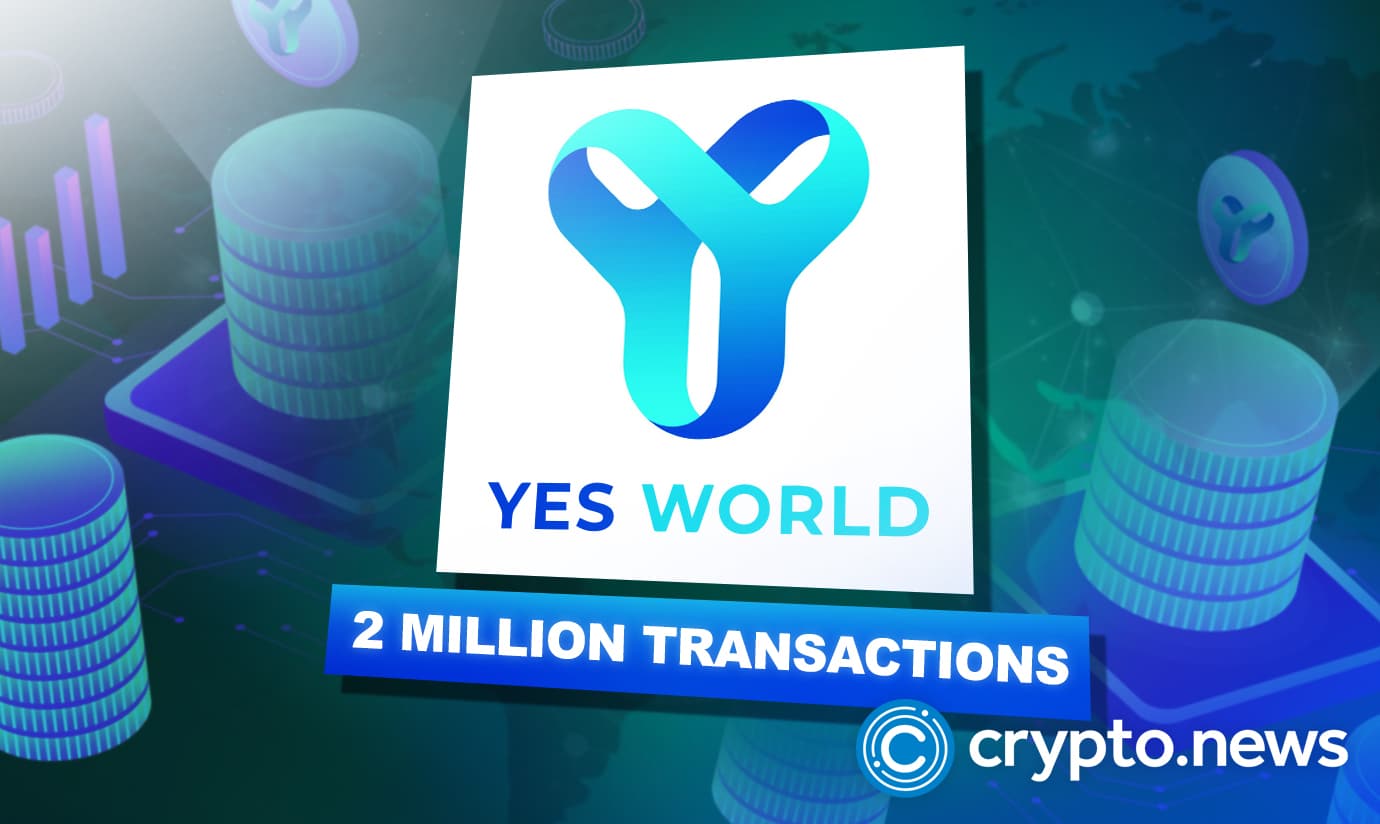 Singapore: YES WORLD Climate Tech Pte Ltd, a blockchain-based climate technology company, has reached a significant milestone. Its native token, YES, has posted over two million transactions.
Launched in the spring of 2022, the on-chain explorer, BSCScan, shows that the YES WORLD token is getting traction and adoption amongst crypto enthusiasts. YES WORLD is a utility token, useful across several verticals, including gaming, travel, NFT marketplace, health & fitness, and financial services. YES also has wide acceptance in e-commerce and brick-and-mortar stores.
YES WORLD launched a global utility services portal last month. It is currently available in over 80 countries. The spike in transaction count indicates that users have chosen to use YES to make purchases besides holding for capital gains.
Based on CoinMarketCap statistics, YES WORLD has already generated three-digit returns for early adopters. These believers continue to hold the token in their portfolios.
The YES WORLD token offers various services for its subscribers through internet portals and brick-and-mortar establishments. Users can pay with YES WORLD tokens at physical stores by scanning the bar code presented at the checkout on the POS Terminal device.
Presently, the team is working to integrate and onboard leading e-commerce players for holders to make online purchases using YES. Additionally, YES WORLD plans to onboard 10 million merchants worldwide by the global launch event scheduled in April 2024.
YES WORLD Token has been listed and is trading at several leading centralized exchanges, including XT.com and Coinsbit.io. The token is also available on PancakeSwap, a decentralized exchange on the Binance Smart Chain (BSC). YES WORLD plans to list on over 50 leading crypto exchanges before its global launch.
YES WORLD Climate Tech Pte Ltd, headquartered in Singapore, operates the YES WORLD Token. It is a climate tech blockchain-based company that works on green technology to reduce carbon footprint.
YES is the native token for YES WORLD's Save Earth mission and utility ecosystem. It is conceptualized to generate awareness around the global warming challenges to bring to critical mass to join the mission and take steps to reduce carbon footprints from the atmosphere.
Last week, YES WORLD launched a physical product range of specialized glass for windows and the facade. The technical glass solution called the Energy Efficient Window Solution has a layer of patented material that reflects 85% solar radiant heat. It also blocks 92% of UV rays. The energy-efficient glass is a see-through windows solution that blocks most solar heat and significantly reduces energy consumption in terms of HVAC load.
YES WORLD is conceptualized and promoted by Save Earth activist, Dr. Sandeep Choudhary. He has constantly been working to generate awareness of global warming and climate change impacts. Under Dr. Choudhary's vision and leadership, YES WORLD has championed a noble cause of reducing carbon footprint and bringing forward global warming and climate change issues.
Important links
Twitter: https://twitter.com/yesworld24
CMC: https://coinmarketcap.com/currencies/yes-world-token/
Website: www.yesworld.io
Disclosure: This content is provided by a third party. crypto.news does not endorse any product mentioned on this page. Users must do their own research before taking any actions related to the company.