PlanetQuest Partner with Immutable X to Power a Cinematic NFT-fusing Gaming Universe Created by Hollywood Veterans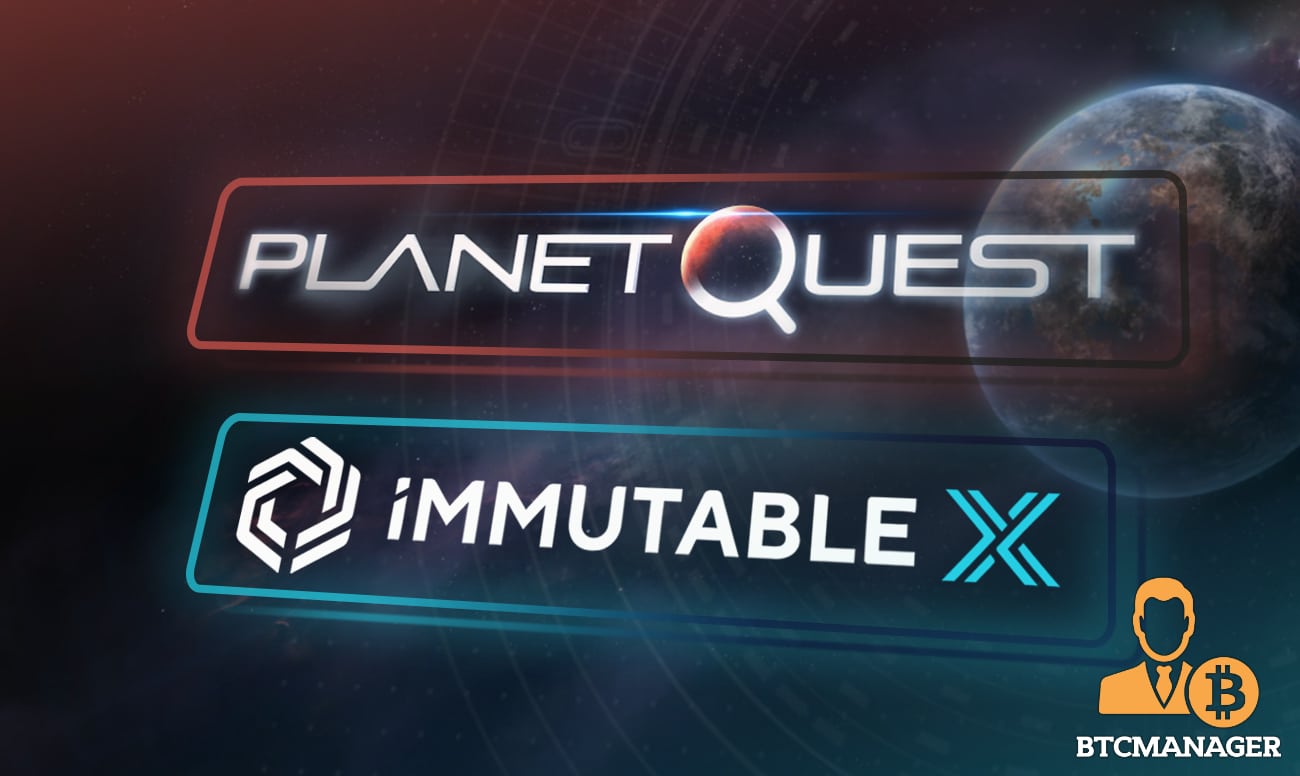 PlanetQuest, a cinematic gaming universe out of stealth mode after a year of development, is now partnering with Immutable X as per a press release on December 15.
PlanetQuest Partner with Immutable X
According to the team, the deal's goal is to eventually enhance user experience, saving them from the outrageously high Gas fees in Ethereum while concurrently helping preserve the environment by tapping on Immutable X's infrastructure. 
Immutable X is the first and leading layer-2 scaling solution in Ethereum, purposely created to relieve the burgeoning NFT market. It was created by Immutable in collaboration with StarkWare, heading Vitalik Buterin's calls. Recently, Vitalik tweaked the network's roadmap to immediately prioritize scaling to dump high Gas fees and make Ethereum even more attractive for developers.
Using the scaling option, the usually high Gas fees charged on minting NFTs, flexible depending on the complexity of the underpinning smart contract, will go down to near zero. Besides, since globally distributed mining pools power Ethereum, relieving the base layer through a reliable and secure layer-2 directly translates to a greener environment with less carbon emission.
Claudiu Barsan, the Technology Director of PlanetQuest, said part of their plan to collaborate with Immutable X was to push the limits. Overall, they wanted to see the total number of digital assets that players can truly own:
"We knew that with PlanetQuest, we wanted to push the limits of how many of the assets in our game could exist on the blockchain and truly be owned by players. Few technologies available today can offer the kind of transaction volume Immutable X can handle, and none do so with its level of security and ease of use. This is why we're thrilled to team up with Immutable X and reveal PlanetQuest to the world together."
PlanetQuest is Community Facing; Gamers can Shape its Storyline
With the PlanetQuest game already out of development, players can create accounts, choose their choice factions, and join the rapidly growing PlanetQuest community. At the same time, gamers will also unlock NFT rewards, access developer updates, and even directly shape the game's storyline. 
This leeway is mainly because of the game developers' inclination to be community-facing, allowing the community to own and shape the game through NFTs. This equilibrium is because PlanetQuest is built by Hollywood veterans behind Marvel and Star Wars Cinematic Universes. They are firm believers of the future of the metaverse. Accordingly, PlanetQuest is the first decentralized game, expanding on the play-to-earn model. Its storyline is shaped by the community of the game's tokens. From the cinematic gaming universe, gamers can, for the first time, now own planets as NFTs, manage and even upgrade them. 
This flexibility and a deeper level of interaction would only be possible because of the technological capabilities represented by Immutable X—which has a high throughput of up to 9,000 TPS. To Robbie Ferguson, the co-founder of the NFT-focused layer-2 solution, their platform is the most advanced and comes in handy to realize PlanetQuest's objectives.
"PlanetQuest's premise of being able to own, explore and survive on vast unknown planets in a rich sci-fi universe, built by Hollywood talent, is something gamers have been dreaming of for ages. We're excited to see game pioneers like PlanetQuest choosing Immutable X, the most advanced NFT scaling technology, to help them realize their vision of crypto gaming at a massive scale."