Polkadot (DOT) Parachain Auctions to Kick Off on November 11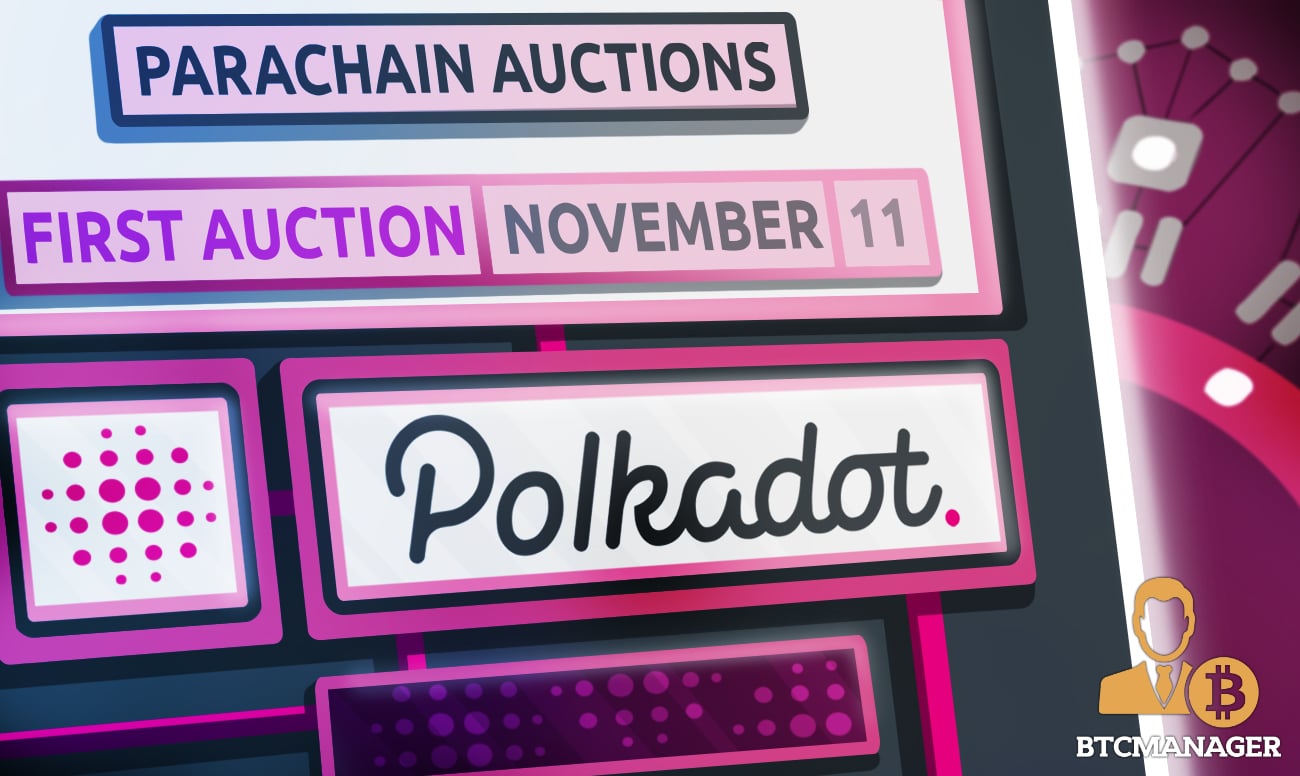 The Polkadot (DOT) governance forum has approved a proposal on October 13, 2021,  to conduct the first parachain auctions on the network starting from November 11, 2021. The auctions will come in two batches, the first will consist of five auctions lasting seven days each, while the second will handle six auctions.
Polkadot Parachain Auctions Finally Here 
Building upon the hugely successful parachain auctions on its canary network, Kusama (KSM), the Polkadot team is set to conduct the first set of auctions on the protocol, to give interested blockchain projects a chance to launch on Polkadot.
Per a proposal executed by the Polkadot Assembly, the project's governance council, the auctions will be scheduled on a three to six-month basis, with the first set of parachain auctions kicking off on November 11. 
The team says the auction will come in two batches. The first batch will allow a maximum of five projects to compete for slots on the network while the second batch will consist of six auctions starting on December 23, 2021. The first projects to win a parachain auction will be onboarded to the Polkadot network on December 15, 2021.
"Based on the performance of parachains on Kusama and the state of audits, the Parity engineering team believes that the code for aparachains, auctions, and crowdloans is ready for an initial production release," reads the proposal.
Ensuring Stability
In a bid to ensure the smooth running of Polkadot auctions and avoid the bugs and network glitches witnessed during the Kusama parachain launch, the team has made it clear that the number of parachain slots on Polkadot will be limited to 75 percent of what's obtainable on Kusama.
"In order to ensure stability guarantees, I suggest along with this proposal that the Council and network governance limit the number of parachain slos to 75 percent. Of that on Kusama. This initial schedule will last until early March; as the network grows, the Council can suggest an updated auction cadence to stay within a reasonable factor of safety relative to the number of parachains on Kusama," the team added.
So far, more than 10 projects have secured parachain slots on Kusama, including Karura (KAR), Bifrost, Kilt, Parallel Heiko, and Altair (AIR), amongst others, with more than 2.4 million KSM tokens contributed by over 49k unique addresses to the crowdloans of these projects.
The Polkadot parachain auctions will be powered by the network's native DOT token, which is trading around $41.28 at press time, with a market cap of $40.77 billion, as seen on CoinMarketCap.