Poloniex Exchange Unveils New Trading System for Better User Experience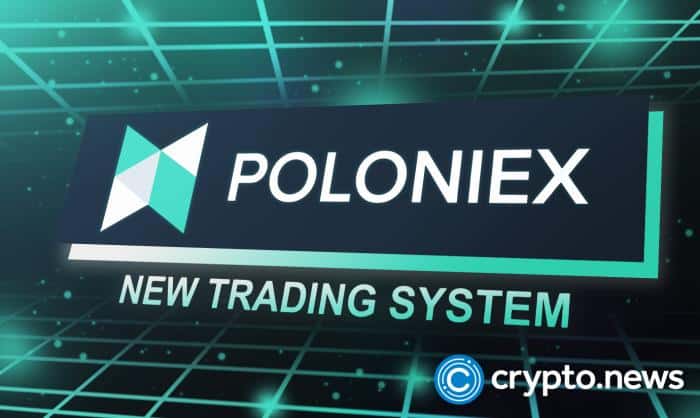 Poloniex crypto exchange has announced the launch of its new trading engine designed to offer its retail and institutional traders faster trade execution speed, stability, and better trading experience on both its web and mobile app interfaces. 
Poloniex Launches Next-Gen Trading System
Poloniex, the 39th-largest cryptocurrency exchange and bitcoin (BTC) trading venue in the world, has announced the launch of its cutting-edge, next-generation order matching engine designed to offer both its retail and institutional customers faster order execution speeds and better trading experience. 
Per a press release shared with crypto.news, the new trading system is already making a huge impact on Poloniex, as the exchange's order matching speed and transactions per second has increased by at least 30x and 10x, respectively, while latency has decreased by more than 5x, with further significant improvements expected going forward.
What's more, Poloniex says it has also revamped its Application Programming Interface (API) for faster performance, better liquidity, user-friendliness, and more comprehensive features.
Some of the notable features in the new trading system include the market order, the stop-market order, and an enhanced candlestick chart to enable both amateur and professional traders to better analyze the markets.
The Next Level
At a time when hacks and heists have become quite synonymous with the cryptocurrency ecosystem, Poloniex exchange has maintained a decent level of security and stability. The team firmly believes that the launch of the new trading system will further cement Poloniex's status as a leading crypto trading venue and give it an edge over its competitors.
Commenting on the launch of the trading system, H.E. Justin Sun, Tron founder and Poloniex investor said:
The launch of this new trading system is a landmark step forward for Poloniex as a world-class international exchange. It demonstrates our commitment to delivering benefits and the best services for our users. As one of the world's oldest crypto exchanges, Poloniex has made impressive strides in optimizing its system and will continue to bring an incredible trading experience to retail and professional traders.
The team has hinted that the new trading system brings improved fault tolerance to Poloniex through a microservices architecture that makes it impossible for all the modules of the exchange's engine to crash at the same time.
With the support of clustered deployment, shard databases, and auto-scaling, the new system can scale swiftly with no downtime required during upgrades. This means that the system has significantly improved its capacity to handle traffic spikes without compromising the stability of the service and users' trading experience.
The new trading engine lays a solid foundation for Poloniex to further develop its other products including margin trading, lending, and staking.
Founded in 2014, Poloniex offers its users in more than 100 countries spot and futures trading, plus leveraged tokens. The platform supports various languages including English, Turkish and Vietnamese. In 2019, the exchange received funding from H.E. Justin Sun, the creator of Tron, and other investors.