The Hottest Prediction Protocols for DeFi Summer 2021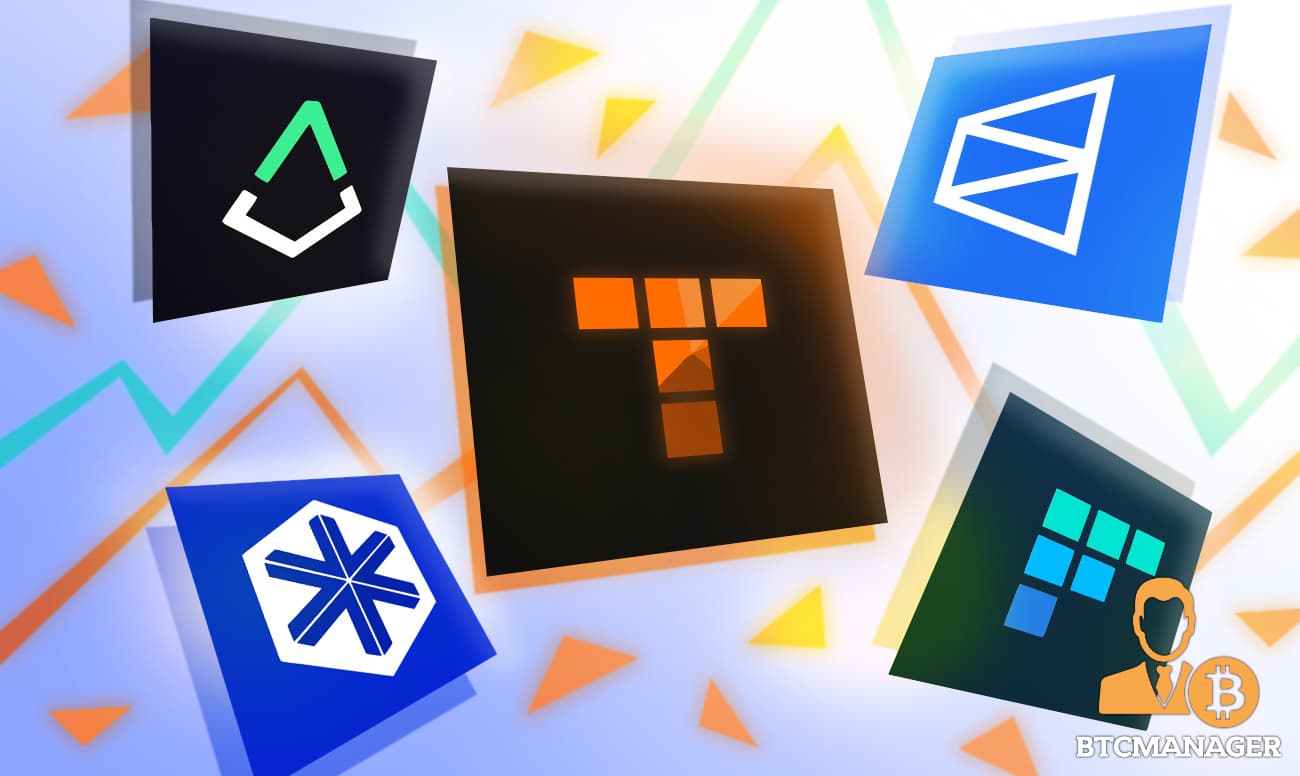 Whether it be sports results, election outcomes or future asset prices, the ability to accurately predict the future has captivated market participants since the inception of markets themselves. As the future of finance takes on a new, decentralized form, it's no wonder that crypto prediction markets have been booming in popularity over the past years, with new and exciting players entering the game.
What is a prediction market?
Prediction markets allow users to monetise their ability to accurately forecast future events, trading contracts which pay out based on the results of these unknown events. Unlike public markets such as stocks or bonds, where bets are placed indirectly via the effects these outcomes are expected to have on asset prices, prediction markets enable users to bet directly on a piece of information that they believe is valuable. 
I.e., as opposed to participants betting on the outcome of an election by predicting which stock will rise and fall according to the outcome, prediction market users have access to predicting the direct outcome itself rather than an indirect result of the outcome. 
Prediction markets are oftentimes more accurate than general polls or bookmakers' odds, because every entity trading on the market conducts their own research to make an informed speculation. 
Crypto prediction markets
As the crypto space continues its disruptive emergence into the financial and societal mainstream, the blockchain technology which underpins it provides a new dimension to the prediction market space. 
Crypto prediction markets are decentralized finance (DeFi) protocols which allow anyone, regardless of arbitrary factors such as status, location or nationality, to trade the outcome of events. This is facilitated through the use of smart contracts, which execute autonomously and without the input from centralised authorities as soon as certain conditions are met.
In this article, we'll take a look into some of the hottest up and coming DeFi prediction markets, to provide readers with some further information about the products which are available to them.
1.  Augur
Augur is a decentralized prediction market founded on Ethereum's ERC-20 protocol. With development having initially commenced in 2014 , Augur is a pioneering protocol within the crypto prediction market space, which aims to "democratize" finance. In July 2018, the first version of Augur was released to the public.
Key Platform Features:
– User-generated markets. With traditional prediction markets, everyone participates in trading shares of a prediction. With Augur, any user can create a market for any real-world event for a small fee. The creator sets the price of the event between 0% and 50% and earns from trading fees.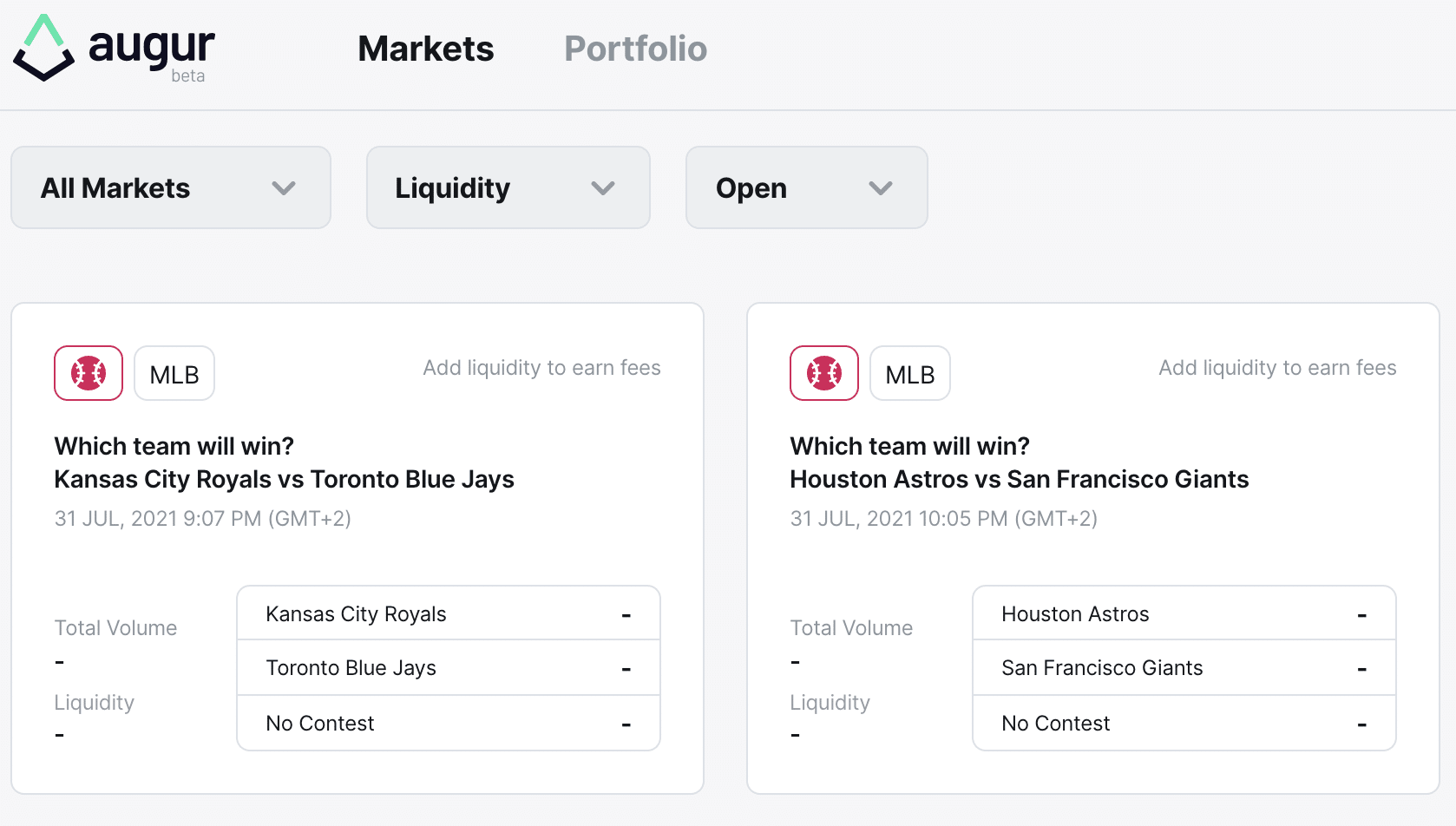 – Low Fees. Unlike centralized prediction markets, trading fees on Augur are very small (<1%). The reporting tokens (REP) also have a limited supply of 11 million, with 80% sold during the 2017 initial coin offering (ICO).
– Plans for expansion. After a successful ICO launch in 2018 raising over $5 million, Augur remains the leading crypto prediction market. In July 2020, Augur launched its V2 on the mainnet supporting the DAI stablecoin effectively solving issues surrounding volatility.
2.  TotemFi
TotemFi is a staking-based prediction markets platform, which shows a lot of potential as an up-and-coming disrupter in the space. Their platform is set to go live on Mainnet in August 2021 – definitely one to keep an eye out for! 
Key Platform Features: 
– Non-punitive predictions. They pride themselves on offering "non-punitive predictions", meaning that users incur no loss of their initial stake if their prediction turns out to be inaccurate. 
They're the only platform on the market which offers this feature, hence their inclusion on this list, and it looks set to change the way people go about predicting asset classes and events; by incurring on loss for inaccuracies, it offers users greater incentive to stake into the platform and make predictions, promoting greater adoption and encouraging users to have a say in what they believe the outcome of events will be. 
– BTC rewards. Alongside the native TOTM token, TotemFi's platform provides BTC rewards for correct predictions, helping to protect against native token inflation. Once again, they're the only platform on the market to offer this feature, which helps drive real-value creation for their users.
– Collaborative rewards. TotemFi harnesses the "Wisdom of the Crowd" concept and takes its ethos truly to heart; they will offer collaborative rewards if the weighted average of the prediction pool comes close to accurately predicting the outcome of the event which it centres around. This fosters a truly synergetic attitude towards making predictions, and brings the crypto community together accordingly.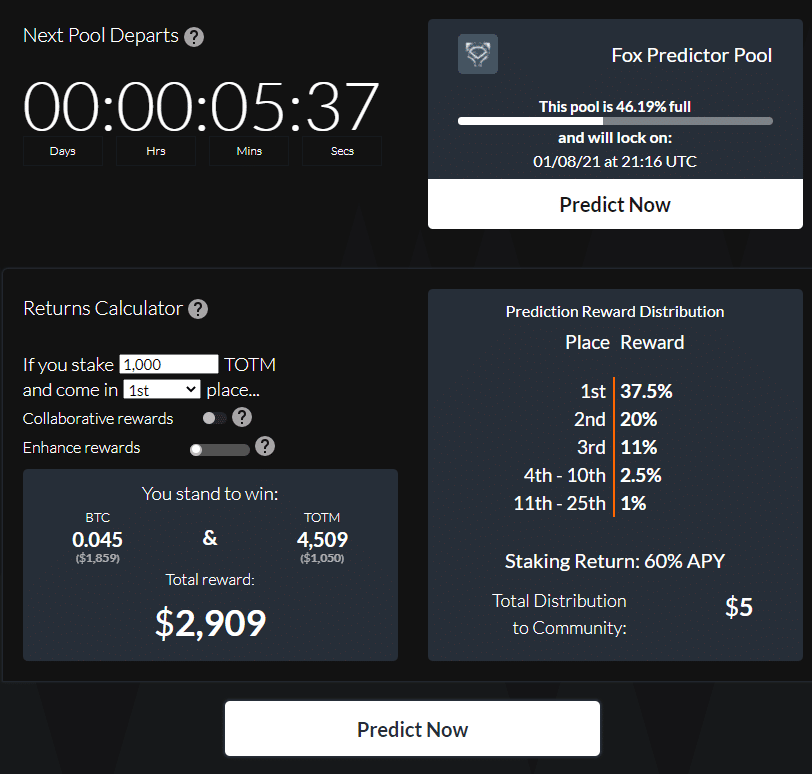 3.  finance.vote
finance.vote is creating a suite of dApps which will equip DAOs with the governance infrastructure they need to launch sustainable token economies. 
finance.vote facilitates and fast-tracks the path to decentralisation, allowing projects to focus on their use-cases and core business lines, safe in the knowledge that their governance architecture has been taken care of. 
Through the finance.vote dApp suite, projects are able to offer investors fair token launches, trustless vesting schedules, decentralised liquidity mining, incentivisation to participate in governance decisions, and actionable market insights and trading signals. 
One of these dApps, markets.vote, is a prediction market and collective intelligence tool, which uses quadratic voting and a decentralised identity system to curate emerging markets and reach consensus on the perceived future performance of assets.
Key Platform Features: 
– Quadratic voting. Quadratic Voting is a method of collective decision-making in which a participant votes not just for or against an issue, but also expresses how strongly they feel about it. It can help protect the interests of small groups of voters that care deeply about particular issues.
– Gamification. With markets.vote users can participate in weekly tournaments voting on assets from across the cryptospace. Win a share of the weekly reward pool and gain voting power for the next tournament.
– Actionable market insights & alpha generation. markets.vote is the centrepiece of the finance.vote ecosystem. It allows users to break through the noise of permissionless systems and concentrate on the assets most worthy of their attention.

finance.vote's disruptive and revolutionary ethos is what has led them to being included on this list; they recognise that online social coordination is the key to a truly decentralised future, and are creating innovative governance solutions to facilitate this. By participating in markets.vote, users are becoming part of something bigger, and are contributing to the future of DAOs and web3.0.
4.  OptionRoom
OptionRoom is a fully decentralised forecasting protocol, which allows users to speculate on the outcomes of real-world events. 
Key Platform Features: 
– Limitless prediction markets. OptionRoom are the only forecast protocol on the market which offers a limitless amount of markets to their users, lowering barriers to entry and facilitating access for their users across the entire prediction market landscape.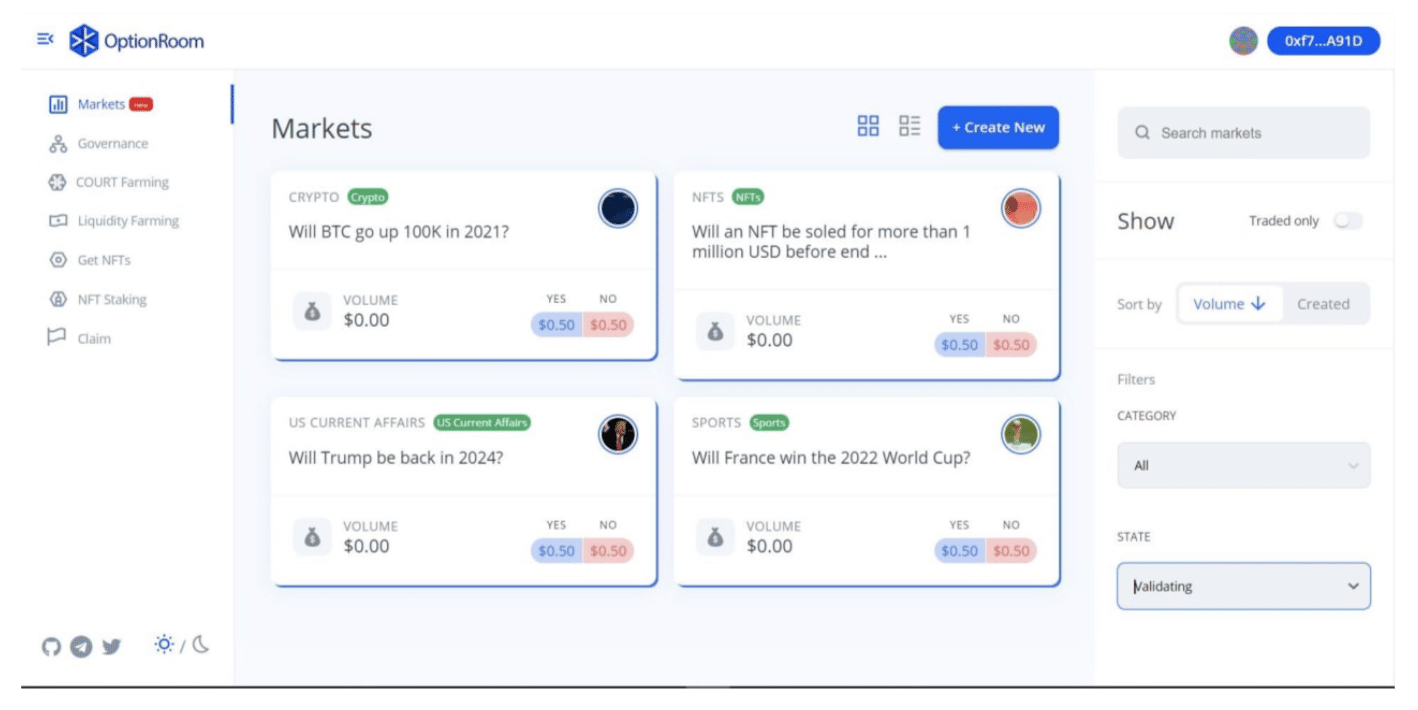 – User-governed Oracle. They're able to offer this because of their wholly unique and innovative Oracle as a Service, which brings a human factor into data verification by solving Oracle requests through user governance consensus. This means they're able to process qualitative data requests as well as quantitative.
– Incentives. Community is the beating heart of OptionRoom; without a robust and active community, they wouldn't be able to offer limitless prediction markets, or successfully verify Oracle requests. It's because of this that they provide industry-leading incentives to our users, to encourage the creation of forecast market proposals and the fulfillment of Oracle request criteria
5. Polymarket
Polymarket is a decentralized market where users can trade the most debated events globally. Polymarket was launched in 2020 on Ethereum's ERC-20 protocol. With the ultimate aim of preventing the spread of misinformation, Polymarket's predictions are largely restricted to trendy real-world events.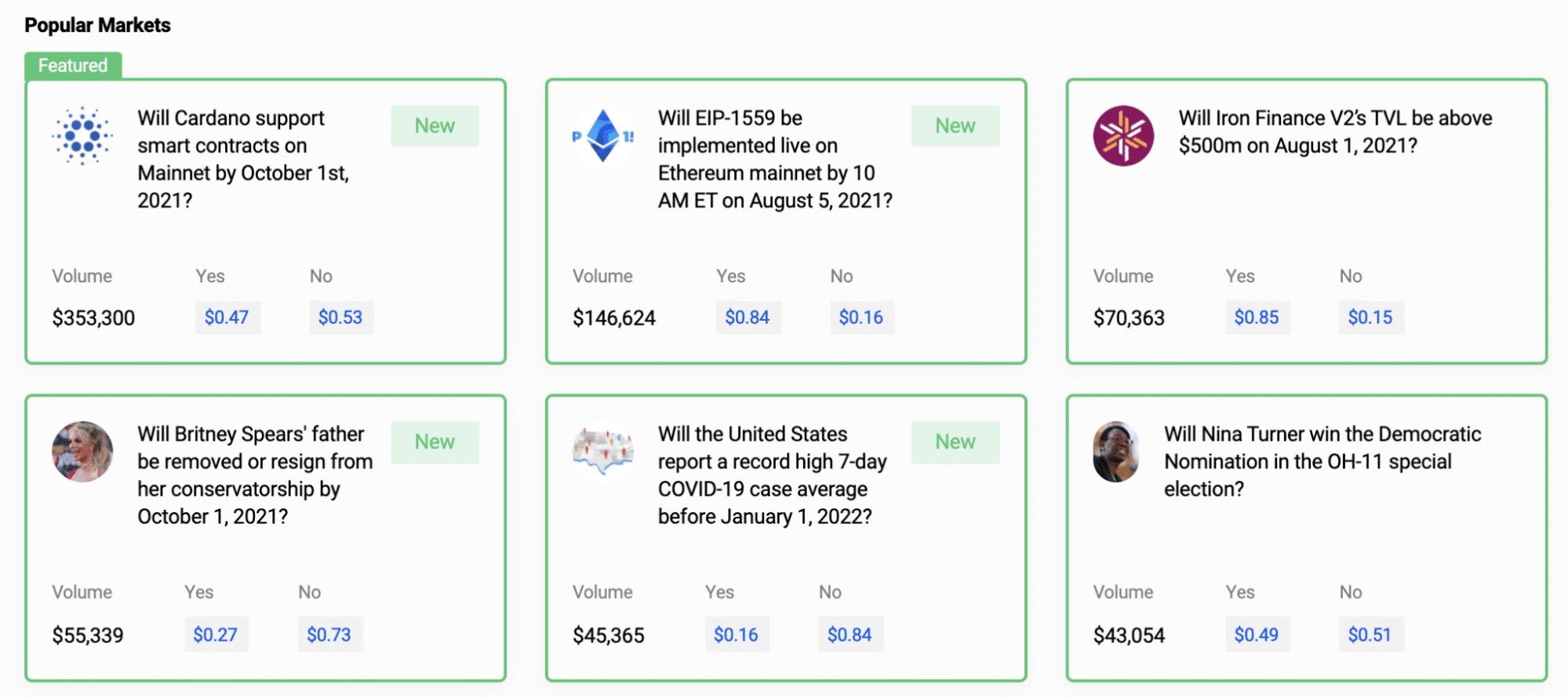 Key Platform Features: 
– Fiat-backed trading. Polymarket uses the US dollar-backed stablecoin, USDC, to trade the outcome of events.
– Simple user interface. The Polymarket website is simplistic and offers a wide range of users an opportunity to predict events. The website includes a step-by-step guide to funding and trading worldwide events on the platform.
– Smooth resolutions process. Results of events on the Polymarket platform are automatically resolved and do not require a consensus mechanism.
Looking Ahead 
Over the years, we have witnessed a steady evolution of decentralized prediction markets. The space is heating up as a mixture of new and old entrants expand and consolidate their operations, and capitalise on the growing popularity of crypto and decentralised finance. If there's one thing for certain, it's that the prediction market space looks set for a period of exponential growth, as market participants realise their enormous potential. As the space grows, it will undoubtedly be the five platforms listed here who lead the revolution from the front.