Pumpkin Pump: A Community-Driven IOST-Based DeFi Protocol With Halving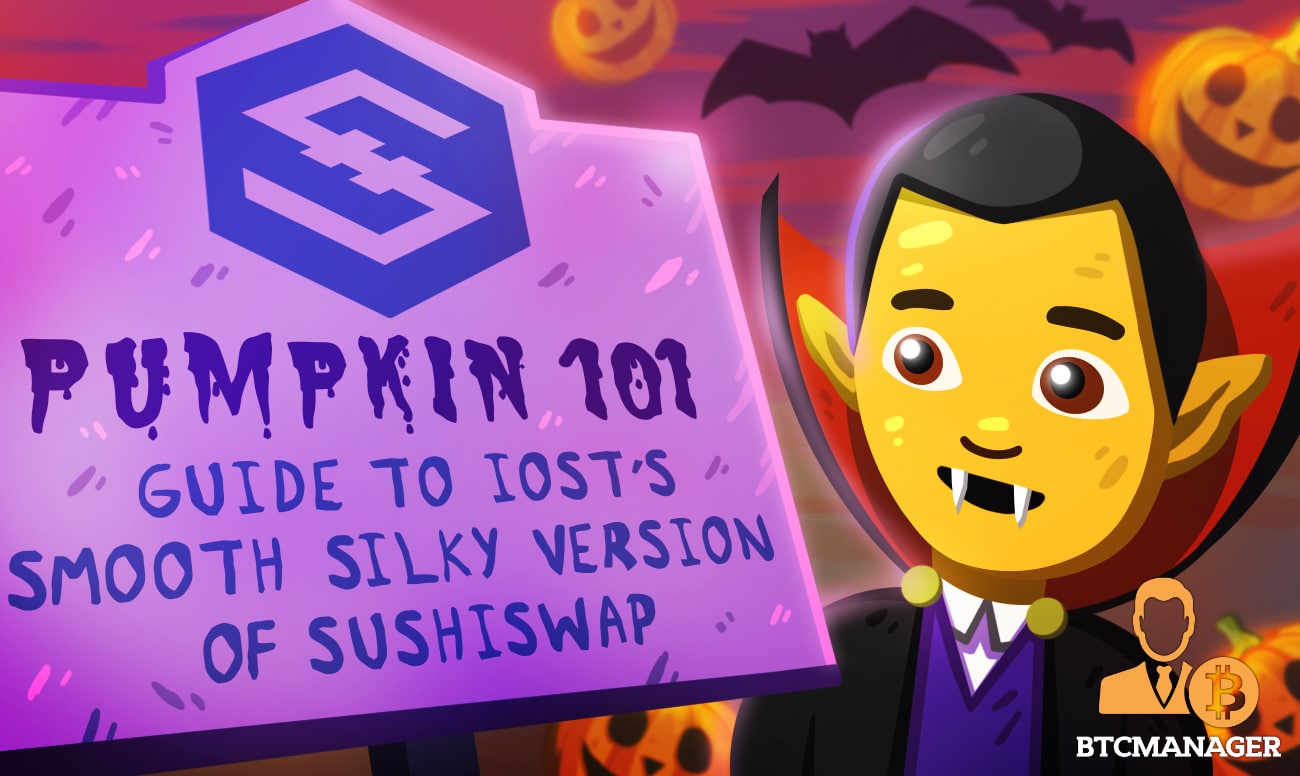 DeFi is a hot subject right now. With challenges in Ethereum, the experience is otherwise sublime and smooth following the launch of the Pumpkin Pump on IOST — a highly scalable, high throughput, and near negligible fees blockchain on Sep 11.
Pumpkin Pump is Community Driven without a Pre-mine
Ordinarily, for folks getting their feet wet on indie and largely experimental but lucrative field of money Legos, participation tends to be expensive and almost prohibitive considering the demand. 
However, when the tables are turned and value moved between different protocols within an enterprise-grade blockchain, it becomes near silky and smooth. 
Even better, the preliminary audit of Pumpkin Pump has been completed by the team who are now working with a reputable third-party code auditor to arrest any frailties should they arise.
The open-source protocol works just like SushiSwap less the high trading fees and the drama. Through Pumpkin Swap, users have an opportunity to farm and earn superior yields without worrying whether their exit would draw outrageous fees cutting deep into their hard-earned profits. 
Notably, Pumpkin Pump is community-driven without venture capitalist involvement. Besides, there is a guaranteed zero risk on investment with no pre-mine and even a better, an incentive to join in the high yielding protocol. 
Priming the Pumpkin Pump ecosystem is the protocol's native token, PPT, complying with IOST's IRC-20 standard. 
Pumpkin Pump (PPT) Token Distribution
In total, there will be 2,927,232 PPT tokens out of which 95 percent will be regularly released to farmers. The developers hope to use this project as a first of the many to spark activity within IOST's autonomous DeFi community. 
The remaining five percent will be reserved for the team for software enhancement and marketing. This means for every 100 PPT farmed, 5 PPT tokens will be reserved for the team. 
But there is an interesting plot twist in the mix. Diverging away from the deflationary nature adopted by competing protocols, there is a halving mechanism baked-in Pumpkin Pump.
Every seven days, PPT output will be halved purposely to act as an incentive for early adopters.
Ground rules have already been set and there are three levels of farming PPT tokens:
In the most basic level, the silver farming pool, anyone can stake any amount of IOST to earn PPT tokens with no costs, thresholds, and free deposits and withdrawals. In total, 24,192 PPT will be distributed in this category. Without halving, 72 PPT tokens will be disbursed per hour in the first week of farming.
A step above this, the Gold farming pool, farmers can stake PPT and IOST at the same time to get PPT at a 1000:1 IOST-PPT ratio promising high returns and controllable risks on-top of free deposits and withdrawals. In this tier, it means, for every 10,000 IOST staked, the user must also contribute 10 PPT tokens to the pool. Here, 483,840 PPT will be distributed at 1,440 PPT per hour through to Sep 20.
On the highest level, the Platinum farming pool works just like Gold's but only that a user must have a minimum of two million IOST and an equal proportion of PPT tokens. This level promises the highest returns and users can also qualify for free airdrops in the first week of deposit for farming. As the most lucrative tier, there will be a total of 2,419,200 PPT tokens available for farmers. However, in the next six days to Sep 20, 7,200 PPT tokens will be available to yield farmers in this category every hour.
The IOST Airdrop
Presently, Pumpkin Pump is within its first week of farming and there is an ongoing 13M IOST airdrop which ends on Sep 20 at 16:00 (GMT+8) set for release in batches through to November 15. However, this is only available to Platinum pool stakers. 
The amount received will depend on the lock-up time and amount which varies between a minimum of 10 days and a maximum of 30 days. Those who stake theirs for 10 days will share 1 million IOST in proportion to the stake amount. A 20-day period draws two million IOST tokens shared depending on the amount while those who hold for thirty days will share 10 million will receive extra coins depending on their staked amount. Stakers who unlock their stash midway are disqualified for the next lock-up period.
Those who wish to trade PPT can buy them from the IOST DEX or otbTrade.
As BTCManager earlier reported, IOST has made it their objective to build a robust and vibrant DeFi ecosystem and be a market leader.