RSK Partner Carnaval to Showcase Bitcoin-Based NFT Marketplace at the Bitcoin 2022 Conference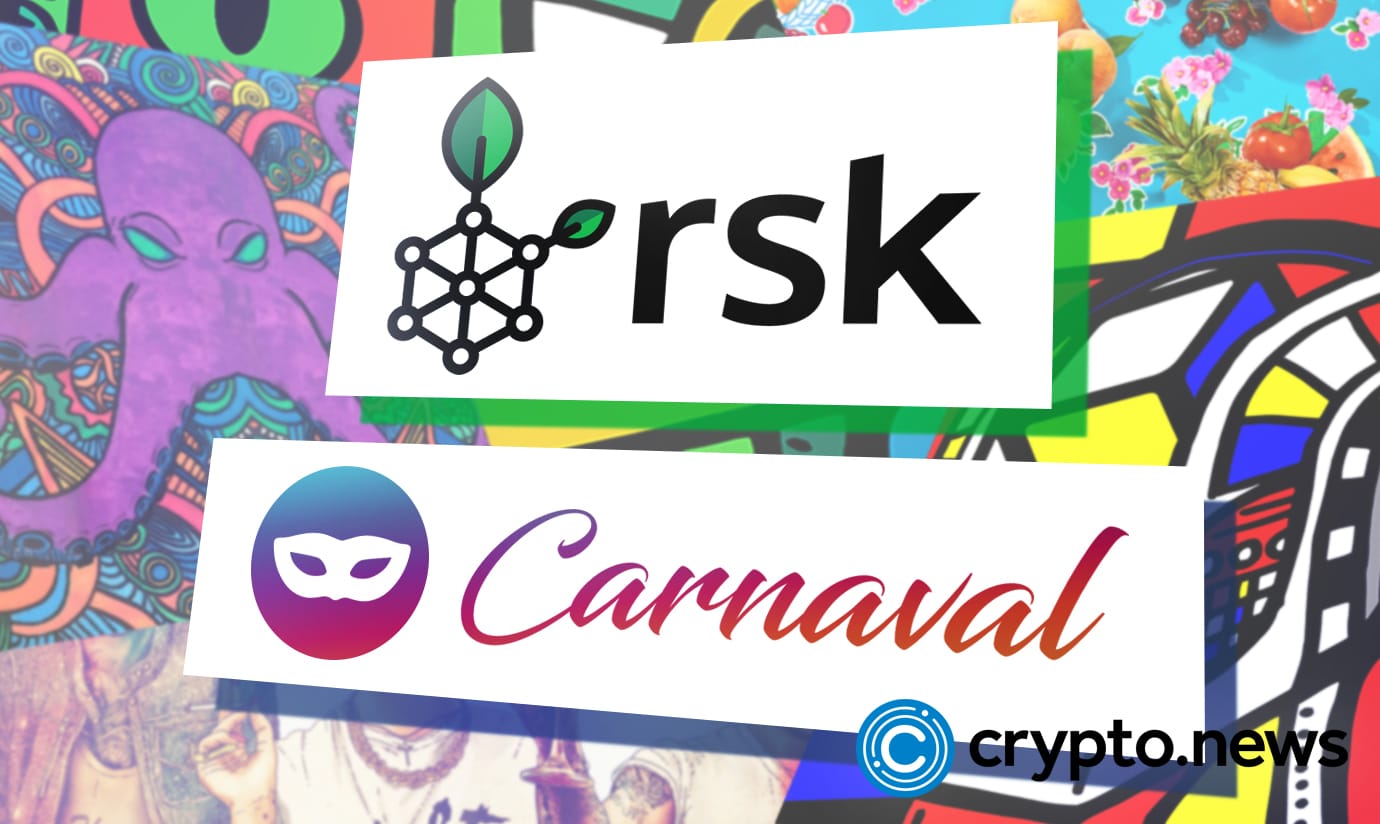 Rootstock (RSK) has announced that it'll officially roll out its partner's Bitcoin-based Carnaval non-fungible tokens (NFTs) during the upcoming Miami 2022 Bitcoin Conference. The launch of Carnaval will, for the first time ever, enable users to mint NFTs on the Bitcoin network. RSK will also showcase its ecosystem solutions to the 35,000 attendees expected to grace the world's biggest Bitcoin event.
RSK Pushing the Boundaries of Innovation on Bitcoin
While Satoshi Nakamoto initially designed Bitcoin to function as a fail-proof, trustless monetary system and store of value, top-notch layer-2 projects like Rootstock (RSK) and others, are now pushing the boundaries of innovation on the Bitcoin network with smart contracts and cutting-edge solutions.
In the latest development, the RSK team has made it clear that its Carnaval NFT platform will be launched on the Bitcoin network during this year's Bitcoin conference scheduled to go live from April 6 to 9, in the crypto-friendly city of Miami.
If all goes as planned, crypto and distributed ledger technology (DLT) enthusiasts will, for the first time, be able to mint NFTs on the Bitcoin blockchain. RSK will also be showcasing its highly functional ecosystem products to the 35,000 attendees expected to be at the event.
During the Bitcoin 2022 conference, various decentralized finance (DeFi) projects built on Bitcoin will be presented to showcase the power of DeFi on RSK. Event attendees will also learn more about RSK products such as Money on Chain, Sovryn, Babelfish, Liquality, Bulla Network, and Carnaval.
RSK Co-founder and IOVLabs CEO, Diego Zaldivar said:
"In the last two years, we witnessed the meteoric rise of DeFi. New monetary systems (stablecoins) and speculative financial tools (trading engines and AMMs) were built on top of the main blockchain networks but they only serve the needs of speculators. The Challenge ahead is how to connect these new decentralized fintech systems with the needs of the rest of society. That is our challenge at IOVLabs and the reason why we created Rootstock and RIF, building everyday DeFi."
Bitcoin's First NFT Marketplace
The Carnaval project brings a highly curated NFT marketplace of Iberoamerican artists to the Bitcoin network through RSK smart contracts. Carnaval is the first implementation of the RIF Marketplace engine and it's also the first-ever NFT marketplace focusing on Latin American artists via Bitcoin and its network security.
RSK claims to be the most secure smart contracts network in the world. The network is secured by an average of 60 percent of the Bitcoin hashing power through merge mining technology. RSK positions itself as a Layer-2 solution on Bitcoin to enable smart contracts and provide a robust layer for startups and entrepreneurs looking to access DeFi through the most secure chain.
RSK Infrastructure Framework (RIF) is a suite of open and decentralized infrastructure protocols. RIF enables faster, easier and scalable development of distributed applications (dApps) within a unified environment, fostering mass adoption of Bitcoin and RSK.
What's more, RIF provides access to decentralized protocols and services powered by RSK smart contracts. It functions as a building block for the necessary infrastructure to bootstrap Bitcoin's DeFi ecosystem. The RIF marketplace engine is open-source and fully audited, spanning multiple SDK libraries and this makes it easier to develop NFT marketplaces on Bitcoin.
The RSK network scales up to 100 transactions per second without sacrificing decentralization. It reduces storage and bandwidth using probabilistic verification, fraud detection, and more.
At press time, the price of RIF token is hovering around $0.1686, according to CoinMarketCap.