Skynet Controversy: Similarly Named Tezos dApp Promises Enhanced Peer-to-Peer Lending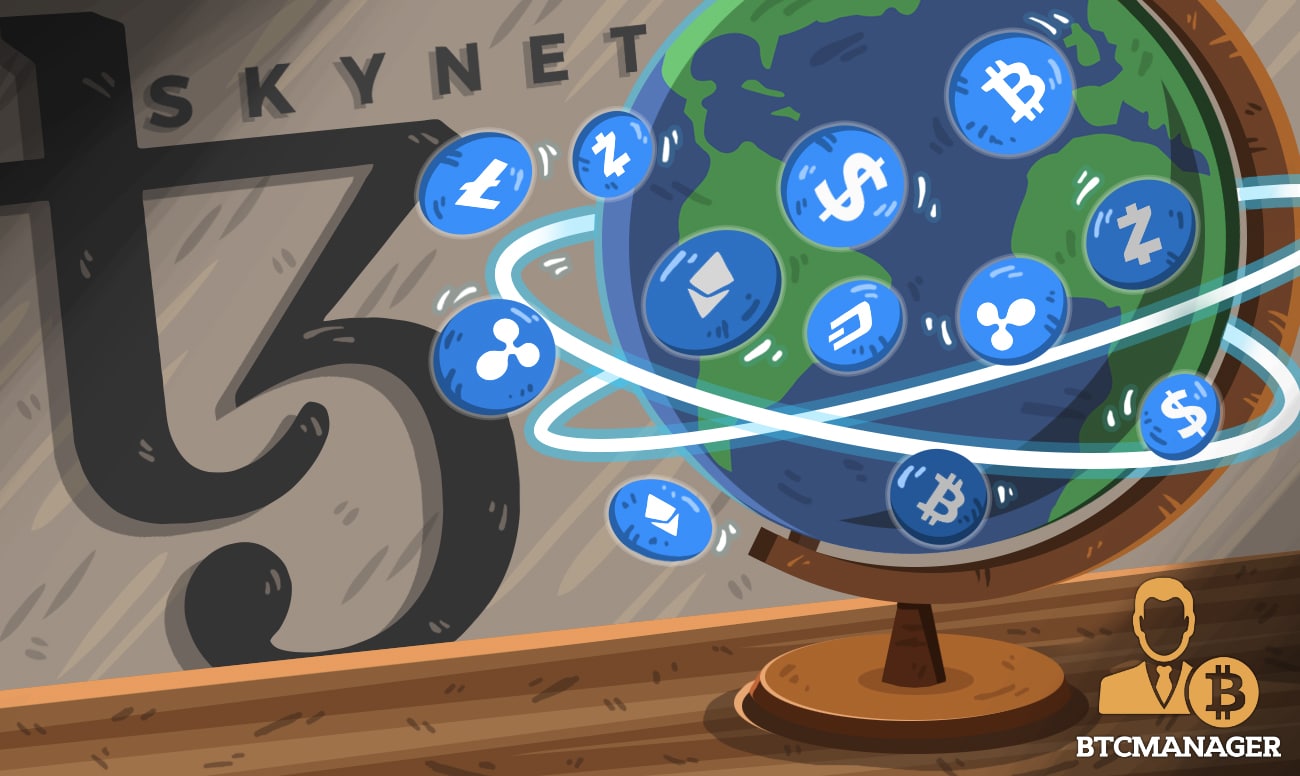 Another Skynet is launching now promising a revolution. On September 26, Skynet World announced their project through a sponsored post on CCN and igniting controversy over their name.
The last time a project with the Skynet name launched, they raised $11 million for a project that runs on the Ethereum blockchain. Skynet Open Network seems to promise all things to all people – fastest blockchain implementation, AI on Blockchain, Healthcare on Blockchain and more. Some of the 17,000 people on the SkynetOpen telegram channel were understandably furious about the similarities in the name when Skynet World announced their project on September 26, 2018. 
Justin, a Master's student at CU Boulder writes:
"I can't get behind a project that tries to leech [sic] of the fame of another project. Please bring this issue up with the founders of this project."
Nauman Iqbal, the CMO of Skynet World replies:
"Thanks everyone for the concern. Everyone has the right to their opinion and we respect that but the names are different. We are domiciled in the Cayman Islands under skynetworldorg and they are called skynet open network. Now it's coincidental to have the same skynet "word" but there is a lot of room for growth for both of the projects in this crypto space. We wish them luck with their project. We are all here to make a difference in the world with crypto."
After several days of debate on September 28, 2018, Nauman announced that they are going to change their name:
"We listened to the community and came to a conclusion to rebrand our project. We would like the community to help us rename the project. Any suggestions are welcome. We will be releasing an article in the near future clarifying this situation."
For now, the project remains titled as "Skynet World."
Is Skynet going to take over?
According to the Skynet World whitepaper, they are the first DAPP on the Tezos blockchain. Tezos is a brand new blockchain that is Proof of Stake and features on-chain governance and also has self-amendment features to prevent forks.
Skynet World aims to disrupt the bank lending space by offering peer to peer lending through their app. According to Skynet World:
"Banks are the major source of debt finance for both households and businesses, accounting for about three-quarters and two-thirds respectively of all debt finance provided to those sectors… Banks charge most of the interest up front, a practice known as amortization. Through amortization, 70% of the total interest is paid by the halfway point of the mortgage period."
Skynet World offers a different approach to peer to peer lending:
"Account holders on the SkyNet Platform will use their cryptocurrency as collateral to borrow fiat currency. Interest on all funding will be paid back linearly. Rather than adhering to amortization methods utilized by the traditional banking industry, the SkyNet Platform will implement a linear repayment methodology."
Skynet World will charge a 1 percent service fee on all loans made with their platform:
1/3 will be retained by the SkyNet Platform and will be used for further expansion, on-going maintenance, updates, and other related costs
1/3 will be disbursed as monthly airdrops to Token holders (who participated in the SkyNet Platform via the two PRAs mentioned above)
1/3 will be burnt
Why on the Tezos Blockchain?
From the whitepaper, Skynet World is built upon the Tezos blockchain because it is safer. With a liquid proof of stake method, it is more power efficient and offers stronger protection over Ethereum and Bitcoin. Tezos reduces the risk of forks through a self-amending ledger.
Token holders can vote on improvements and changes to the blockchain source-code without having to fork the code. Also, Tezos has a new smart contract language – Michelson. It features software coding standards that are stronger and more secure over Ethereum and other blockchains.
BTCManager Interview
BTCManager interviewed Nauman by email, and we asked five questions:
1.) How does your platform compare to SALT and the issues that they had
Nauman: "Haven't spent too much time checking SALT. We focus on addressing the needs of the marketplace and looking at the real-world needs. We don't have time to check other platforms; we are focusing on our betanet."
2.) LendingClub is a stable platform that does due diligence on applicants. Your platform does not have any credit checks. How can issues of fraud be avoided?
Nauman: "It is fully decentralized; we do not dictate terms. There will be peer to peer negotiations, and it will be secured by collateral. If someone doesn't want to provide enough info, they likely won't be funded. KYC/AML is required beforehand."
3.) How will physical cryptocurrencies be handled (such as physical bitcoins) be handled?
Nauman: "Currently we are just working with Tezzies and NET, they will be stored in smart contracts. BTC and others will be added later on after the ICO. We will be looking at the custodian and other services to ensure the proper functioning of the platform.
4.) Are there limitations on amounts? Other crypto lenders have handled $50m+ transactions
Nauman: "No. We will let the decentralized market decide the limitations."
5.) How will volatility be managed?
Nauman: "Can't control. Volatility can be mitigated through the decentralized platform. Selecting currency with less volatility. In the event of a crash, algorithms will kick in and liquidate collaterals. We are looking into insurance of the loans."
Liquid Metal
Despite the regulatory and legal concerns that many countries have over peer-to-peer lending and securities offerings, Skynet World is entering into this market with a fresh set of ideas. These ideas would need to be proved out and tested on a brand new blockchain implementation such that users can potentially receive the benefits that are being promised.
If all of these challenges are overcome, Skynet promises a peer to peer lending app that is available to anyone in the world for addressing any lending needs.