SolarisBank Partners with Boerse Stuttgart, will Launch Cryptocurrency Exchange in 2019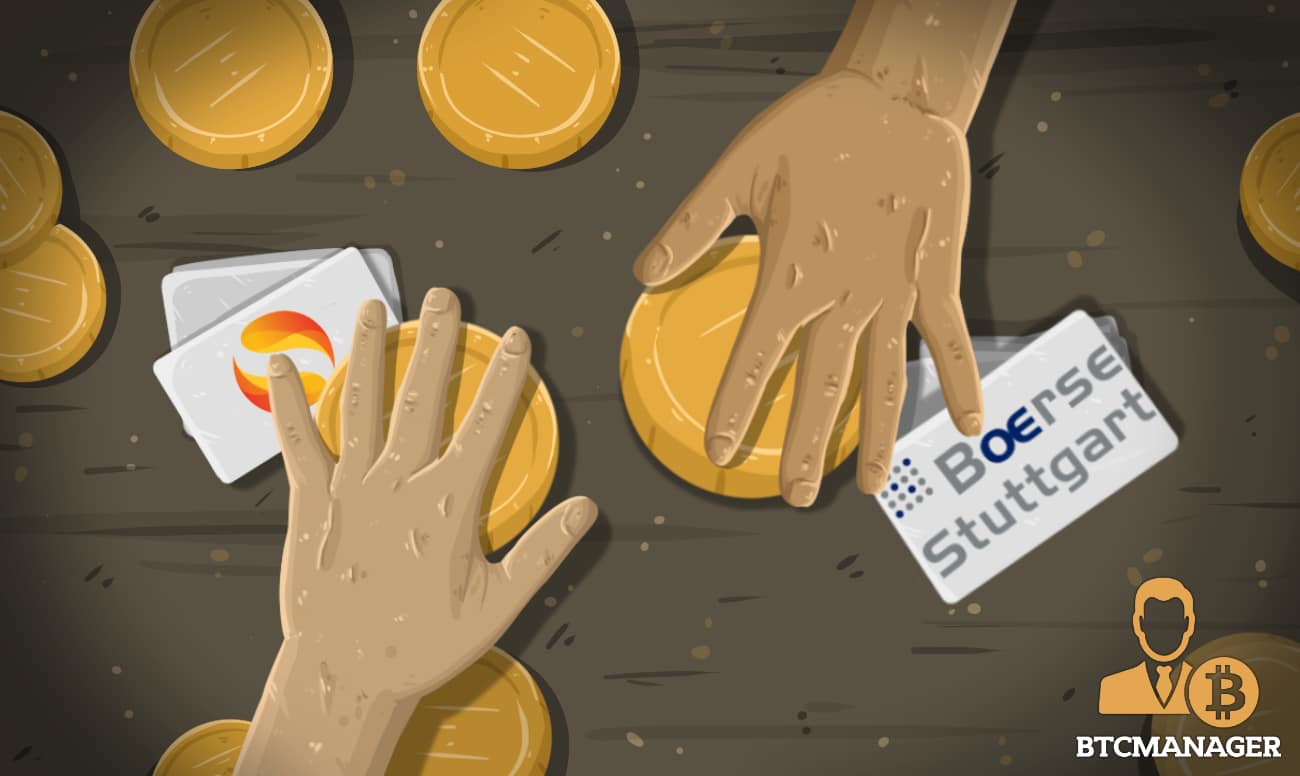 Boerse Stuttgart, Germany's second largest stock exchange, has reportedly partnered with fintech startup SolarisBank to develop a cryptocurrency exchange. In a press release issued December 12, 2018, SolarisBank said that the cryptocurrency trading platform is scheduled to release sometime in the first half of 2019.
While the platform will initially only support 'established' cryptocurrencies such as Bitcoin and Ethereum, the number of tradable tokens will increase in due time.
Stock Exchange Meets Crypto
Boerse Stuttgart is Germany's second largest stock exchange with a trading volume of $100 billion. The Stuttgart Exchange Group first revealed its interest in the cryptocurrency industry on May 17, 2018, when one of its subsidiaries, Sowa Labs, launched a zero-fee trading app named BISON. After launching its exchange, Boerse Stuttgart plans to develop an initial coin offering (ICO) platform for blockchain startups. These companies can eventually have their platform-specific tokens listed on the cryptocurrency exchange as well.
The CEO of Boerse Stuttgart, Alexandar Höptner, was quoted as saying:
"With its combination of technology and banking expertise, solarisBank is a great partner for us to offer central services along the value chain for digital assets. SolarisBank's Blockchain Factory [initiative] helps us take the cryptocurrency and token trading to a new level and set standards in terms of transparency and reliability."
SolarisBank: Banking as a Service
SolarisBank, on the other hand, is a relatively new fintech company with a full German banking license. Earlier in 2018, the company announced the launch of its "Blockchain Factory" initiative. Designed to "drive forward the vision of decentralized and contextual banking," the company said that it would act as the technological and regulatory bridge between the banking and blockchain realms.
Since then, SolarisBank has partnered with numerous blockchain companies and financial institutions as an infrastructure partner. Bitwala, for instance, uses SolarisBank infrastructure to provide a fully regulated bank account where users can manage cryptocurrency and Euro from one single location. According to the launch post published December 12, 2018, Bitwala accounts come with "a debit card and a built-in bitcoin wallet with integrated cryptocurrency trading." Additionally, the partnership with SolarisBank means that all Euro deposits are protected by the German Deposit Guarantee Scheme (DGS), up to a maximum of €100,000.
The CEO of SolarisBank, Roland Folz, expressed enthusiasm over the upcoming Boerse Stuttgart-affiliated exchange nevertheless, primarily as the platform will be targeted at the institutional investors as well.
"Boerse Stuttgart Group and SolarisBank share the ambition to shape the future of the financial industry. A reliable and performant trading venue is a fundamental contribution to our shared vision of a hybrid financial world with both fiat and cryptocurrencies. We are very pleased that Boerse Stuttgart Group chose our Blockchain Factory around Peter Grosskopf and Michael Offermann as its trusted partner," he concluded.