Solve.Care Launches World's First Crypto-Enabled Healthcare Devices Marketplace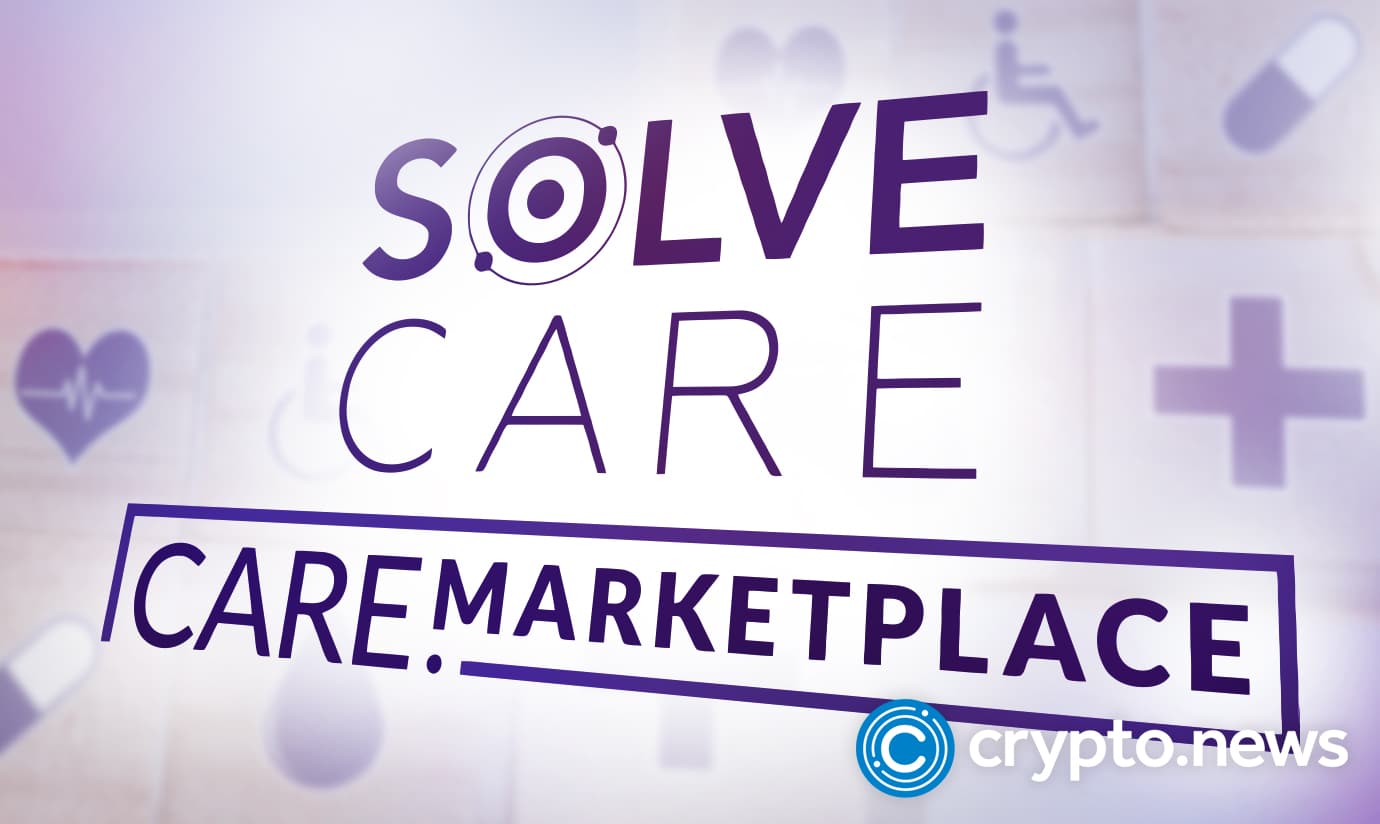 Solve.Care has announced the launch of its crypto-enabled household healthcare products marketplace called Care.Marketplace. Two devices: OMRON Evolv Wireless Upper Arm Blood Pressure Monitor and the AliveCor KardiaMobile 1L, heart-rate monitor will be initially available for purchase on the platform, according to a press release on May 19, 2022.
Solve.Care's Unveils Care.Marketplace
Solve.Care, a global healthcare blockchain technology company that claims to be dedicated to revolutionizing healthcare delivery, care coordination, and benefits administration across the world, has launched Care.Marketplace, the first crypto-enabled marketplace dedicated to household healthcare products.
Per a press release by the Solve.Care team, results of recent research show that the global remote patient monitoring devices market size will grow to $101.02 billion by 2028 at a compound annual growth rate (CAGR) of 18.9 percent. 
Against that backdrop, Solve.Care is aiming to position itself at the forefront of this rapidly expanding market with its Care.Marketplace and promote easy access to highly functional home healthcare devices, which the team says can significantly empower consumers with critical data relevant to their personal health as well as use by medical and insurance service providers.
Two key healthcare devices: OMRON Evolv Wireless Upper Arm Blood Pressure Monitor and the AliveCor KardiaMobile 1L, a heart-rate monitor device will initially be available for purchase with SOLVE token on Care.Marketplace
Fostering Accessibility of Home Healthcare Devices
Solve.Care says wearable technology and health monitoring apps have become standard everyday use for a vast array of consumers in the United States. As such, it sees a further opportunity for the digitalization and integration of their health and wellbeing management – especially amongst the crypto-native community and their families and friends.
Via the new crypto-enabled Care.Marketplace, cryptocurrency users will be able to take control of critical home-health monitoring through the purchase of healthcare devices, which will soon be interoperable with the Care.Wallet app.
Pradeep Goel, CEO of Solve. Care said:
"We are delighted to be the developers and owners of the first crypto-enabled healthcare marketplace in the world. Through this development, we are hoping to promote the use of medical devices at home to ensure that individuals are able to monitor any irregularities and if necessary, consult with a healthcare professional before any difficulties arise."

"The launch of our marketplace coincides with the normalization of crypto-payments and the global digitalization of numerous different sectors. It is vital that the healthcare sector remains up-to-date on the latest trends and developments."
For now, SOLVE token is the primary payment method on the Care.Marketplace platform and users can pay with SOLVE via their MetaMask wallet. SOLVE is a utility token of the Solve.Care ecosystem. SOLVE comes with several use cases, including care coordination and administration, as well as payments of healthcare and benefits around the world.
Solve.Care has made it clear that Care.Wallet users will soon be able to scan a QR code directly from the Care.Marketplace website to pay with SOLVE. This will significantly reduce or even eliminate gas fees for users.
In related news, last April, Solve.Care launched an NFT auction to raise funds to support Ukrainians fleeing from the war in the country.
At the time of writing, the price of SOLVE token is hovering around $0.04236, as seen on CoinMarketCap.