Sorare Partners with Atlas Futbol Club of Mexico, NFT Player Card Auction Now Live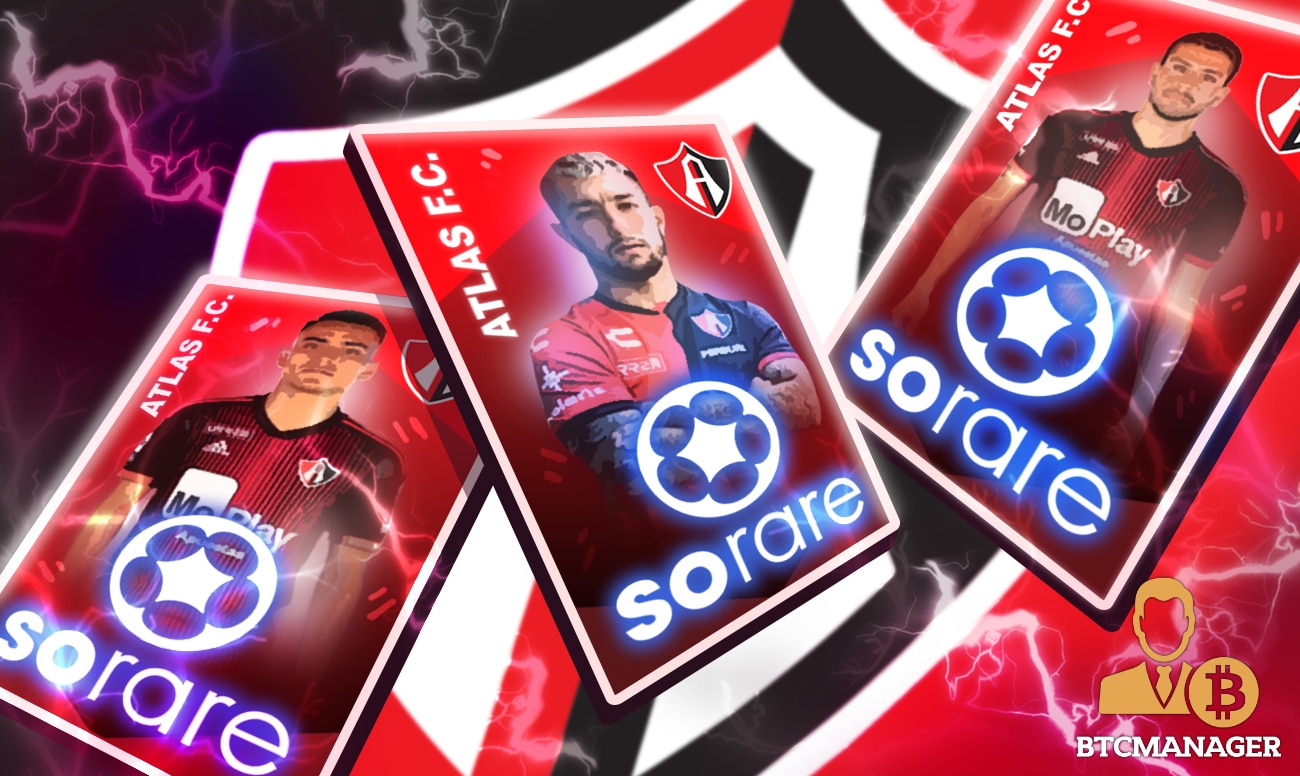 The Atlas Futbol Club has joined Sorare, a fantasy game on Ethereum, as per an announcement on Feb 4.
The Auction is Live
Following this news, the Atlas F.C. NFT auction is now live.
It will comprise NFT cards of, among other star players, Luciano Acosta, Martin Nervo, Jairo Torres, and many more.
The club becomes the second from Mexico and joins a long list of established teams, including one of the world's richest, Real Madrid, Juventus and Paris Saint-Germain.
The 105-year old club, Atlas F.C., is reputable because of its academy. Because of their strong club philosophy, most of their graduates proceed to excel in international duty.
Sorare is tapping on Soccer's Popularity
Soccer is the most popular sport with billions of fans across the globe. The French startup fills this gap by merging the sport's popularity with blockchain and auctions non-fungible tokens (cards) of star players of partner clubs.
Sorare has evolved to be one of the leading fantasy football gaming platforms based on Ethereum, where fans can participate to win prizes, among other offers.
The French startup is backed by international investors, has a partnership with Opta—the primary data provider in football, and also works with the gaming platform Ubisoft.
Since its launch in 2018, it has joined hands with over 100 clubs.
Atlas F.C. Success Lies on their Academy
Following their deal with Atlas F.C, Sorare will now mint licensed and limited NFT cards representing players in this gaming season. Each is a digital collectible. Because of the Ethereum blockchain's transparency, transfers are traceable, allowing free trading and integration in different applications like games.
To further induce scarcity in the 2020-21 season, Sorare has introduced three security levels: Unique, Super Rare (10 copies), and Rare (100 copies).
Despite normal player transfer mid-seasons, each of these cards evolves, becoming scarcer. Each week, the card earns XP points, making them more powerful, allowing them to compete in higher divisions for higher prices. The rarer the NFT card is, the more valuable it is.
With Atlas F.C.'s track record in academy success, it is the best time to register and scout for potential players whose value will likely shoot later in the professional career. By signing up, players stand a chance to win a random Altas F.C  NFT card.