Tether (USDT) Daily Transaction Volumes Could Soon Exceed Bitcoin's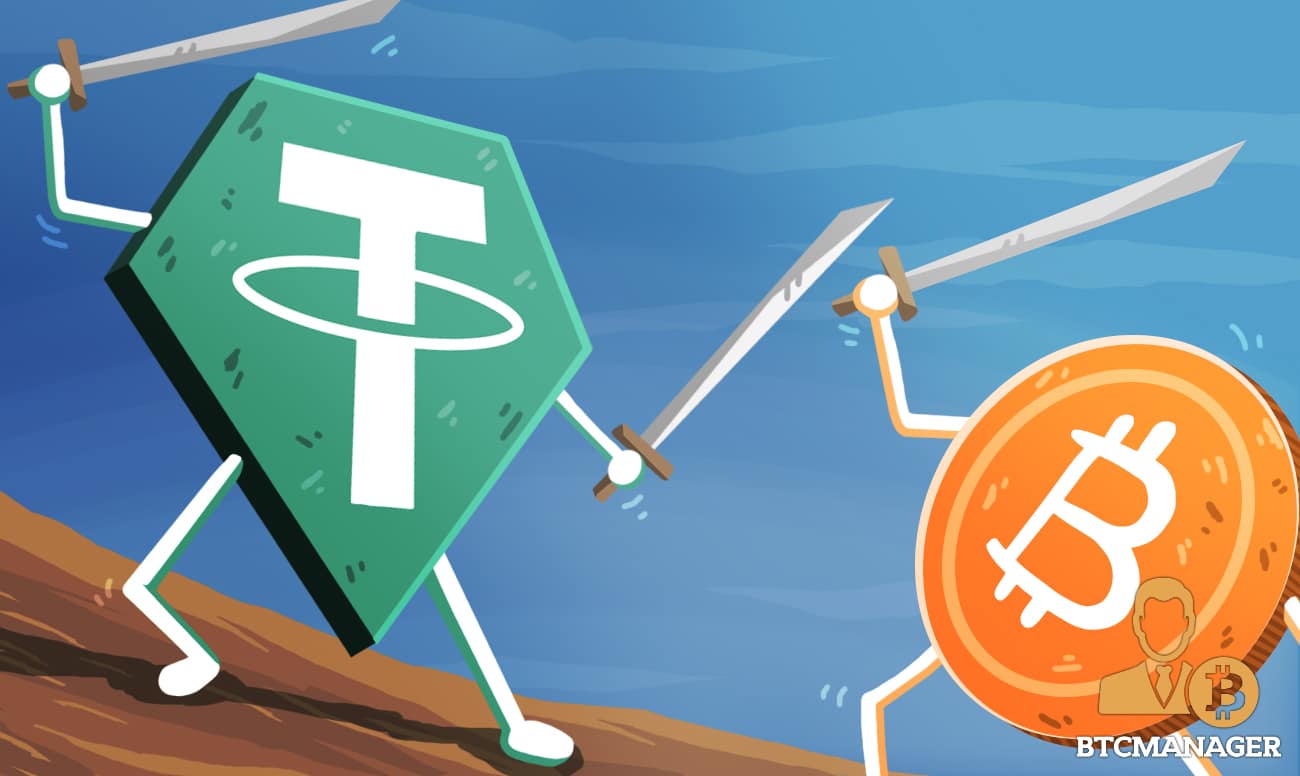 Data shows the daily volumes for Tether – a controversial stablecoin pegged 1:1 with the U.S. dollar – could soon exceed those of Bitcoin's.
Tether to Soon Eclipse Bitcoin
What was to be a mere stablecoin turned out to challenge Bitcoin, at least as a transactional tool. Tether (USDT), one of the crypto market's first stablecoins, is within striking distance of exceeding Bitcoin's daily transactional volume.
Bloomberg reported Wednesday the stablecoin's transactional value rose above Bitcoin's in June 2020. This, despite Tether's long-standing legal tussles with New York state.
Citing data from Coin Metrics, the report noted stablecoins like Tether and USDC – owned by crypto-finance firm Circle – surpassed that of Bitcoin's for the first time on June 29. But now, Tether, alone, is on track to displace Bitcoin by itself.
What's impressive is that USDT transfers between crypto exchanges – say traders transferring from Binance to OKEx – have not been counted in the dataset. This means the $10 billion+ trade volumes represent sole crypto-USDT or fiat-USDT trades.
"At this pace, it looks like Tether alone will catch Bitcoin within a month or two," said Coin Metrics co-founder Nic Carter.
Messari analyst Ryan Watkins had his own reasoning for Tether's rise:
"Most users do not want to transact in volatile cryptocurrencies like Bitcoin or Ether, preferring to hold them instead, so stablecoins are a great complement."
Remittance Usage Causing Tether Boom
The report noted Tether and other stablecoins are "often used by people operating outside banking and government controls such as for settlement by Asian export and import businesses, and in various lending and borrowing apps that have sprung up."
Bitcoin and most crypto-assets are infamous for their high volatility – making them a poor choice for remittances. However, as stablecoins hold their value steadily with whichever currency they are pegged to; they have reigned supreme in this crypto-battle.
Meanwhile, the usurpation does not mean "traditional" cryptocurrencies are going away anytime soon.
Carter explains:
"This doesn't mean there isn't a role for 'native' cryptocurrencies to play, but it does mean that they have surrendered a fraction of their touted utility to the more convenient stablecoins."
Tether volumes for Bitcoin trading account for as much as $1 billion per day. Some, such as ConsenSys fintech head Lex Sokolin, say that without the former, "we lose a massive amount of daily volume – around $1 billion or more depending on the data source."