Trading Ethereum With .XYZ Domains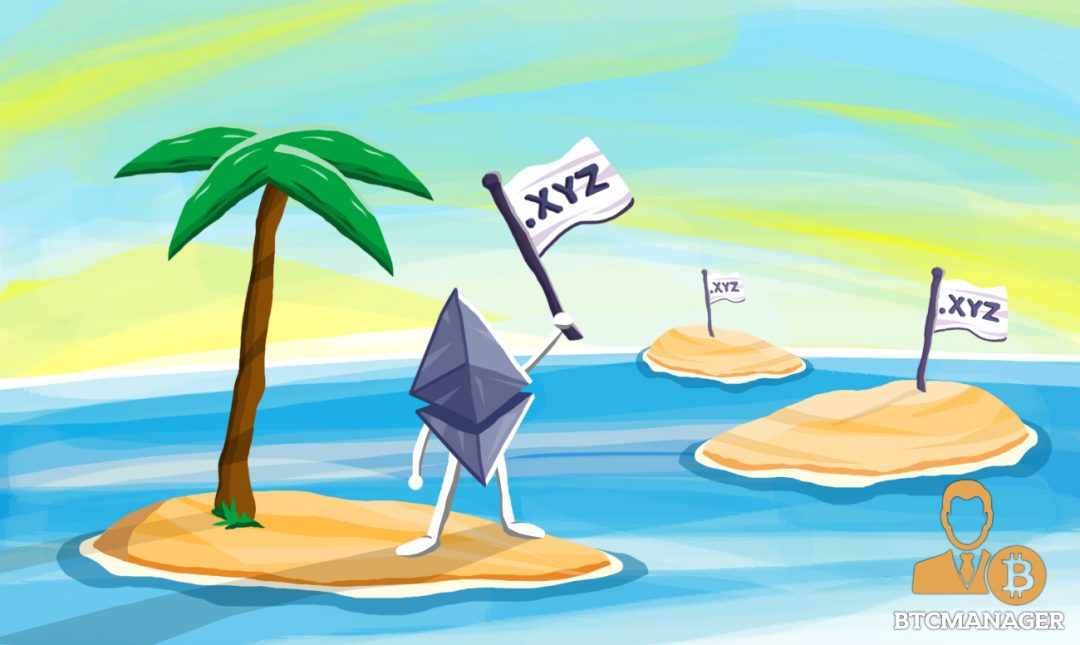 All registrars currently supporting .xyz domains will be rolling out updates for offering a particular category of .xyz domains called the 1.111B Class.
Devcon3 Announcment
At Devcon3, Nick Johnson from Ethereum announced a partnership with XYZ to add Ethereum mapping capabilities to all .xyz domains using DNSSEC.
These domain names will come with standard registration, renewal and transfer fees, according to Johnson.
These domains allow users to own private .xyz domains like jimmy.xyz and enable other users to transfer money to jimmy.xyz on a wallet, like MyEtherWallet, rather than typing the entire cryptographic address. This compatibility will not only secure funds but also make transfers more efficient.
Ethereum also plans on supporting almost all top-level domain's (TLD). The team plans on backing nearly 96 percent of TLD's in the very near future.   
Only .xyz has been deployed at current, but soon others will follow. The complete guide to claiming your ENS domain is described herein by Johnson.
Preventing Fraudulent Conduct
A common hacking method to which crypto addresses are susceptible is called Man in the Middle Attack. This variety of attack counts on the difficulty of identifying long, complex strings of alphanumeric characters.
Once an attacker has access to an individual's email, they are then able to adjust the addresses of these character strings. They leave the rest of the email untouched and the victim usually never notices the change.
Herein lies the advantage of using domains to trade cryptocurrency. Having an easy to remember wallet address for you and others will help to make transactions more secure.
CEO of XYZ, Daniel Negari, explained these advantages further:
Being connected to the Internet's DNS backbone, .xyz domains can be securely registered, managed, and traded on the most stable blockchain in existence. All domains come with locking mechanisms, transfer authorization codes, and optional WHOIS privacy to show or hide asset ownership.
1.111B Class
The class comprises all six, seven, eight and nine digit numeric followed by a .xyz. Supporters include big domain houses like Godaddy, Name, as well as over 400 different retailers.
Hundreds of millions of people are familiar with domain names, but a tiny percentage of those are familiar with cryptocurrencies and blockchain technology. A class of domains, which is supported by registrars worldwide, would let a lot more people enter into the world of cryptocurrencies and digital assets.
Negari is also aware of the democratization of expanding blockchain technology to web domains:
The 1.111B Class makes Ethereum immediately accessible to hundreds of millions of existing domain customers, and I expect other cryptocurrencies to soon add their support.
Domains paired with Ethereum and other blockchain networks also qualify as internationally tradable assets, without the difficulties surrounding exchange fees.
The domains can be traded and transferred on the Ethereum blockchain, making the process smooth, secure and cheap. The system's stability comes from the internet's root DNS.
Alternative Functions and Future Projections
Innovators have also begun using 1.111B Class domains for autonomous research (205908.xyz), advanced networking (205777.xyz), and calendar milestones (20380119.xyz). 
The use of these domains is not limited to cryptocurrencies. These domains are also strong use cases in the world of the Internet of Things (IoT). As they are cheap to own and renew, they offer users the luxury of keeping them for a long time for menial tasks.
Soon we might discover other domains also shifting to the blockchain, but the best way for these shifts to grow is to have more people use it, know about it, and talk about it.