Unbanked is connecting DeFi and TradFi in a regulatory-compliant way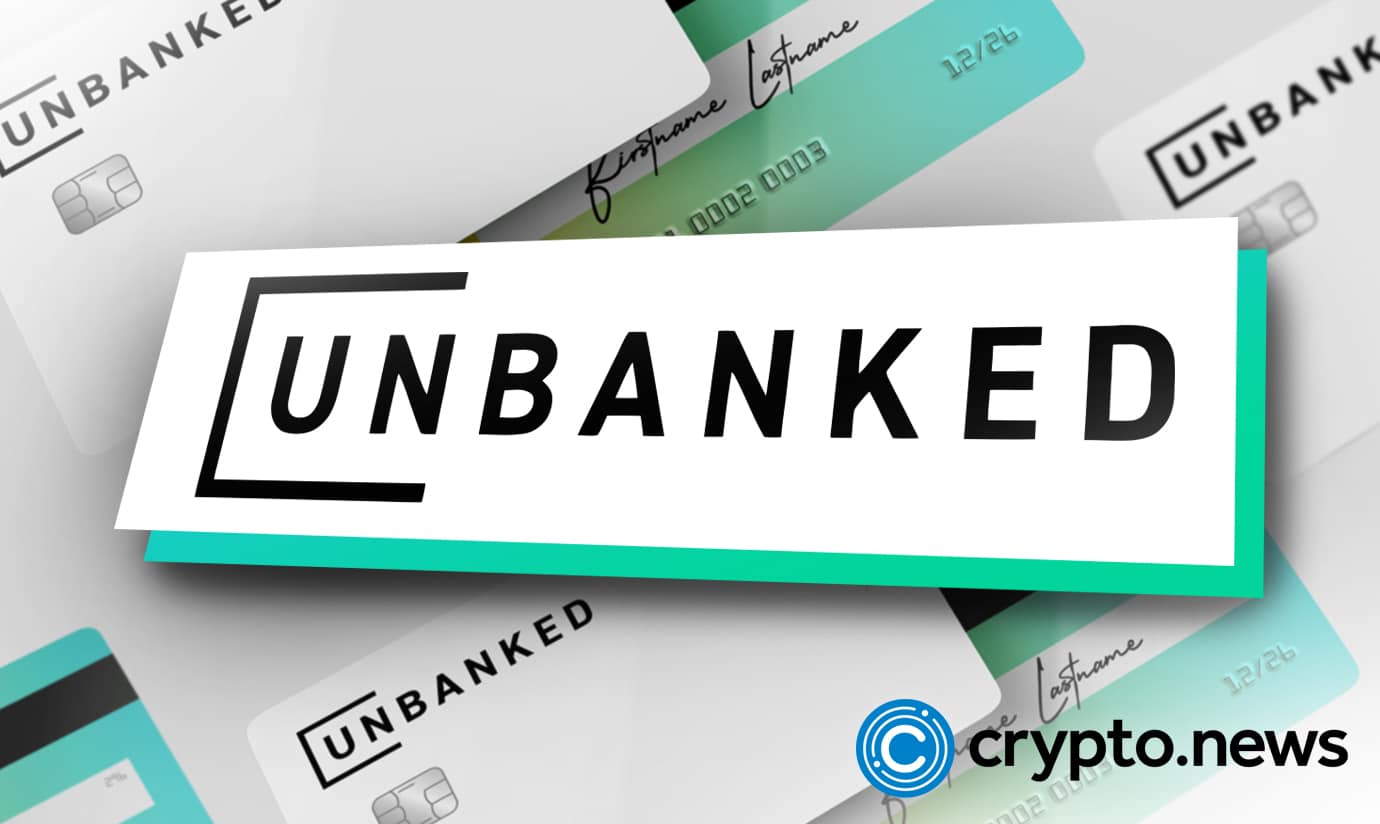 Unbanked is bridging the gap between Web3 and the traditional financial ecosystem and fostering global cryptocurrency adoption by connecting decentralized finance (DeFi) and cryptoassets to banks, debit cards, and other legacy financial services.
Unbanked taking crypto mainstream
According to current statistics, the cryptocurrency adoption rate has surged exponentially in recent years, and as of Nov. 2022, more than 320 million people own Bitcoin (BTC) and other cryptocurrencies globally.
While that number represents just a tiny fraction of the world's current population of eight billion people, it's a massive milestone for the Web3 movement, considering the nascent nature of Bitcoin, coupled with the unending regulatory tussles and setbacks like the recent FTX scandal.
Amidst the ups and downs that the Web3 space has gone through in recent years, digital asset innovators like Unbanked, and blockchain-based solutions developers have remained resilient in their act, working round the clock to bring to life highly functional apps and blockchain technology use cases that make life easier.
Founded in 2018, Unbanked is a Securities and Exchange Commission (SEC)-registered global financial technology (fintech) company connecting traditional banking products with blockchain technology. 
Unbanked marries the efficiency and utility of Bitcoin and other cryptocurrencies with the familiarity of traditional financial systems to offer users from across the globe cutting-edge Web3 payment solutions.
Unbanked's primary objective is to foster global accessibility of crypto-based financial services and onboarding the next wave of users to Web3 in a regulatory-compliant way.
Additionally, Unbank's infrastructure and technology are licensed and utilized by other Web3 projects including Nexo, Litecoin Foundation, StormX, Stacks, and a host of others, making Unbanked one of the blockchain payment platforms with a solid business model that supports its operations and generate revenue for the development of more innovative solutions. 
Thanks to Unbanked, individuals from across 200+ countries can now access FDIC bank accounts for buying Bitcoin and a vast array of altcoins at Unbanked.com.
The Unbanked card
Last November, Unbanked Inc. joined forces with Moorwand, a regulated electronic money institution licensed to issue electronic money and offer payment services across the United Kingdom and the EEA, to launch its cryptocurrency card program, making it possible for eligible consumers to spend their digital assets at supported locations around the world. 
At the time, Daniel Gouldmn, Co-Founder and Co-CEO of Unbanked said:
"We have worked for over two years on building this exciting solution to make the Unbanked Card available to interested users in Europe. It's great to know with this launch, we will be able to offer residents in the U.K. and parts of Europe access to one of the most innovative crypto-powered cards on the market."
Presently, with the Unbanked Card, consumers who reside in the United States, the United Kingdom, and the European Economic Area (EEA) can seamlessly spend their cryptoassets. Residents of Latin American states, Canada, India, Nigeria, and other jurisdictions will be able to get their Unbanked debit cards from Q1 2023, while U.S. and EU users can get theirs now.
Unbanked (UNBNK) token and tokenomics
Available natively on both the Ethereum and Stellar blockchain networks, UNBNK is the native cryptocurrency of the Unbanked platform. UNBNK can be swapped at 1:1 across chains at Unbanked.com.
UNBNK token functions as the base spendable digital asset on the Unbanked debit card. The token is available only on select decentralized exchanges like Uniswap, Sushiswap, and Lumenswap, The UNBNK token can also be purchased at Unbanked.com.
The UNBNK token is the base spendable asset on the Unbanked debit card. When users deposit cryptocurrencies like Bitcoin or any other supported crypto-assets, including ETH, UNI, XLM, and UNBNK,  it is automatically converted to UNBNK and held on the Unbanked card until spent. 
Unbanked cardholders can also stake their UNBNK token and earn between 1 to 6 percent cashback on their spending.
At launch, the UNBNK token came with a max supply of 1 billion. However, due to the regular mint/burning operations on Ethereum and Stellar, which are used to balance the UNBNK token between chains, its current max supply sits at 999,800,849 and can be monitored in real-time via UNBNK Ethereum and UNBNK Stellar. 
Asides from working with Web3 projects, Unbanked also has direct collaborations with banks and card networks. Specifically, Unbanked is a VISA Enablement partner and program manager. Unbanked is also a program manager for Mastercard, launching AMEX's first NFT card. 
The Unbanked project has also attracted some significant accolades in recent times. Shark Tank's Kevin O'Leary voted Unbanked the winner of a Shark Pitch, while Inc. 5000 named Unbanked the 327th fastest growing company in the U.S.
Disclosure: This content is provided by a third party. crypto.news does not endorse any product mentioned on this page. Users must do their own research before taking any actions related to the company.