Uniswap V3 Launches on Polygon (MATIC) to Offer Users Cheaper Transactions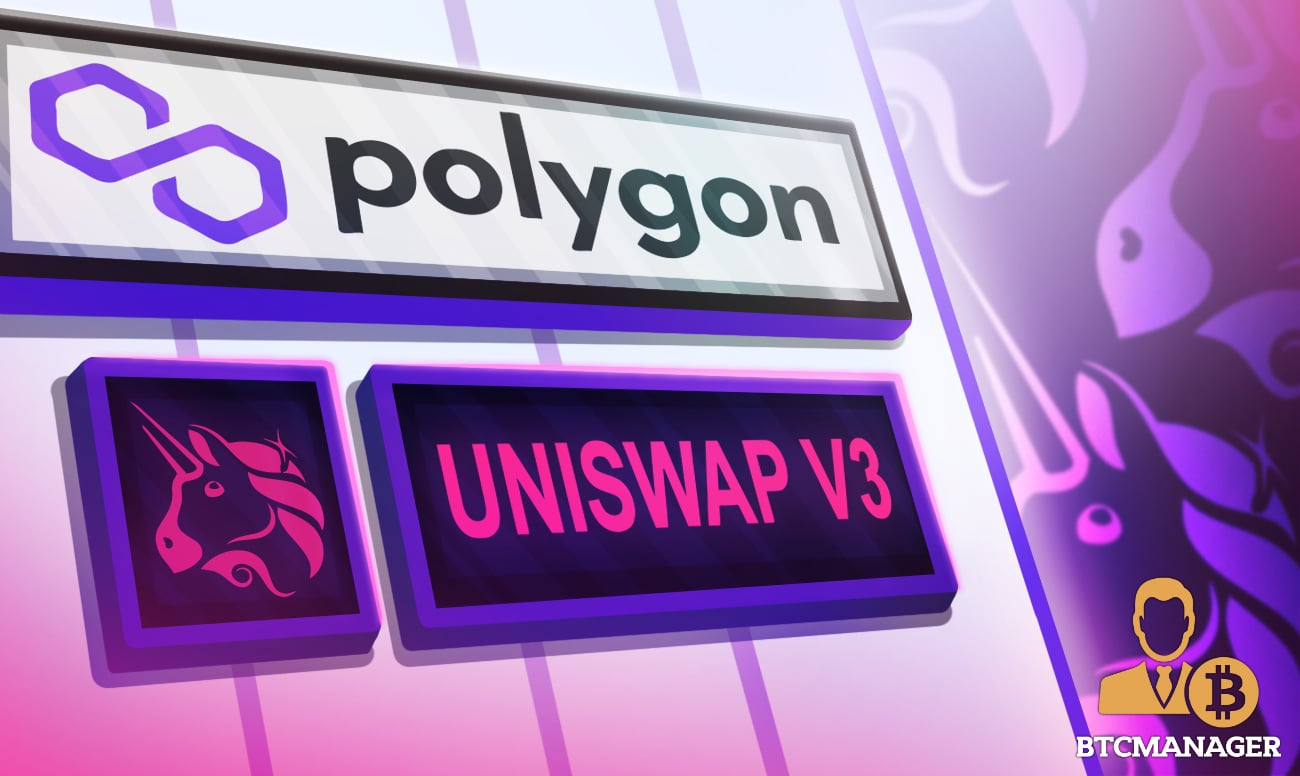 Uniswap (UNI) V3 is now available on the Polygon (MATIC) following a hugely successful governance vote concluded on December 18. With Uniswap V3 now live on Polygon, DeFi market participants will now enjoy cost-efficient token swaps and liquidity mining on the network, according to a blog post on December 22, 2021.
Uniswap Deployed on Polygon (MATIC)
As decentralized finance (DeFi) continues to grow in popularity and user base, Ethereum-based DeFi protocols such as Uniswap, Bancor, and the rest, are increasingly becoming inaccessible for the average joe due to the exorbitant transaction fees charged for even the simplest activities on these networks. 
In a bid to foster financial inclusivity and make it easier for just anyone to enjoy the dividends of decentralized finance, the Polygon team has successfully integrated Uniswap V3 into the Polygon ecosystem.
The deployment of the Uniswap V3 decentralized exchange and automated market maker (AMM) was made possible after a successful voting process by members of the Polygon ecosystem, with the proposal receiving more than 72 million YES votes.
Big Milestone for Polygon and Ethereum
In a blog post released on December 22, 2021, Polygon's Mihailo Bjelic described the deployment of Uniswap V3 on Polygon as another big milestone for the Polygon ecosystem and Etherum at large.
Bjelic has revealed that the Polygon network has witnessed exponential growth since announcing its intention to integrate Uniswap into the platform earlier in November, both in terms of the number of active users (126 million), transactions, applications, and total value locked ($5.2 billion).
https://twitter.com/0xPolygon/status/1473754055600009216
What's more, the team has made it clear that it firmly believes that the presence of Uniswap in the Polygon ecosystem will return Ethereum to its original vision of fostering financial inclusion.
"Ethereum introduced a grand vision of an open, borderless economic system accessible to everyone. This novel transformative concept can have a profound impact on our society and the world we live in," wrote the team, adding:

"As the adoption of Ethereum Layer1 grew, the transaction fees reached levels that were not that inclusive anymore; the usage of popular Ethereum apps became reserved for larger token holders and high-value transactions. With this deployment, Uniswap as the flagship Ethereum project returns back to the original promise and again offers low fees and open access to everyone."
As expected, the latest development is having a positive effect on the price of MATIC, which hit a fresh all-time high of 2.709 on December 23, 2021. At press time, MATIC is hovering around $2.53, with a market cap of $17.90 billion, according to CoinMarketCap.