Unstoppable Domains, Circle Partner to Launch Easily Readable Usernames for Stablecoin Payments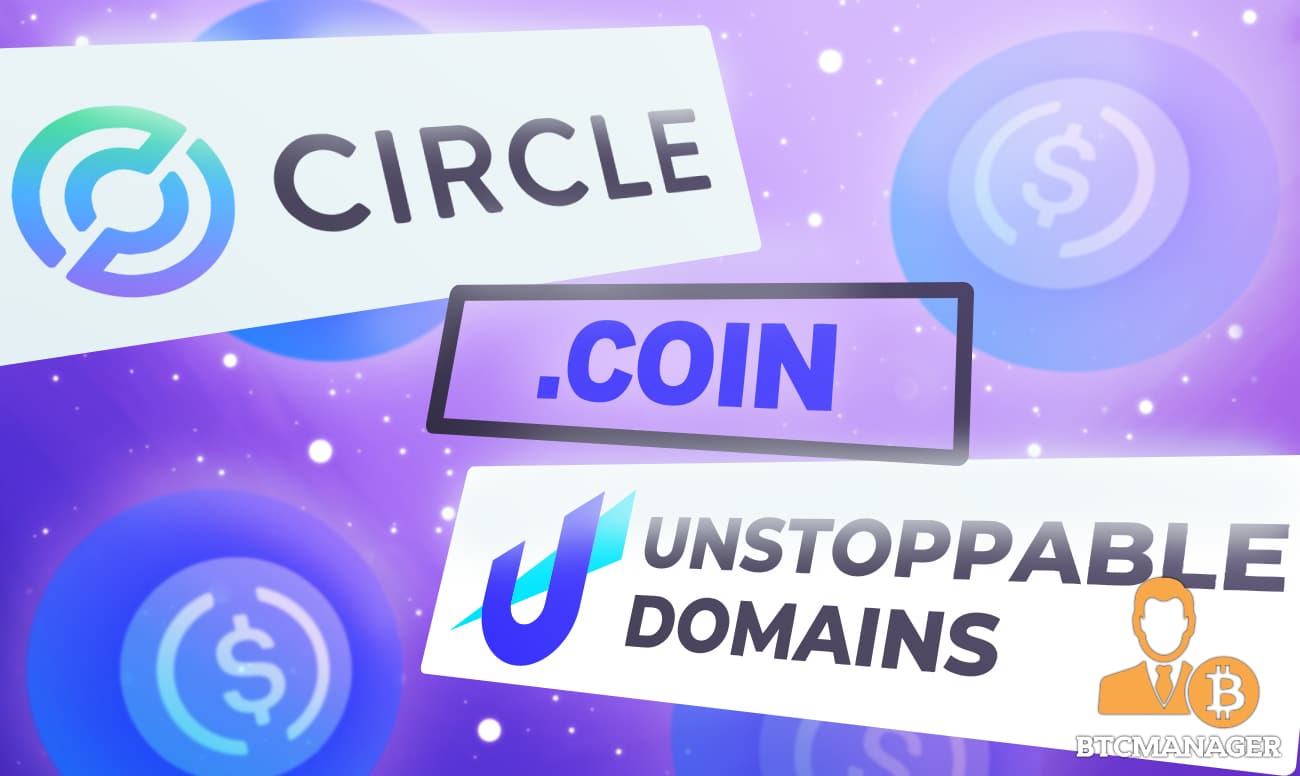 Circle, the firm behind the leading stablecoin USDC has partnered with blockchain domain name provider Unstoppable Domains to launch easily readable usernames for stablecoin payments, Pymnts.com reports, August 4.
Enabling .coin Extension
The partnership between Circle and Unstoppable Domains will integrate support for .coin extensions into USDC's over 30 wallet and exchange partners.
The .coin extension can be thought of as something similar to how PayPal and Venmo usernames made the process of transferring US dollar easier. Unstoppable Domains' .coin address extensions are aimed toward making the process of sending crypto easier.
In essence, it will make sending crypto as easy as sending an email as it will replace the long alphanumeric wallet addresses with simpler usernames to foster seamless USDC transfer across an increasing number of apps, wallets, and exchanges the world over.
Commenting, Josh Hawkins, senior VP of marketing, Circle, said:
"USDC has grown dramatically in the last year, fueling commerce and payments activity across the internet. With Unstoppable Domains' .coin usernames, sending USDC becomes just as easy as sending an email. We believe this is a major step forward in making USDC payments accessible for all."
Similar sentiments were echoed by Matthew Gould, Founder and CEO of Unstoppable Domains. He said:
"Circle and Unstoppable Domains share a vision to bring ease-of-use to global payments, and we aim to make blockchain domain names the standard for digital currency transfers across all wallets and exchanges."
Adding:
"Simple usernames combined with dollar-pegged stablecoins take the fear and risk out of spending crypto. We're excited to work with Circle to make stablecoin transactions an everyday reality for millions, then billions of people."
Leading the Global Blockchain Domain Name Race
Notably, Unstoppable Domains supports over 200 cryptocurrencies across more than 50 wallets and exchanges and has sold over 1 million blockchain domain names to date.
In similar news, BTCManager reported on May 14 that privacy-centric web browser, Brave had inked a partnership with Unstoppable Domains to enable its users across the desktop and mobile versions gain seamless access to more than 30,000 decentralized websites and over 700,000 blockchain domain names registered with Unstoppable Domains.