VanEck and SolidX File for Physically Traded Bitcoin "Solid" ETF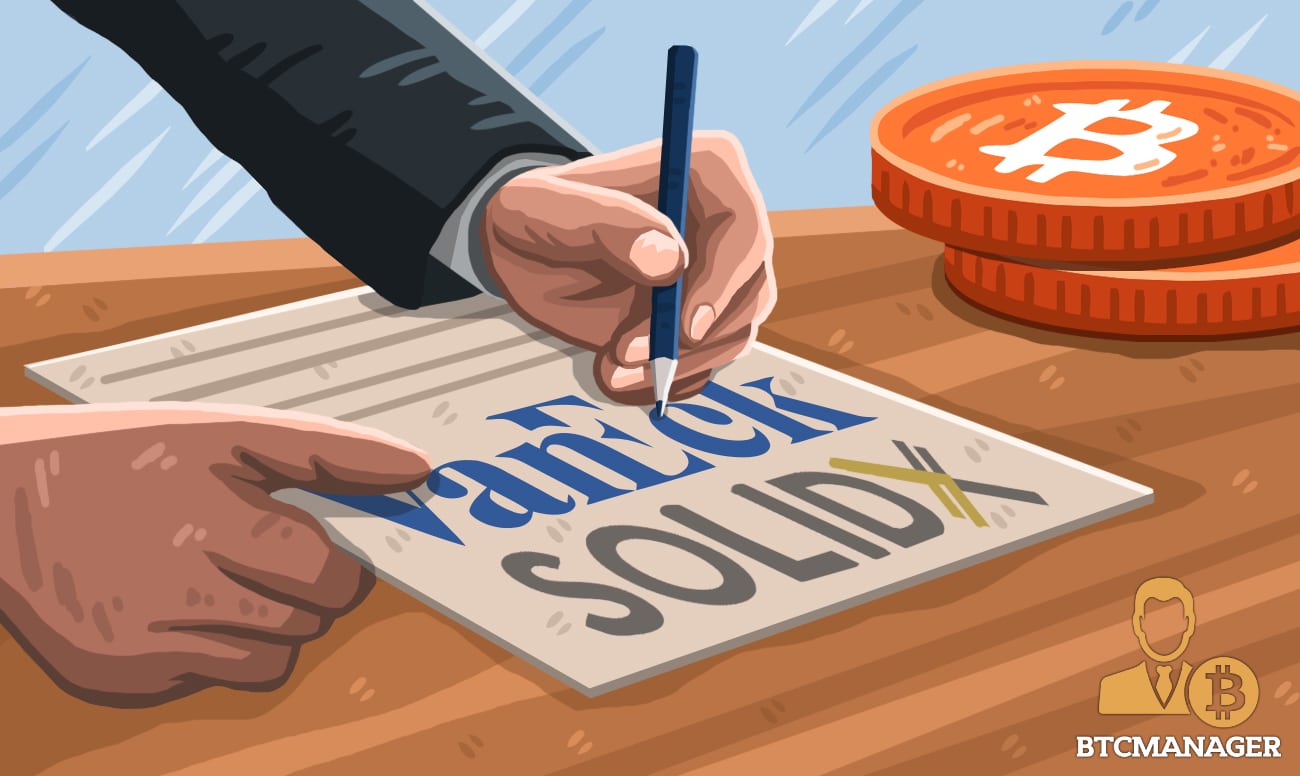 New York-based investment management firm, VanEck has partnered with SolidX blockchain and Fintech company,  as part of a strategic move to launch a Bitcoin-backed ETF. 
A Tall Ambition?
According to an ETF Strategy report,VanEck asset management company in conjunction with SolidX blockchain and Fintech firm have drafted a joint SEC filing for a physically-backed bitcoin ETF that will be insured against loss or theft of bitcoin.
At the time of writing, the VanEck-SolidX application is being reviewed by the US regulatory watchdog.
At a time when the bitcoin futures contracts launch of the CBOE and CME have failed to push the price of bitcoin to the moon, crypto enthusiasts and investors are now hoping the emergence of an SEC-approved bitcoin ETF (Exchange Traded Fund) would do the magic.
"I believe that bitcoin has emerged as a legitimate investment option, as a legitimate investment option, as a type of 'digital gold' that may make sense for investors' portfolios. The SolidX team has in-depth experience with bitcoin, cryptography, and capital markets. We're pleased to join with them in supporting the effort to bring a physically-backed bitcoin ETF to market," said Chief Executive Officer of VanEck, Jan van Eck, adding "A properly constructed, physically backed bitcoin ETF will be designed to provide exposure to the price of bitcoin, and an insurance component will help protect shareholders against the operational risks of sourcing and holding bitcoin."
Succeeding Where Many have Failed
Getting approval for an ETF has proved quite elusive to all who have attempted it. In March 2017, the SEC rejected the application of the Winklevoss twins, citing the seemingly unregulated nature of the crypto markets.
Also, per a CNBC report, VanEck tried getting approval for an ETF based on bitcoin futures contracts back in August 2017 but had to withdraw the application at the request of the SEC in September.
Inspired by the launch of the CME and Cboe bitcoin futures contracts in late December 2017, VanEck applied again without success.
However, unlike its previous attempts, VanEck is looking to create a fund that will be based on actual bitcoins and not futures contracts.
Occupying the Frontline
It's worth noting that VanEck has an excellent track record of launching new and innovative investment products.
In November 2017, the firm created a series of indices in collaboration with CryptoCompare to track the performance of bitcoin and some established altcoins in the cryptocurrency market.   
The MVIS CryptoCompare Indices uses a virtual currency pricing system from more than 50 major crypto exchanges globally.
VanEck has also hinted that the fund will work with bitcoin prices from over-the-counter trades through MVIS, rather than electronic crypto exchanges.
If approved by the regulators the VanEck SolidX Bitcoin Shares ETF will start in early 2019, with a listing on the Cboe BZX Equities Exchange.
The ETF is aimed at attracting institutional investors, as such, VanEck has placed the price of each share at each of the fund at a whopping $200,000.