VeChain (VET) Partners Bayer China to Improve Management of Clinical Trial Drugs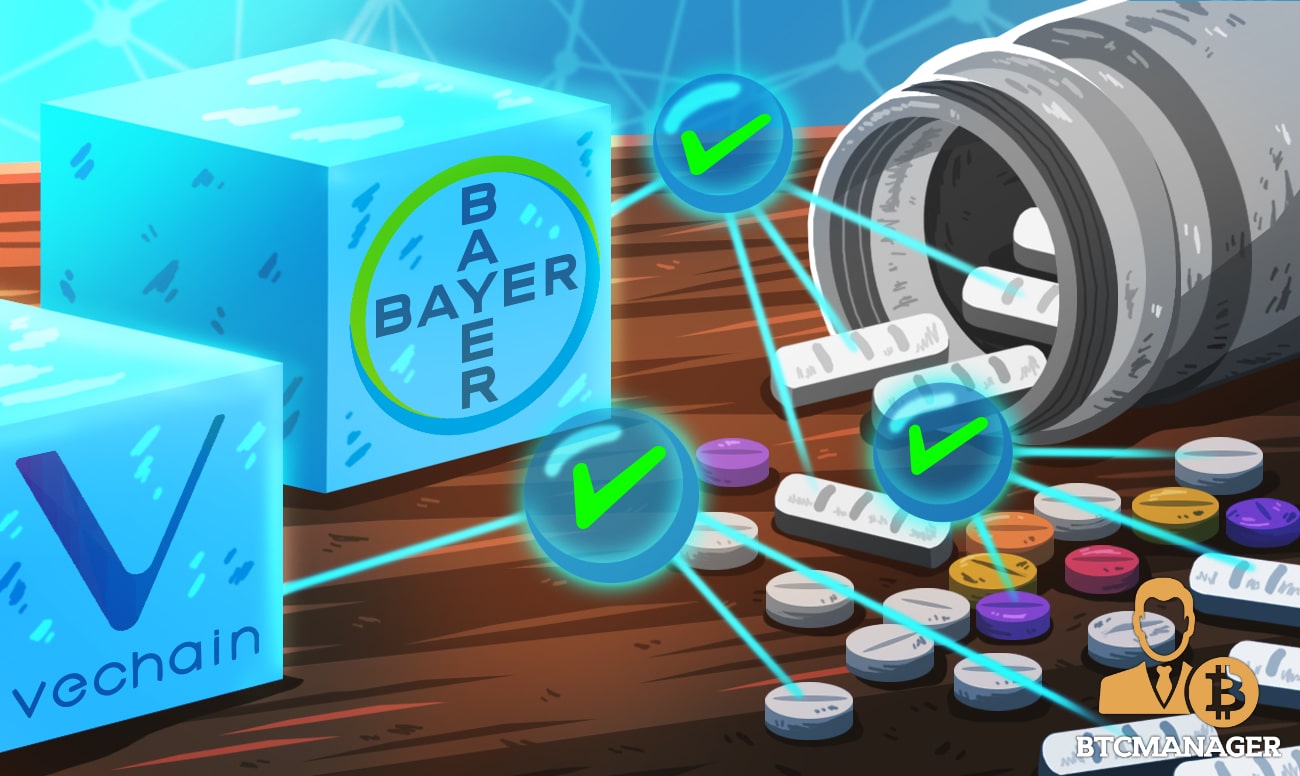 On May 28, 2020, Bayer China, a leading company in the Chinese pharmaceutical scene,  revealed plans of co-developing a Clinical Trial Traceability Platform based on the VeChain blockchain called cSecure. This solution monitors user and product data ensuring consistency throughout the trial of clinical drugs thereby improving precision and safety. 
VeChain and Bayer China Deal
VeChain is a Singapore-based distributed ledger technology (DLT) project focused on enhancing supply chain processes by leveraging blockchain's immutability to track and determine the quality of goods.
Through this deal, Bayer China and VeChain now become partners in allow the blockchain project to gain a competitive advantage while adopting Bayer China's products and services. With VeChain, Bayer China will improve its management of clinical trial drugs while the product development team of the DLT outfit will gain invaluable experience.
In an interview with VBeat, a Chinese media outlet that covers healthcare developments in the Asian powerhouse, Bayer China disclosed their deal with VeChain.
The main highlight was the pharmaceutical company's ability to trust a fledgling blockchain project launched less than five years ago in digitizing the company's core services. 
Overly, their digitization efforts prove VeChain's capability as a leader in the provision of the basic infrastructure required to resolve longstanding concerns in the multibillion-dollar medical and pharmaceutical industry. 
G4A Program and cSecure
VeChain was successful in creating feasible solutions and resolving Bayer China's challenges after participating in the G4A Program in 2019. 
The program required participants to undergo a three-stage interview where they were familiarized with the company ideals and connected to Bayer China executives. Later, in the final phase, they conceived and developed a practical solution while complying with strict requirements. 
Through the G4A Program, VeChain demonstrated its capability of developing fitting world-class solutions when they proposed cSecure. The platform tags blockchain's properties as transparency and immutability for all product transactions effected by Bayer China's partners including suppliers. Each product that is listed on cSecure will be bound by a QR code and tagged in VeChain's Thor blockchain for easy traceability.
Sunny Lu, the Co-Founder of VeChain, commenting on the rigorousness and the professionalism of Bayer China, said (translated from Chinese):
"We've experienced the rigorousness of the medical industry by working with Bayer. The rigorousness during the product design process, also from the communication process with G4A, and the communication process with Bayer related business departments. I feel Bayer's professionalism and superb work ethic towards medicine and healthcare causes as a whole."
Deal with I-Dante of Cyprus
VeChain has also built a data management platform where patients would share data securely in collaboration with a Cyprus-based hospital, I-Dante, called E-NewHealthLife. The platform uses VeChain's ToolChain.