Weighing the Pros and Cons of the EOS platform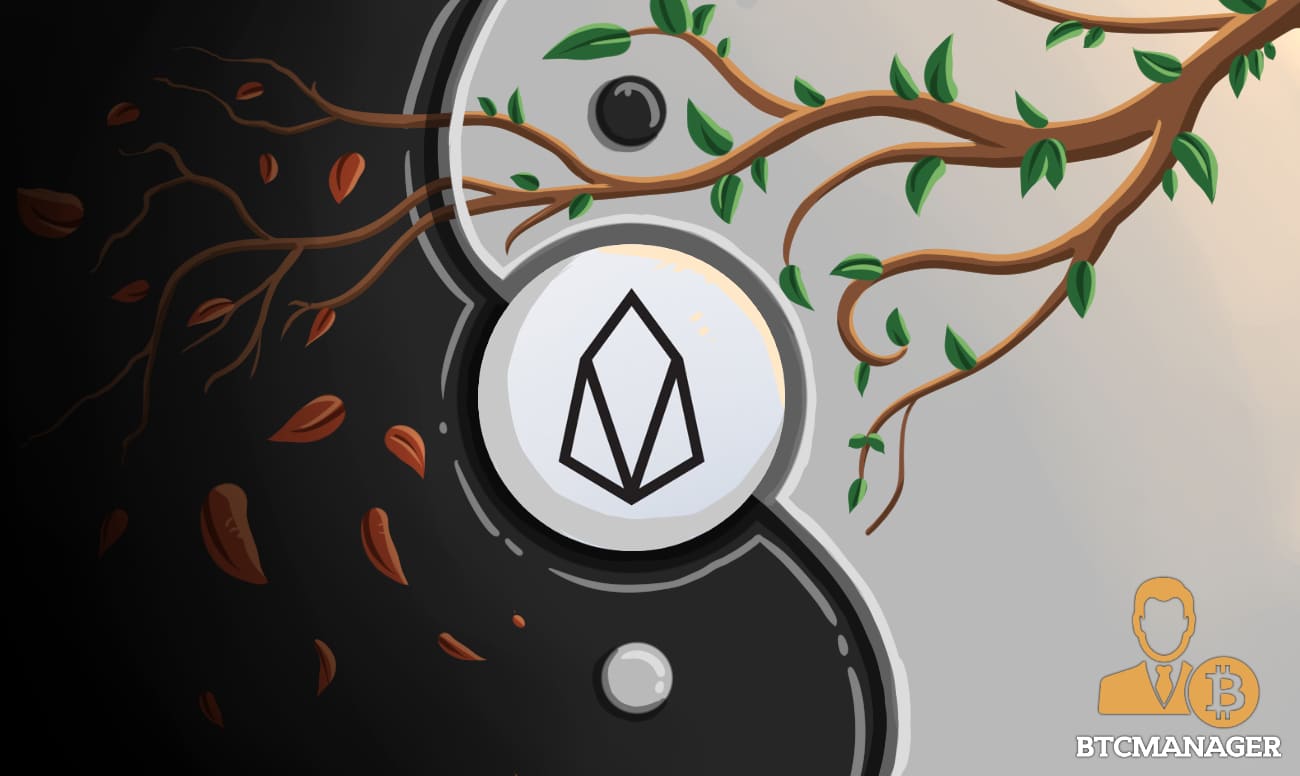 EOS developers believe that they found a solution to the scaling problem that currently plagues most cryptocurrencies, including bitcoin and Ethereum. EOS is a smart contract platform that is scheduled to launch its mainnet in June 2018 with its development being led by noted blockchain engineer and developer Dan Larimer. He was also the founder of Bitshares and the co-founder of Steemit.
Notable Features of EOS
EOS wants to bring the best of all other smart contract technologies to one platform. As such, it offers a blockchain architecture that aims to enable the development of decentralized applications. Developers can build, test and execute their projects on the operating system-esque EOS blockchain.
Ethereum and bitcoin use the proof-of-work (PoW) consensus mechanism to verify transactions. As a result, all miners need to validate a new transaction before it can be added to the ledger. This mechanism often results in the slowing down of the network and an increase in the time taken to process news transactions. In 2014, however, Dan Larimer pioneered the Delegated Proof of Stake (DPoS) consensus mechanism as a solution to this problem.
DPOS Decentralization vs Bitcoin & Ethereum #eosio #bitcoin #ethereum pic.twitter.com/99xbvQlARp

— Daniel Larimer (@bytemaster7) May 6, 2018
EOS also works on the DPoS consensus mechanism and has only 21 block producers who are responsible for validating each block. Having only 21 full nodes to confirm a transaction results in a net increase in the number of transactions that can be processed every second. Each block producer can mine only one block at a time.
They take turns to mine a new block after every half a second. If a block producer passes up the chance to mine a new block during his turn, no block is mined in that time frame.
Dan Larimer had warned that a majority of bitcoin's mining resources could end up in the hands of a few select people, threatening the primary aim of decentralization. He proposed the DPoS mechanism allowing any node on the network to become a block producer, provided it could get the majority support or votes needed. Any such producer can also be stripped of its power and authority if it does not follow the rules of the EOS blockchain.
Criticism of the EOS ICO
The EOS project came under heavy criticism as it raised a whopping $700 million through its ICO, despite not having a working prototype of the EOS mainnet. The EOS digital coin is the fifth largest cryptocurrency by market capitalization.
Valued at ~$18 at current market prices and boasting a market capitalization of $14.57 billion, it will perhaps not be redeemed until the EOS mainnet is ready. As is standard for this space, zero utility did not seem to be a hindrance for potential investors.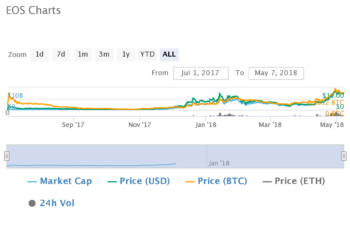 (Source: Coinmarketcap)
At the time of launch, one EOS token was valued at $1 on July 01, 2017. For most of October 2017, it slipped below $1 as anxious investors waited for a prototype of the EOS blockchain.