YoStep: A Move-to-earn platform on YoBit, StepN Competitor with Handsome Rewards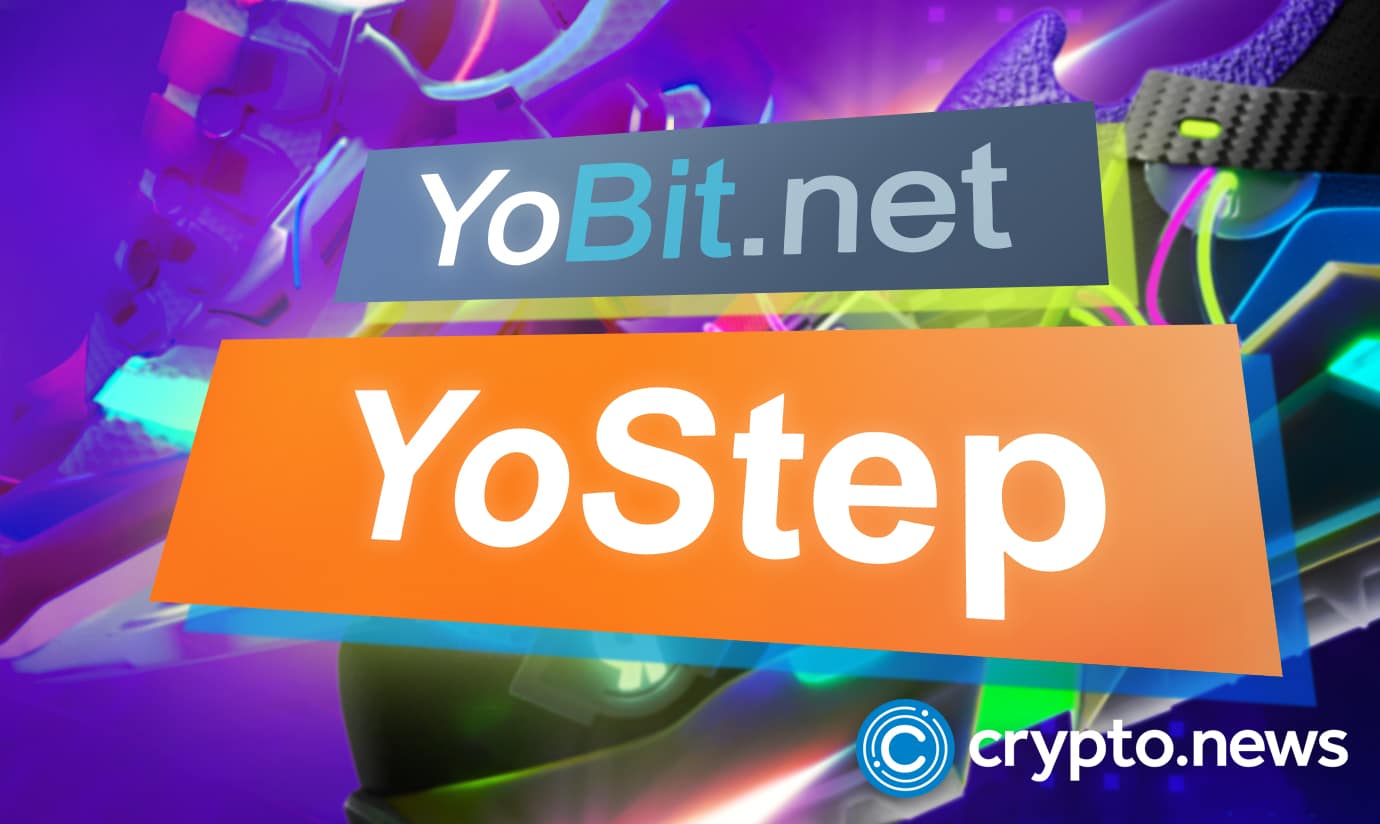 There is so much that crypto brings to the table. If not massive gains, then it got to be passive income, ultra-high yields, and never thought before opportunities for retailers. For beginners, it can be overwhelming.
However, with the proper guidance, it can get exciting. It is already fun to engage in crypto with the rising popularity of the X-to-earn model, an earning system that Axie Infinity first popularized. Gamers can make money while they do what they love best, gaming.
And the same design is now being adapted to fitness, effectively gamifying a multibillion industry. With the increasing popularity of StepN, a revolutionary platform that merges real-world fitness with digital assets and gamification, a whole sector is emerging.
What is YoStep?
It is a field that YoStep plans to tap on and further present new opportunities for all crypto users. YoStep is a project that satisfactorily exemplifies the state of crypto and the rapid evolution in the sphere. YoStep is a virtual sneakers platform built on the world's oldest cryptocurrency exchange, YoBit. Their decision to build on YoBit and release an exciting platform to cater to a growing niche is strategic.
The YoBit Exchange
YoBit is one of the world's oldest and most liquid cryptocurrency exchanges supporting a wide range of digital assets. It is registered in Panama but has its headquarters in Dubai. Established in the early days of crypto and Bitcoin in 2014, the exchange has rapidly grown to support over 400 cryptocurrencies and more than 3.9k trading pairs.
Combined with the exchange's easy and quick registration, where users don't have to submit KYC documents, thus preserving anonymity and enabling users to trade anonymously, YoBit has high levels of liquidity, which is beneficial for all types of traders regardless of their strategies. Besides trading, the exchange has emerged as a preferred tool for traders because it supports staking, carrying out numerous airdrops and giveaways, and increasing the number of channels a user can make money.
How to earn Steady Income on YoStep
By launching on YoBit and leveraging the exchange's well-established history of success, security, and liquidity, YoStep is an easy avenue for savvy crypto users to diversify their income streams and quickly cash out, all from a simple to use and reliable ramp.
There are several types of virtual sneakers available on YoStep where purchases earn rewards depending on the type of sneaker.
For instance, a Level 1 Virtual Sneaker sold for 10 USDT will reward the purchaser 2 YOSTEP plus a bonus and $0.28 in daily rewards. Meanwhile, users who purchase Level 6 sneakers for 1k USDT receive 200 YOSTEP plus a bonus and an estimated daily reward of $28.78. At this rate, a holder stands to earn over $10.5k every year, recouping their initial investment and making more than 9X more. At the moment, users can make direct purchases and begin earning rewards.
YoStep has also announced an Affiliate program where referers stand to make 10 percent in earnings depending on the referrals' sneaker purchases. The objective is to draw users and make them part of the exciting YoStep ecosystem, which in turn will build up demand for virtual sneakers, helping benefiting YO and YOSTEP token holders.
Play YOSTEP Dice Game to Earn
Eventually, YoStep will allow users to link their fitness activities with the portal and earn rewards. However, at the moment, users can begin earning by completing simple activities on the exchange.
Currently, virtual sneaker buyers can earn by playing the YOSTEP Dice Game at least ten times a day. This means users don't have to walk, jog, or run. For now, YoBit allows holders to buy virtual sneakers and repair them with the exchange's native token, YO, ensuring steady passive income.
However, at the moment, the YoStep economy can sustain the high yields because of the low barrier to entry, enabling beginners to quickly acquire virtual sneakers straight from the YoBit exchange. This is a competitive edge that is already making YoStep a notch higher in user count, creating a beneficial network effect, driving capital to its rapidly growing ecosystem.
In addition to the advantages of launching on an established exchange, YoStep's virtual sneakers can be bought for as low as 10 USDT, a price that still guarantees decent income. This low barrier to entry is attractive and has seen an influx of new users.
In the days ahead, the exchange might introduce new activities via its Telegram Bots or web interface. It is also highly likely that YoStep would attract more users because the barrier to entry is relatively low, beginning at only 10 USDT, with a promise of decent returns, higher than competing alternatives where earning is currently coupled with tiring physical activities.
YoStep: How to Ensure Steady Income
YoBit will distribute rewards twice per day, and the number of virtual sneakers a user can buy is limited to 20. However, the number is doubled for YO token holders.
Purchasing virtual sneakers using USDT and then proceeding to purchase YO tokens may turn out beneficial for holders too. YoBit has revealed that funds from sneaker purchases will be directed to the Buying Fund to reward YoStep referral program participants and acquire more YO at market rates. Accordingly, their decision will exert buying pressure on YO, driving prices higher, translating to more rewards for holders.
Furthermore, YoBit requires that the monthly repairs of their sneakers be in YO, therefore supporting prices in the long term. Each repair will be at five percent of the original cost of the pair. This means holders of Level 6 sneakers will only spend 50 USDT to make repairs on their assets.
The low barrier to entry and the ability to earn passive income by playing the YOSTEP Dice game on the exchange means more users will likely participate. Subsequently, YoBit limits the number of virtual sneakers, and the number of refills will occur in small quantities every hour from 12 to 22. Users who need to upgrade their sneakers to earn more can also do so using YOSTEP tokens, a feature the platform developer plans to introduce later.
Getting Started with YoStep
To begin earning passive rewards in YOSTEP, a user must sign up at YoBit. Since there is no need to submit identifying details, therefore ensuring complete anonymity, registration is straightforward.
Here's how it is done:
Visit the YoBit exchange website and press the registration button to submit your username, email, and password. Verify your email for verification and set up your 2FA authentication
Proceed to the Deposit section and deposit at least 0.001 BTC to activate the YOSTEP Dice game. This is important!
Navigate to the YoStep interface and purchase your virtual Sneakers. To do this, you must first buy USDT, of which you can convert your BTC/ETH/ or any other asset to USDT depending on the virtual sneaker type you want to purchase. As mentioned earlier, the higher the sneaker level, the more the daily rewards.
To begin earning rewards, start playing the YOSTEP Dice Game. To play this game, you will need BTC—or any other coin supported by the exchange to begin gambling.
YoStep Users And Influencers Reviews: The Reception
YoStep is already a hit and has been warmly received by users across the globe. The low barrier to entry, the decent high yields, and the advantage of launching from an exchange are part of the reasons the move-to-earn platform is gaining traction.
Because of the creators' decision to tap on a growing sector of fitness gamification, YoStep is now one of the early portals to reward users for their activities. For this, YoStep has already caught the attention of crypto and industry reviewers and influencers who highly rank the project.
YoStep has a Competitive Edge
YoStep is an exciting platform that taps the advantages of gaming (later fitness) and rewards users who ordinarily would, in real life, have to compete. By launching on YoBit, an established exchange that's already used by millions around the world, YoStep has the edge over the competing platform and presents an opportunity for YOSTEP and YO token holders to earn a steady stream of passive income as the platform develops.