YouTube Claims it Deleted Bitcoin Videos in Error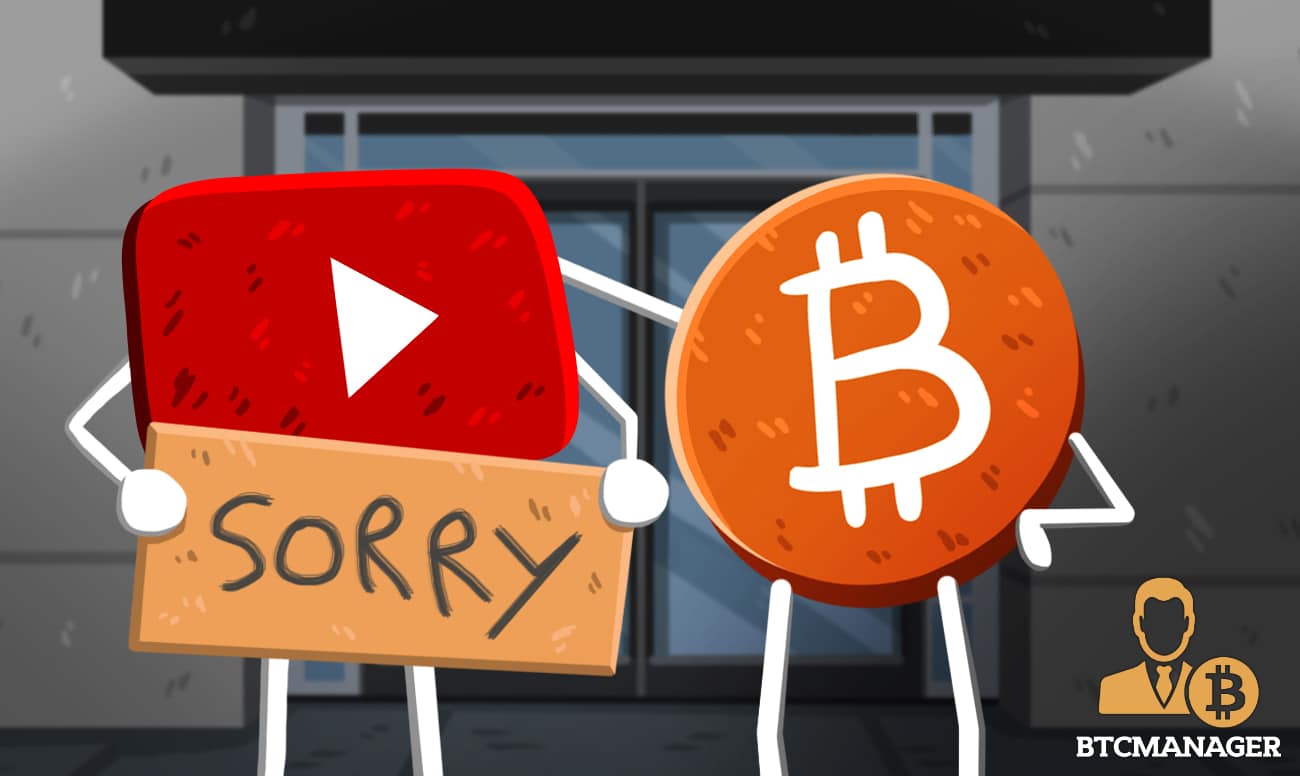 Carl from The Moon (@themooncarl), a crypto-YouTuber revealed that the world's largest video-sharing website YouTube has made an official response after wilfully taking down his crypto-related videos. Nonetheless, @themooncarl says he can never trust centralized platforms again, instead, he will move his audience to a decentralized and censorship-resistant ecosystem, according to a Tweet on December 26, 2019.
YouTube Embarks on a Crypto Censorship Spree
As reported by BTCManager on December 24, 2019, several highly reputed YouTubers who have been educating the masses through their videos for years, took to Twitter to allege that their content had been deleted by the admins of the platform, citing violations of YouTube's policies.
Fast forward to December 27 and  one of the cypherpunks affected by the censorship has stated in a tweet that YouTube has made an official statement regarding his bitcoin video from January 27, 2019, which was removed for having "harmful and dangerous content."
Hey there, this was an error on our side during the review process – your video should be reinstated and strikes resolved. Let us know if you're seeing otherwise!

— TeamYouTube (@TeamYouTube) December 26, 2019
Per @themooncarl, YouTube has made it clear that an error in its review process led to the video's removal, and the video will be reinstated.
"Hey there, this was an error on our side during the review process – your video should be reinstated and strikes resolved. Let us know if you're seeing otherwise!" YouTube said. @themooncarl has since confirmed that his censored video is live again on YouTube.
The Need for Decentralization
Despite the video's restoration, @themooncarl has stated categorically that he has lost his trust in centralized platforms such as YouTube and can never trust the system again, but would rather move his audience to a decentralized one, powered by blockchain technology.
Several crypto enthusiasts are also certain that this censorship will not be the last of its kind as long as there are centralized platforms weighing power over what the user can publish.
Binance's CEO Changpeng Zhao, for instance, noted that this censorship is a short term set back, but good in the long run since it could potentially lead to the creation of platforms that will give the user freedom over their content.
Other reputable members of the cryptoverse have opined that "Not your keys, not your videos," and as such, decentralized social media platforms are the way forward.
A decentralized platform, unlike a centralized one, offers personal data ownership, censorship-resistance, and there are no limitations to the type of content the user can post on such a platform.
And most importantly, the user's content is neither deleted, edited, nor hidden from public view as has been evident time and again on centralized platforms.
As the blockchain ecosystem continues to gain traction, it's becoming increasingly important for participants to adopt decentralized social media platforms for the promotion of their products and services, since the industry still lacks regulatory clarity and authorities in various jurisdictions, including China still exhibit a draconian approach towards bitcoin (BTC) and altcoins.
In related news, on December 11, 2019, BTCManager informed that Twitter intends to develop a decentralized social media protocol, in a bid to find a permanent solution to the menace of censorship.