Zebu Live Unveils Steven Barlett as Headline Speaker, Shares Details of Web3 Week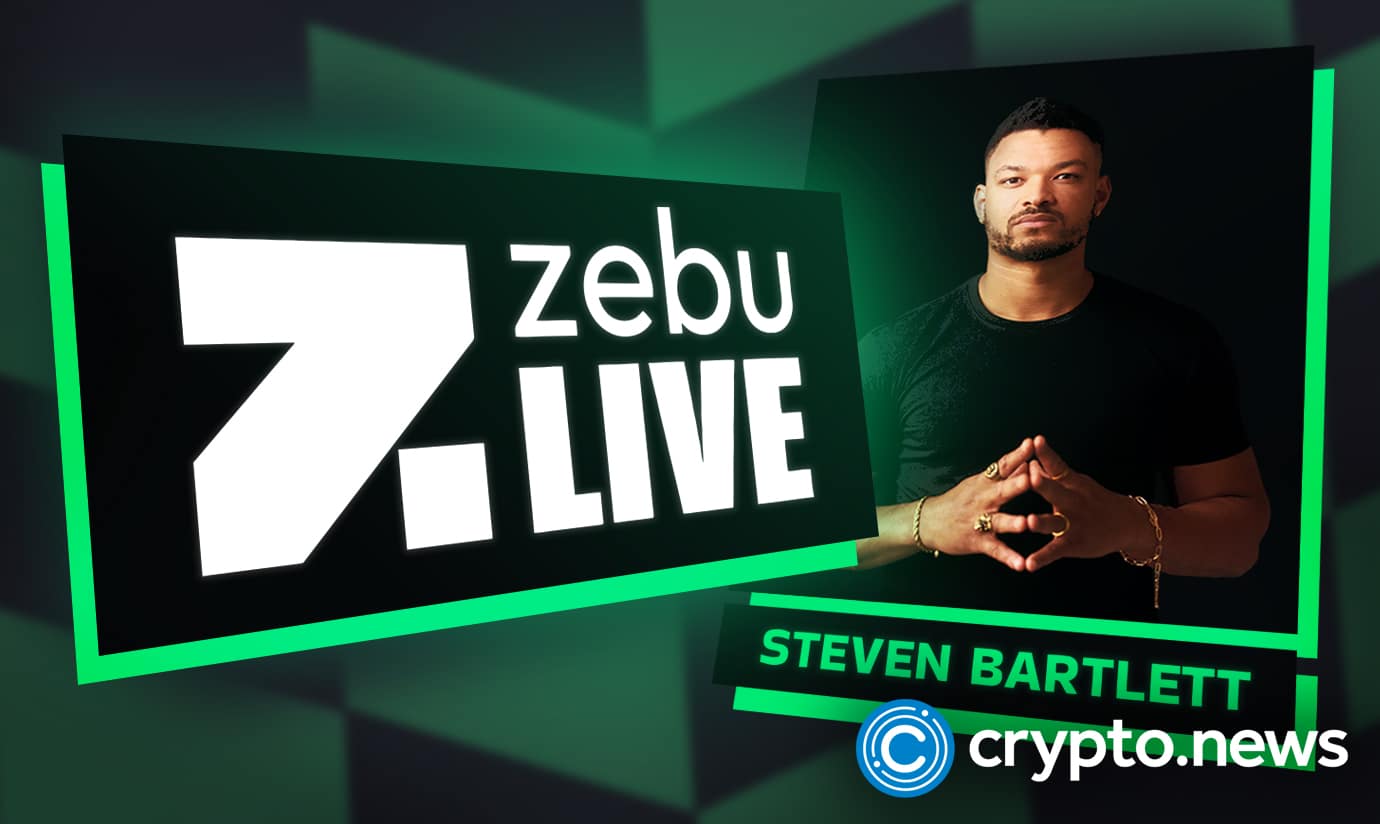 UK's eagerly awaited crypto, blockchain, and web3 conference Zebu Live today announced Steven Barlett as their headline speaker. For the uninitiated, Steven Barlett is an Entrepreneur, Speaker, Investor, Author, BBC Dragon, and the host of 'The Diary of a CEO', one of Europe's biggest podcasts.
Steven Barlett to Headline Zebu Live Conference
Commenting on the development, Harry Harsfall, Zebu Digital CEO, and Founder of Zebu Live, said:
"We couldn't be more excited to announce Steven Bartlett as the headline speaker of our event; Steven's impact and contribution to the realm of business, finance, and entrepreneurship cannot be overstated; he has disrupted the web2 fundamentally, and his sale of Social Chain demonstrated his prodigious entrepreneurship. His move into web3 is a natural progression and extremely exciting for the industry as a whole. It's an honour to have him with us at Zebu Live!"
Besides Barlett, Zebu Live has announced the following additions to their line up of top-tier speakers and innovators who will be contributing to the highly anticipated event. The list of speakers includes:
Stani Kulechov – Founder and CEO, Aave
Sarah Buxton – COO, Gala Games / Gala Music
Matt Hancock – Member of Parliament in the United Kingdom
Rita Martins – Head of FinTech Partnerships, HSBC
Nicolas Cary – Co-Founder and President, Blockchain.com
Justin Edwards – CEO Of Verse Digital And Ex-Coo Of Decentraland
Oyinkansola Adebayo – Founder of Niyo & H.E.R. DAO Governor
Michela Silvestri – Business Development, Huobi Global
Andrea Bonaceto – Co-Founder, Eterna Capital / Aorist
·        Samia Bayou – Vice President, Global Head Of Private Clients, Blockfi
What Is Zebu Live?
Specifically, Zebu Live is a two-day event poised to be hosted in London from September 22-23 and streamed across the globe. Further, Zebu Live has announced a partnership with James Bowator, Editor of CityAM's CryptoAM. The leading cryptocurrency news outlet recently celebrated its 4th birthday, and will be the lead media partner for London Web3 week.
Web3 week is a 5 day long event scheduled to run from September 19-23 which features CityAM as the spotlight media partner, along with some of the leading web3 brands such as  Luno, NEAR, Algorand, Avalanche, Swissborg, Metis, Pluto Digital, Cudos and many other exciting established and up and coming projects. Notably, the week will conclude with an afterparty at the newly refurbished KOKO nightclub which recently inked a sponsorship deal with crypto exchange Luno.
The Web3 week will include exciting community meetups, networking events, and after parties. Further, it will showcase the London-based meetup groups such as Crypto Mondays, TuesDAO, ThursDAO, Web3 Gen, Nickel Factory, and grass roots communities which burn the midnight oil to connect the people of web3 and play a crucial role in establishing London and the UK as a hub for web3 innovation and talent.