2008 Financial Crisis Predictor Roubini: "Blockchain Is Nothing More than a Glorified Spreadsheet"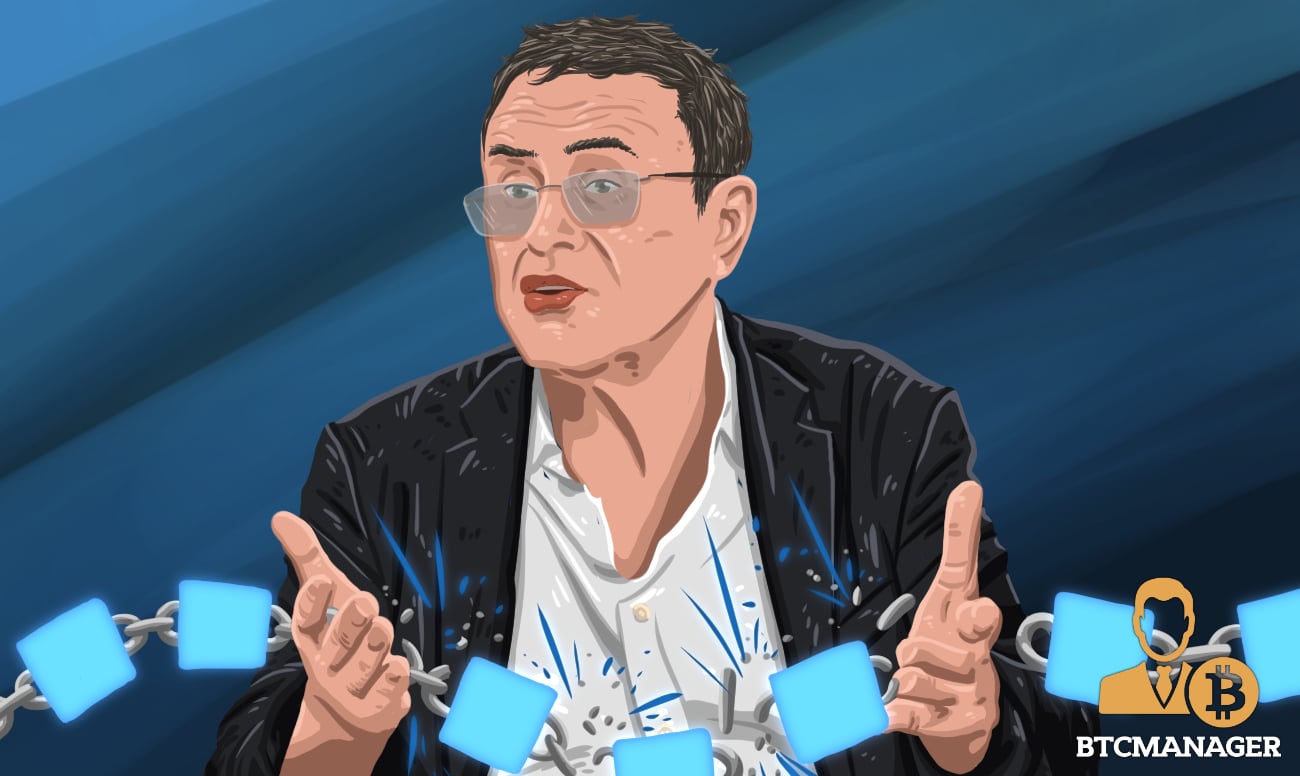 In what can only be called a flavored op-ed by "Dr. Doom" Nouriel Roubini, the acclaimed economist showed no mercy while criticizing not only the premier cryptocurrency Bitcoin (BTC) but also the underlying technology that virtually powers all the cryptocurrencies on the planet, blockchain technology. The op-ed published by Project Syndicate on October 15, 2018, calls the 2017 crypto bull run the "mother of all bubbles which has now gone bust."
The False "Decentralization" Narrative
In his op-ed, Roubini makes use of statistics to back his somewhat controversial take on the distributed ledger technology (DLT) and cryptocurrencies in general. Comparing the current state of crypto markets to the peak they experienced around Q4 of 2017 and early 2018, Roubini points out that the value of bitcoin has fallen over 70 percent from its all-time high.
While the apex digital currency tumbled, altcoins including Ether (ETH), EOS, Litecoin (LTC) and Ripple's XRP joined the downward spiral – recording loss of value in excess of 80 percent. Not to mention thousands of other unknown crypto projects which have almost gone bankrupt and in some cases, have even been exposed as outright fraudulent projects.
Roubini accused the proponents of the crypto community of fleeing to the "last refuge of the crypto scoundrel," i.e., the defense of blockchain. The NYU Business School professor called the innovation the most overhyped technology in human history and reduced it to nothing more than a "glorified spreadsheet."
According to Roubini, instead of ushering in a utopia, the DLT is the primary culprit for establishing an economic hell where a few self-proclaimed messiahs for the world's masses claim to change the world for the better using the argument of decentralization.
Cryptocurrencies More Centralized than you Think
Roubini brought up the point of centralization of crypto mining activities in countries like Russia, Georgia, and China.
He stated that these nations collectively control between two-thirds and three-quarters of all mining operations, consequently shooting up their profit margins and creating a virtual monopoly.
The op-ed stretches the centralization argument to some of the premier crypto exchange platforms, saying that close to 99 percent of all the crypto transactions happen on centralized exchanges which are repeatedly hacked by wrongdoers, thus jeopardizing the safety of trader's hard-earned money.
The staunch anti-crypto personality makes use of the Gini coefficient to cement his claim about the centralization of wealth in the crypto universe. The op-ed reads in part:
"Whereas a Gini coefficient of 1.0 means that a single person controls 100% of a country's income/wealth, North Korea scores 0.86, the rather unequal United States scores 0.41, and Bitcoin scores an astonishing 0.88."
That said, the hot take has opened a can of worms in the crypto community. Noticeably, there has been a brewing back and forth between Roubini and Ethereum's co-founder Vitalik Buterin.
Vitalik, just shut up & speak about stuff that you can claim u know a lil about. You have promising Proof of Stake since 2013 & we are still waiting for a system that is scalable, decentralized & secure. But that is impossible as your inconsistent trinity principle proves. https://t.co/2VtkG764wL

— Nouriel Roubini (@Nouriel) October 10, 2018
One can expect things to get more interesting in the coming days, as recently Roubini agreed to a live debate with Vitalik Buterin via Twitter – on the condition that there is a fair moderator that both the people can agree on.