5 BEST Cloud Mining Sites 2022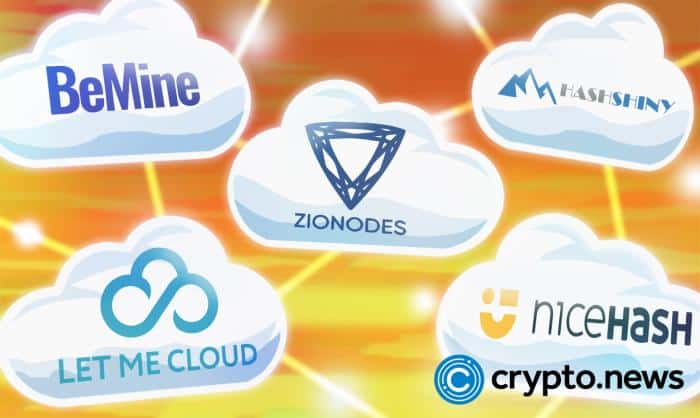 What are the best platforms for cloud mining in the UK in 2022? Our cryptocurrency experts spent hours finding the best offers from trusted companies.
If you mean business, we are here to tell you about cloud mining projects with high rates and higher profitability. Note this is an independent expert review, and we don't have any profits from making the following rating.
Also, we rated only trusted, legit Bitcoin cloud mining websites that work under the laws and regulations of the particular countries (including the UK).
Cloud Mining vs. Traditional Hardware Mining
| | |
| --- | --- |
| Cloud Mining | Hardware Mining |
| No need for equipment to start | Buying or renting hardware is required |
| No need to install specific software | Installing high-price software is required |
| Accessible with a small investment amount | Requires large investments |
| Affordable for beginners without specific knowledge | Requires IT and tech knowledge |
| No high-cost electricity bills every month | Involves extremely high-cost energy bills monthly |
| Available from any place | Requires to rent industrial facilities to install mining farm |
FAQ
What is cloud mining in short?
Like the best cloud technologies, cloud mining implies using the remote third-party facilities owned and maintained by the providing company. Users can mine BTC and other cryptocurrencies by simply renting a hash rate produced by Bitcoin cloud mining companies. You are not required to buy and install any hardware and software to make digital assets through cloud technology.
Why is mining in the cloud better than installing physical equipment?
Cryptocurrency mining via the cloud is definitely the best option for those who dream of passive income from digital coins but are still not sure about buying and maintaining high-priced mining equipment. Everyone can join it by just renting a particular amount of Bitcoin hash rate on the trusted cloud mining sites. It is also the best one as you don't have to pay for electricity and repair of equipment like in the case of a physical Bitcoin farm.
What is the best Bitcoin mining site?
Since there are a lot of scam projects in the field of cryptocurrency cloud mining nowadays, it is vital to deal with trustworthy, legit providers only. The best, trusted websites are always certified. Feel free to reach an online support team and ask for legal information before purchasing any cryptocurrency mining contracts online.
How to find the best cloud mining?
You have to do detailed research before buying any cloud contracts from hash mining providers. Feel free to use the best professional reviews on cryptocurrency-related magazines. There are some trusted companies from the United Kingdom that offer profitable hash power contracts (such as LetMeCloud).
How to choose the best Bitcoin contract?
To find the best option, estimate your potential reward from digital crypto mining by using the online income calculator. When selecting a cryptocurrency contract, pay attention to its duration, hash rate amount, prices per GH/s, and maintenance costs as well. Also, you should take into account the current digital currency prices.
How much money do you need to join?
The main benefit of cloud hash mining is its accessibility for both small and large crypto investors. Even if you don't have a huge amount to start, trustworthy platforms will offer you a lot of available products. The minimum initial amounts to buy/rent a hash rate on most legit websites are about $200-500 (and sometimes even less).
How to Spot the Best Cloud Mining Site
Ø The company has information about certificates on its website.
Ø There are no sky-high profits promises.
Ø They have 24h online support that usually responds to requests within 10-15 minutes.
Ø They have an income calculator that shows you a real estimated profit amount before purchasing a cloud contract.
The Best Cloud Mining Websites: Our Top 5 in 2022
Before taking a look at the features of the best cloud platforms let's just review them in brief.
| | | |
| --- | --- | --- |
| Cloud Mining Company | Prices | Our Rating |
| 1.      ECOS | From $100 | 5.0 |
| 2. Bemine | $391 per 4 TH/s (subscription pricing model used) | 4.7 |
| 3. Genesis Mining | From $499.99 per 12.50 MH/s of Ethereum hash rate | 4.6 |
| 4. Nicehash | Depends on the selected pool and seller | 4.5 |
| 5. Zionodes | varies | 4.3 |
1. ECOS
l Minimum initial amount: $100.
l Minimum price: $100
l Available currencies: Bitcoin.
l Contract duration: 2-5 years.
l Payouts: daily.
l Supported languages: English, German, French, Spanish, Italian, Portuguese
ECOS is the only mining company that operates with legal status. It was established in 2017 in Armenia in the Free Economic Zone and is getting all the power for mining from the Hrazdan TPP. Currently, the company is offering its services to over 300,000 users from all over the world. Besides, ECOS is more than cloud mining. It is the first full-fledged investment platform with all digital asset products and tools in one ecosystem. It also includes a crypto wallet, exchange, investment portfolios with the most promising coins, and all infrastructure for building your own mining farm or hosting your own mining devices.
Helpful tools and features
Sign up and get a free cloud mining contract for 1 month to test the platform.
Convenient calculator on the website for choosing a mining contract with a profitability forecast
Daily payments and detailed transaction history in your account
Withdrawals from 0.001 BTC
ECOS has a convenient mobile app. It is available on App Store and Google Play
Multilingual interface and user support
Company's promo: Free trial cloud mining contract for 1 month
2. BeMine
l Three days of free cloud mining on Antminer S19.
l Minimum initial amount: $391.
l Minimum price: $391 per 4 TH/s.
l Available currencies: Bitcoin.
l Contract duration: 48 months.
l Payouts: daily
l Supported languages: English, Spanish, Russian.
BeMine is a multifunctional platform that provides crypto investors with cloud mining services under a subscription model. The mining company has been known since early 2018 and registered in Seychelles. The provider has several industrial data centers in Russia and Kazakhstan. The current total hash power on BeMine is 86 500 TH/s (and it is a pretty impressive amount). The number of crypto investors who mine Bitcoin on the BeMine platform has already reached 75 thousand users so far.
Helpful tools and features
Instant payments via Bitcoin, altcoins, and bank cards.
Daily mining payouts.
Miner profitability calculator.
Low daily maintenance fees (from $0.09).
Two-level referral program.
As noted above, the company uses a subscription pricing model to purchase hash power. Customers can select one of the 48-month cloud contracts, including Beginner, Standard, Professional, and Ultra. The subscription pricing starts at $391 (Beginner contract with 4 TH/s of hash rate). The minimum withdrawal amount is 0.005 BTC. BeMine currently uses a semi-automatic payout mode while processing withdrawals to protect customers' mined funds.
Those out there who want to increase their passive income from Bitcoin mining in the cloud can join BeMine's referral program.
Company's promo: 3 days of free mining for new customers.
3. Genesis Mining
l Minimum initial amount: $500
l Minimum price: $500 per 12.5 MH/s.
l Available currencies: Ethereum.
l Contract duration: 12-months, 24-months.
l Payouts: daily.
l Supported languages: English, Deutsch, Spanish, French, etc.
Over two million cryptocurrency investors from different countries choose Genesis Mining as the best cloud platform to invest in profitable crypto contracts since 2013. The company from Hong Kong is considered one of the world's best hash rate providers with a great variety of available options. Genesis Mining has several industrial data centers located in Northern Europe (particularly in Sweden and Iceland).
Helpful tools and features
MasterCard and Visa payments.
Online customer service center.
Two-factor authentication.
Referral program.
Performance estimation tutorial.
Preferred algorithms selection.
The Genesis Mining cloud platform is popular among those Ethereum lovers who search for high profitability and low maintenance fees. At the moment, the company offers 12-months and 24-months Radiant Classic and Radiant Zero contracts (keep in mind some of them can be out of stock, so you have to check available options regularly if you want to mine on Genesis Mining). A daily maintenance fee for Classic contracts is $0.004 per 1 MH/s. All Ethereum Radiant Zero contracts do not include any maintenance fees.
Company's promo: check the official website for the current promos and specials.
4. NiceHash
l Minimum initial amount: 0.001 BTC.
l Minimum price: flexible
l Available currencies: Bitcoin, Ethereum, Litecoin,
l Payouts: daily.
l Supported languages: English, Deutsch, Portuguese, Spanish, Russian, etc.
NiceHash is the cloud hash platform and live marketplace where any digital investor can buy some hash rate to make passive income in cryptocurrency. The company was founded in 2014, and by now, it is the most advanced hash rate marketplace. As one of the best Bitcoin mining sites, NiceHash is very popular among crypto miners, traders, and buyers of hash power as well. There are over one million daily active workers on the NiceHash platform.
Helpful tools and features
No contract model.
Hash power marketplace.
Accurate real-time statistics.
Preferred pool selection.
Mobile app for iOS and Android.
Profitability calculator.
In fact, NiceHash does not provide 'traditional' cloud mining contracts. Instead of it, cryptocurrency investors have the ability to buy hash power directly from different mining pools. In other words, in this model, you purchase cloud hash power not from the best Bitcoin mining companies but from other individuals that own mining hardware. Buyers can change the prices, amounts, and limits by themselves in the orders without canceling them. So pricing is very flexible on NiceHash, and this is actually a great model to invest in crypto cloud mining.
The other advantage of the best cloud mining services on the NiceHash platform is the total independence from the time factor. Also, investors only pay for hashing speed they have got and all fees are applied only to the spent amount in cryptocurrency. Marketplace users can choose any pool as long as it meets minimum requirements.
Company's promo: check the official website for the current promos and specials.
Zionodes started operations in 2020 with a goal of revolutionizing Bitcoin mining space. Zionodes isn't really a "cloud mining" service, as you are in complete ownership of your Hardware it's more like "remote- or managed- mining." However, they have earned their spot on our list because the minimum batch size is just one ASIC. Consider Zionodes if you're thinking of investing in cloud mining.
To assist you to find the best miner for your needs, Zionodes provides a Marketplace full of pre-installed miners that are ready to go to work in only a few minutes. If, on the other hand, you're interested in bulk discounts on miners, you may do so through the Trading desk; there, you'll find a variety of hosting locations from which to choose, and your miner will be sent and installed in a span of 15 days.
Zionodes makes it easy as pie to buy mining hardware, with support for a wide variety of stablecoins across three different blockchains, and while purchasing through the trading desk you get an option to process your payment through MetaMask.
Features:
Complete ownership of miner
Select your own pool and start mining in minutes
All the mined amount is instantly added to your preferred crypto wallet
Amazing customer support
Choose from the pre-installed equipment and start mining within minutes!
Do Cloud Providers Mine Themselves?
In brief, they definitely do. Best Bitcoin mining companies have two options. Every single company buys and installs specific hardware and software to mine Bitcoins itself. Normally it requires very huge investments. At the same time, every hash provider shares produced hash power with a lot of customers who rent it. This concept helps to share also the spending on equipment, energy bills, and team salaries. As you can see, cloud mining is a win-win for both providing companies and their customers who lease hash power by purchasing contracts.
Conclusion
Cloud crypto mining is a super popular trend, and we're absolutely not surprised about it. As BTC value rises literally every week, many digital investors choose the profitable hash contracts as the main source of passive income. Best, trustworthy hash providers offer many helpful tools and features that enable investors to enter the Bitcoin business with small amounts (and also the minimal financial risks). If you want to start mining digital assets from home, (or any other place),you can count on our expert review and the ranking of the best legit websites.
Also, you should understand the fact that even the best Bitcoin mining sites can't promise you the moon and the stars. Moreover, those cloud hash-rate providers that promise sky-high profitability within a couple of weeks look suspiciously like fraudsters. But when you finally find the best mining platform, you make passive income in digital assets little by little with no challenges.