Fine Art Gets a Facelift with Masterworks and Ethereum's Blockchain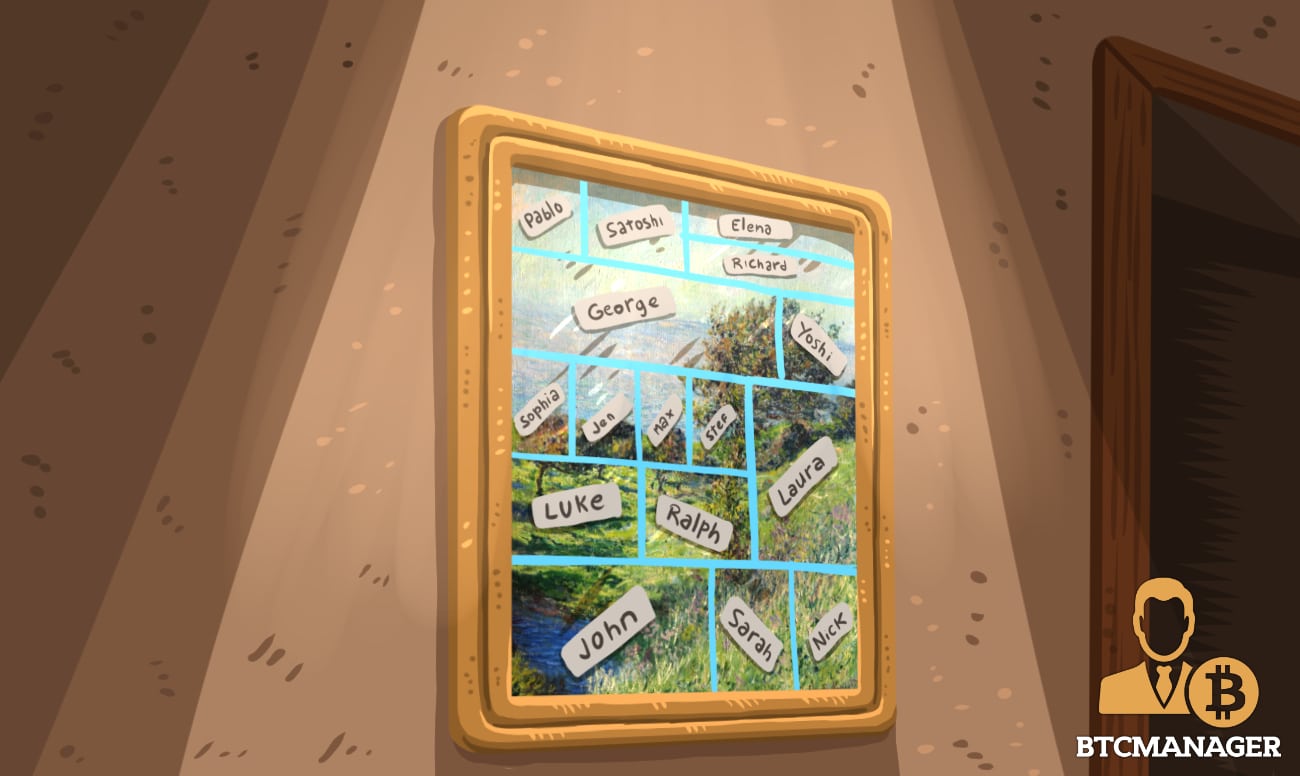 The realm of art is under siege by a technological revolution thought only to disrupt the world of finance. Crypto collectibles (NFTs) are indeed a native creation, but as the narrative in the sector shifts, it's the leap between the real and the digital that's showing the most intrigue. As such, Masterworks, CoArt, and Maecenas are each deploying original combinations of blockchain technology and the world of fine art.
The Walled Garden of Art Collection
On November 17, 2018, Leonardo da Vinci's painting Salvator Mundi was auctioned for $450,300,300 at Christie's auction house in New York. The seller was Russian business magnate Dimitriy Rybolovlev, and the buyer was the Abu Dhabi Department of Culture & Tourism. At the time of press, da Vinci's rendition of Jesus Christ is officially the costliest painting in the world. After a certain price point, however, a certain demographic of the population simply stops listening.
Owning an original work from Picasso, Van Gogh, or Warhol comes with an entirely new tax bracket. The one percenters, of course, but even as speculators move further down the list of prices, it's rare to find handsome work for a discount. And if so, it rarely holds that price over time.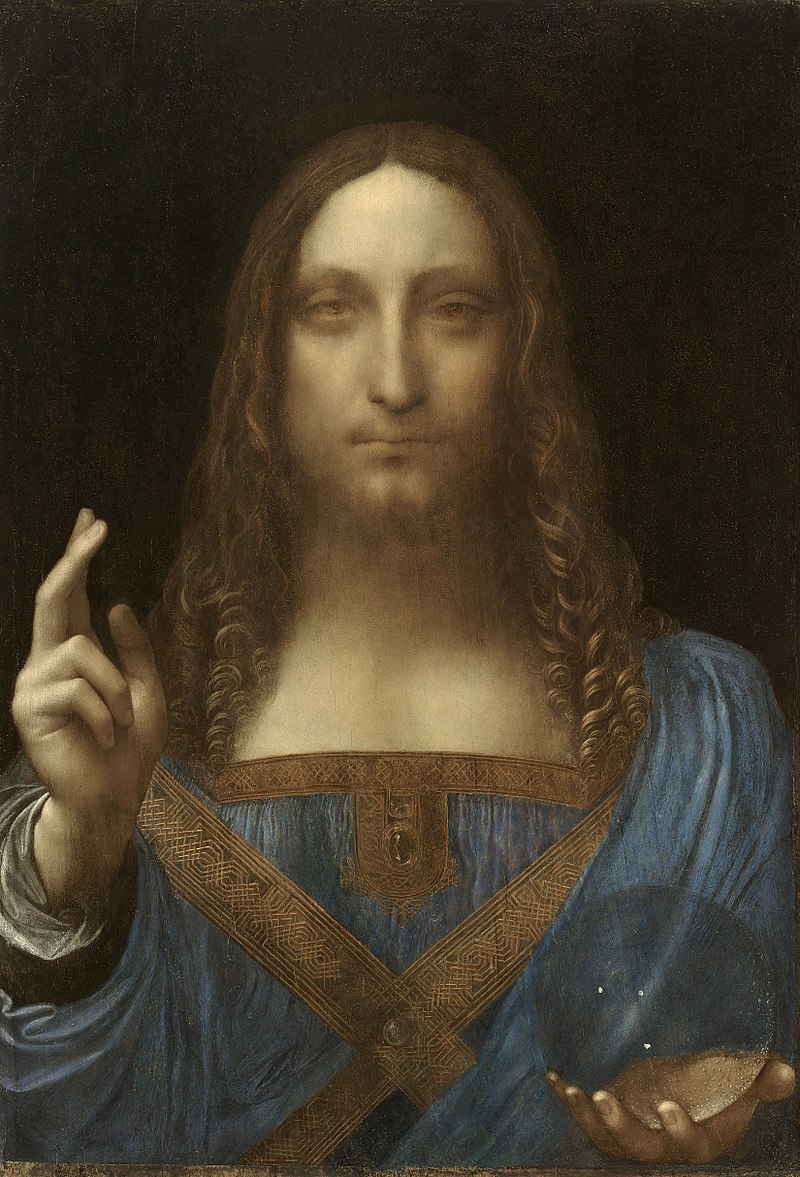 Leonardo da Vinci's work Salvator Mundi sold for $450.3 million in November 2017 making it the most expensive piece of art in the world.
(Source: Wikipedia)
Although beauty lies in the eye of the beholder, specific pieces of art have represented stable investments for those that could participate. Considerations like the repute of the artist, originality, and historical significance can ensure heady returns on blue-chip pieces like the one mentioned above. Unfortunately, this poses another problem: Expertise.
Not everyone has a masters degree in art history, nor does everyone have the time to read up on the latest price appreciation or auction of a Cézanne. More importantly, those who do hold such knowledge rarely have the capital to make such purchases. The end result is only a small percentage of the population buying, selling, and participating in the world of fine art.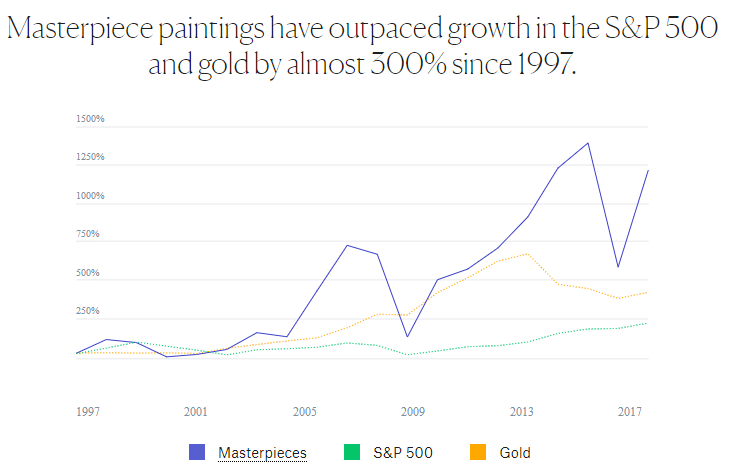 Fine art appreciation vs. Gold and the S&P 500.
(Source: Masterworks)
Turning the One Percent into Ninety-Nine
The flattening of market verticals has become the main selling point for the decentralized web. From a financial perspective, this has been coined in the phrase "banking the unbanked" and been the thrust of revolutionary tales from emerging economies in Asia and Africa. As long as a rice farmer in China has access to an internet connection and a mobile phone, they can begin participating in the global economy.
Via iterations of blockchain technology and oracles (whether software, hardware, or otherwise), this philosophy has trickled outwards to a number of other sectors. Real estate, healthcare, transport, and art are all being democratized following the innovation underpinning cryptocurrencies.
New Yorker cartoon from May '13. Hopefully the kid hedl pic.twitter.com/T96Ip78R4U

— cryptograffiti (@cryptograffiti) September 24, 2018
As mentioned earlier, the Venn diagram of art expertise and deep pockets make up a slim bisection of the population. A slightly different business model from three different art and blockchain startups looks to change that. In the world of art, this has helped collapse the barriers of entry in a handful of intuitive ways.
Hedging Bets on ArtTech
An extremely reductionist way of understanding how these three startups operate is via financial metaphors. Imagine a piece of art like a company looking to go public and generate funds. To do this, they prepare for an Initial Public Offering (IPO) and eventually sell shares to interested investors. In the same way, the digital commodification of a real-world object (i.e., a painting) can be realized in the art sector.
Maecenas, for instance, achieves this by generating blockchain-based certificates of shares for a specific piece of art. The idea is extended to a marketplace, with a native token (ART) that helps to mediate the exchange of these certificates. Similarly, CoArt looks to attract retail investors to the world of fine art by tokenizing expensive pieces of art typically too expensive to be accessible to the general public. Their first successful venture was the sale of Picasso's Buste de Mousquetaire in which 25,000 individuals invested in April 2018.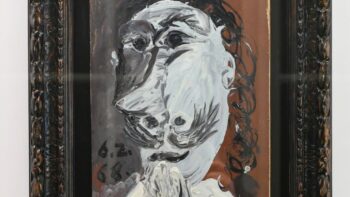 (Source: The South China Morning Post)
Finally, Masterworks will break up pieces of art along Ethereum's blockchain and, in the future, develop a native exchange platform where investors can buy and sell their Warhol ERC20 tokens. Similar to the other two projects, Masterworks also has in place a team of experts who perform due diligence on which pieces of art will perform the best in the market.
When speaking with BTCManager, Masterworks' VP of Marketing Richard McBeath explained that "It might not be about disruption, but it could very well become the standard in the art world." The wave of ArtTech, if the emerging title isn't itself self-evident, represents yet another technology take over.
McBeath explained that getting institutional investors on board with the tokenization of art is a goal, but it's bringing on the retail investor that's the greater objective. "It's about bringing in investors that have no real access to the world," he said. "Along our model, there is also little chance of 'centralization' as one investor can only hold ten percent of an artwork."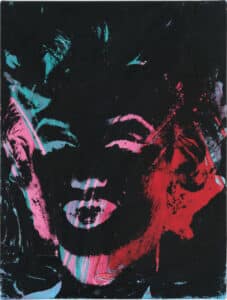 (Source: Phillips)
Masterworks is also in the midst of earning the very first Regulation A stamp of approval from the SEC for a piece of tokenized art. The investment in question is Andy Warhol's 1 Colored Marilyn (Reversal Series), 1979 which the founder of Masterworks Scott Lynn purchased for $1,815,000 in November of 2017.  McBeath further explained that at the time of press the Warhol group-purchase is nearly complete with over 4,000 registered investors contributing to the sale.
Information about the SEC application for the Warhol painting indicates that a total of 99,825 shares will be created and each share can be sold for $20. Similarly, the platform will soon be auctioning security tokens of Claude Monet's Coup de vent of which a total of 171,588 shares will be available pending regulatory approval.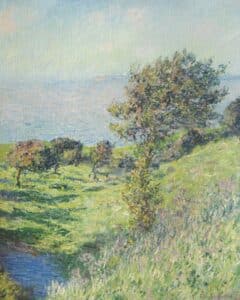 (Source: Christie's)
Keeping an eye on these three startups will ultimately reveal who best offers an on-boarding platform for retail investors. Not only that, but as McBeath explained, becoming familiar with how tokenization works, using the art world as just one example, observers will glean a better idea of what "disruption" really entails. As per any powerful technology, traditional business models may be overturned faster than they can call for adoption.