Babel Finance Halts Withdrawals Due to 'Unusual Liquidity Pressures'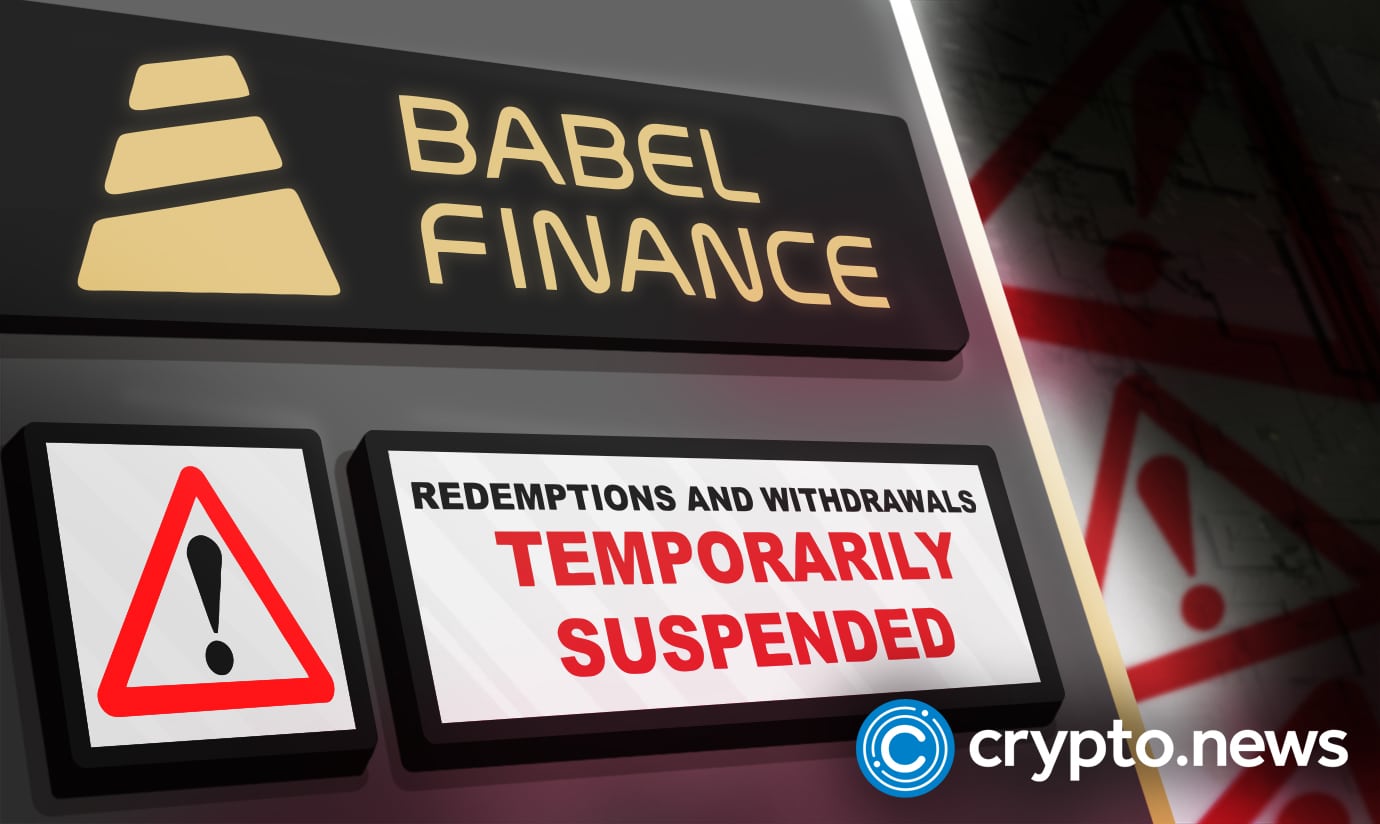 As per a statement on the company's website, Babel Finance, a Hong Kong-based crypto lender, has halted withdrawals and redemptions.
Babel Experienced Strange Liquidity Pressures
"Babel Finance is experiencing exceptional liquidity challenges," according to the statement, which also mentions substantial market movements and "conductive risk occurrences" among institutional market participants.
Babel secured $80 million in a Series B financing last month, valued at $2 billion.
Babel Finance had a loan balance of nearly $3 billion at the end of 2021, up from $2 billion the previous February. It had a monthly derivatives trading volume of $800 million and had structured and traded more than $20 billion in options products.
Due to its link with Three Arrows Capital, rival staking site Finblox made a similar decision on Thursday, limiting withdrawals to $1,500 per month.
According to a report by The Block, Three Arrows Capital has found itself at the heart of insolvency speculation, with multiple major exchanges liquidating the fund's positions.
The cryptocurrency market is at its lowest level since December 2020, with bitcoin (BTC) trading just above $20,000 and ether (ETH) holding the psychological support level of $1,000. The market has been hammered by negative sentiment, which worsened earlier this month when crypto lender Celsius halted withdrawals.
Babel Team is Working to Resolve the Issue
The team stated that they are in continual communication with all relevant parties regarding the efforts they are taking to ensure the best protection for their clients. Redeeming and withdrawing from Babel Finance products will be temporarily halted, according to the announcement. The reinstatement of regular service, according to the corporation, will be notified separately.
The current market condition has shown several of these businesses' flaws, particularly with lending and Defi platforms. Experts predict that the crypto winter will linger for a long time, with some predicting that it will be at least two years until we notice some effective action in the cryptocurrency and Defi sphere.
Crypto Winter Spell Continues
Crypto and worldwide equity markets have been declining since the beginning of 2022, owing to factors such as inflation, rising interest rates, and the Ukraine conflict.
Crypto exchanges have now started to freeze withdrawals and deposits, causing panic among cryptocurrency investors. Binance, the world's largest cryptocurrency exchange, halted withdrawals on Monday, citing a 'stuck transaction' that generated a trade backlog.
The uncertain economic future for many countries around the world has trickled into the deregulated digital currency sector, causing market skepticism. The rising worldwide inflation rate is putting enormous strain on the traditional/crypto markets.
There are concerns that the current crypto meltdown has only just begun, with Bitcoin currently trading at $21,016.80, down from over $30,000 on May 31. In addition, the crypto market has been under pressure from the US Federal Reserve, which has raised interest rates in order to battle inflation in recent months.
Cryptocurrency may be a decent investment if you're willing to recognize that it's a high-risk gamble that could pay off – but also that there's a big chance you'll lose it all.