Bank of America Joins Paxos Blockchain Settlement Service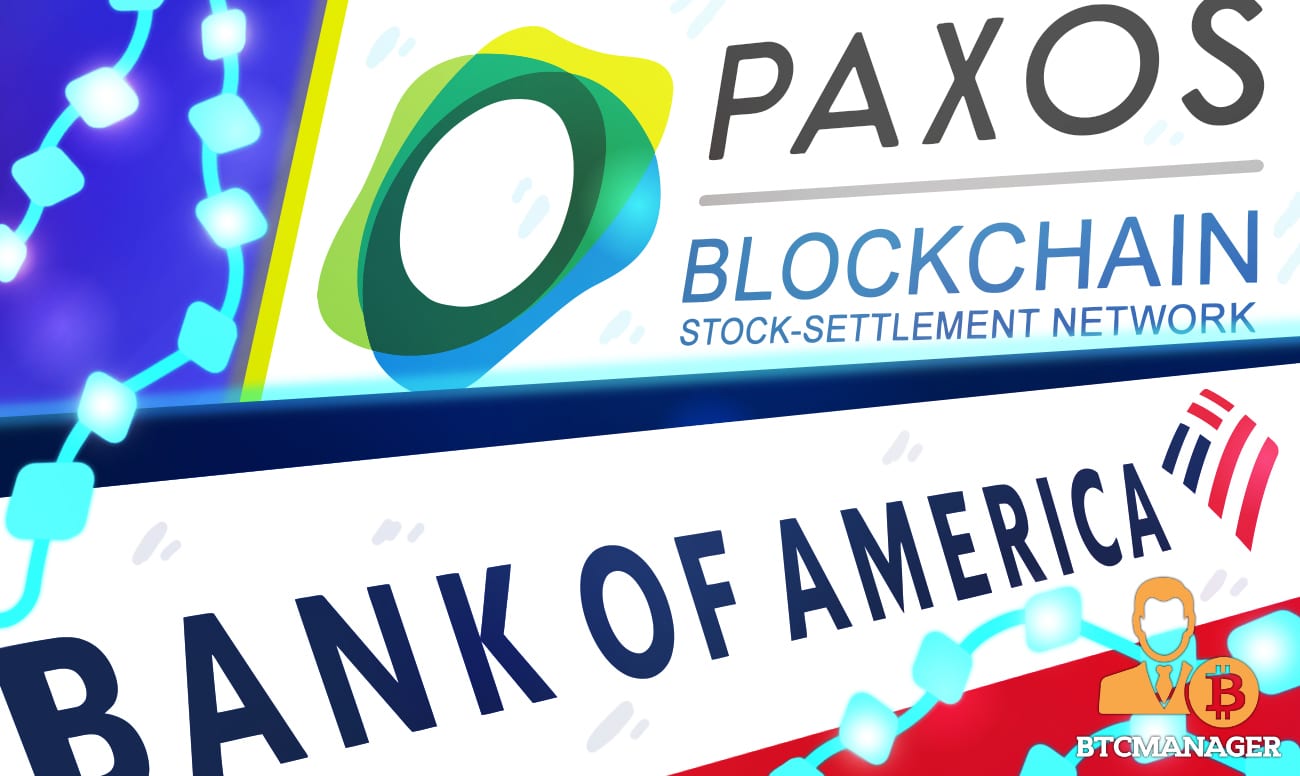 U.S financial giant Bank of America has joined the Paxos Settlement Service to use blockchain technology to achieve same-day settlement of stock trades. 
Bank of America to Settle Stock Trades Using Paxos Blockchain Solution
This development was revealed by media outlet Bloomberg on Monday. The U.S bank joins Credit Suisse Group AG and Nomura Holdings Inc Instinet to use the Paxos Settlement Service.  According to the report, the Bank of America has been conducting internal transactions for the past few months using the service. Bank of America has already applied with regulators to offer clearing services and using Paxos Settlement Service will make settlement faster. 
Kevin McCarthy, head of financing and clearing at Bank of America stated that the bank will extend the services next to clients if approved. He further added that Paxos's flexibility and cost savings were a central selling point for the bank. 
"We can determine the settlement cycle down to T+0, "We then can free up the collateral we'd have to post on an overnight basis," which could lead to big savings. "The return-on-assets in this business would improve, which has been a challenge," he said.
The current settlement time is about 2 days, and using Paxos Settlement Services will reduce this to a few hours. Paxos Settlement System connects investors directly using a solution built on the Ethereum blockchain. This will transform the current markets and ensure flexible and speedier stock settlement using blockchain technology. 
Paxos Chief Officer Chad Cascarilla believes that the move will pose a threat to the market dominance of the Depository Trust & Clearing Corp.'s (DTCC). Only trades logged by DTCC by 11 a.m. are eligible to be settled that day, missing about 75% of all stocks traded on a given day, he added. 
Blockchain Adoption on the Rise 
Blockchain adoption by financial giants has continued to move at a rapid pace due to the potentials it offers. Several banks have joined blockchain-based solutions like RippleNet ODL to process cross-border transactions.
These solutions offer faster and cheaper transactions than traditional systems using distributed ledger technology. The news that Bank of America has joined Paxos is huge since it is the second-largest bank in the United States.