Binance to Help Finance Elon Musk's $44 Billion Twitter Acquisition Bid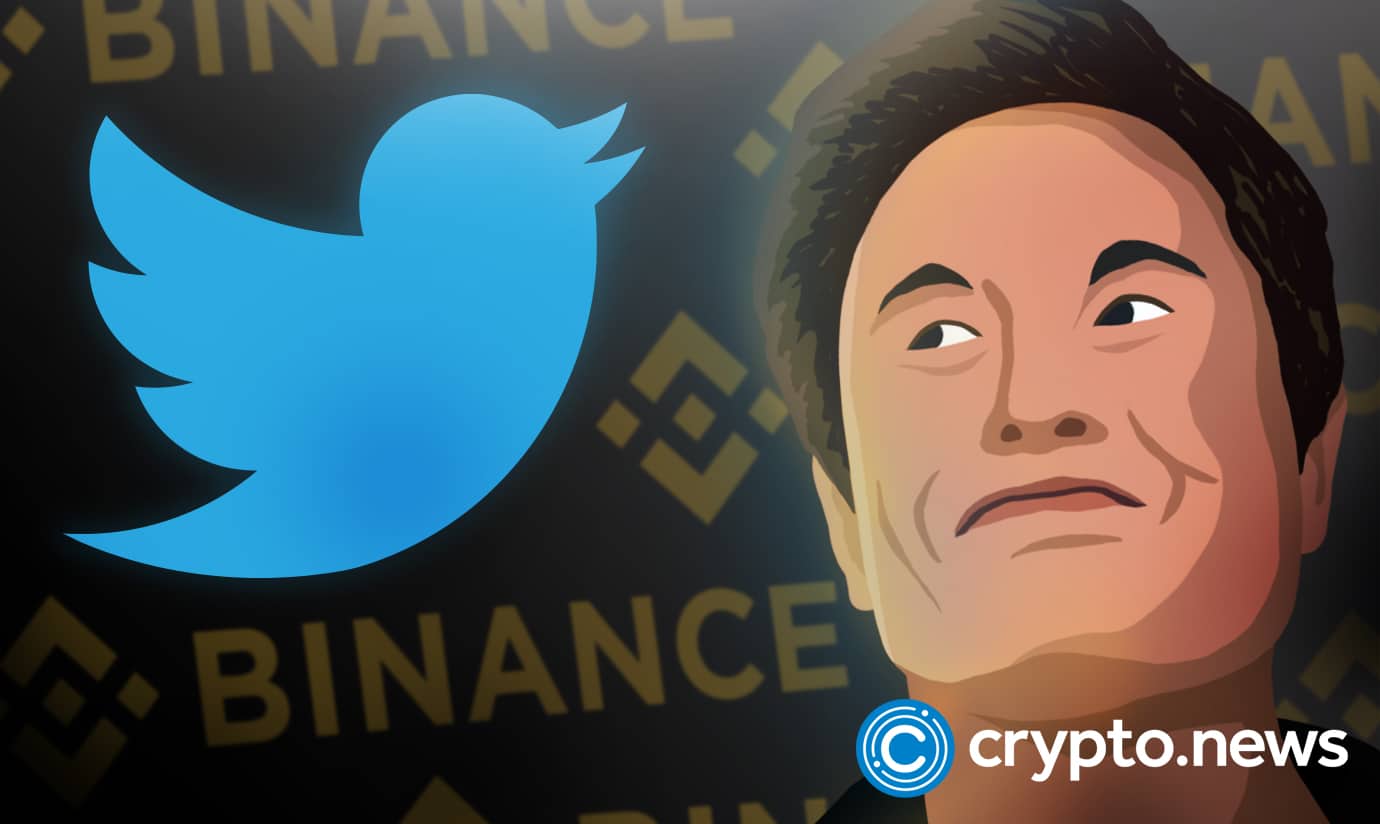 A group of investors, including Sequoia Capital, Fidelity Group, crypto exchange Binance, Ellison, and others, have teamed up to fundraise money to back Tesla CEO's Elon Musk bid for Twitter at $44billion.
Over $7 Billion Amassed to 'Improve Twitter'
Last month, Twitter BOD agreed to sell the social media for $54.20 per share in cash by an entity solely owned by Elon Musk, the 50-year-old founder and CEO of Tesla and rocket business SpaceX. Following the transaction, Twitter will become a privately held company.
So far, the total amount raised is $7.14Bn, which is slightly above a quarter of the total funds needed.
According to a report disclosed on Thursday, Oracle co-founder Larry Ellison gave the largest cheque, valued at $1 billion. An updated 13D report showed that Sequoia has invested $800 million, VyCapital $700 million, Binance $500 million, and Andreessen Horowitz $400 million. Notably, no investor has invested more than $1 billion, and large private equity firms have remained silent.
Elon Musk to Lower Loan Margin
In a prior SEC filing, Mr. Musk had personally pledged $33.5 billion to the deal, including $21 billion in equity and another $12.5 billion in margin loans.
With the new finance pledges, Mr. Musk will reduce the margin loan he has taken with a consortium of lenders by half to $6.25 billion and increase the equity commitment to $27.25 billion. The remaining purchase price will be covered by loans obtained from international banks.
After numerous complaints about content restrictions and a lack of freedom of expression on the site, Mr. Musk offered to buy Twitter. This move has positively impacted Twitter share price and Dogecoin. However, Qatar is notorious for its horrible track record with freedom of speech and is one of the backers of Musk's new funding.
Saudi Arabia's Prince Al Waleed bin Talal Al Saud has agreed to provide almost 35 million shares in Twitter to maintain a stake in the company following Musk's takeover. This totals to about $1.9 billion based on Musk's offer price.
The Saudi prince Al Waleed had rejected Mr. Musk's offer claiming it did not "come close to the true worth of Twitter given its development prospects."
Musk said he's talking to a few more existing shareholders, including Twitter co-founder and former CEO Jack Dorsey, to see if they want to roll their shares over.
Twitter will Remain Free for Everyone
Although Mr. Musk's contract is still in the works, he has suggested that the service remain free for casual users except for corporations and governments.
According to The Wall Street Journal, Mr. Musk may take Twitter public again after acquiring the social media business. According to the media site, citing sources, he might list Twitter as soon as three years after purchasing it.
The US Federal Communications Commission declared earlier this week that it did not have the authority to intervene in the billionaire's purchase. According to the report, antitrust regulators should embrace the transaction since it will increase customer choice and freedom.