Bitcoin Breaks $20,000 Ceiling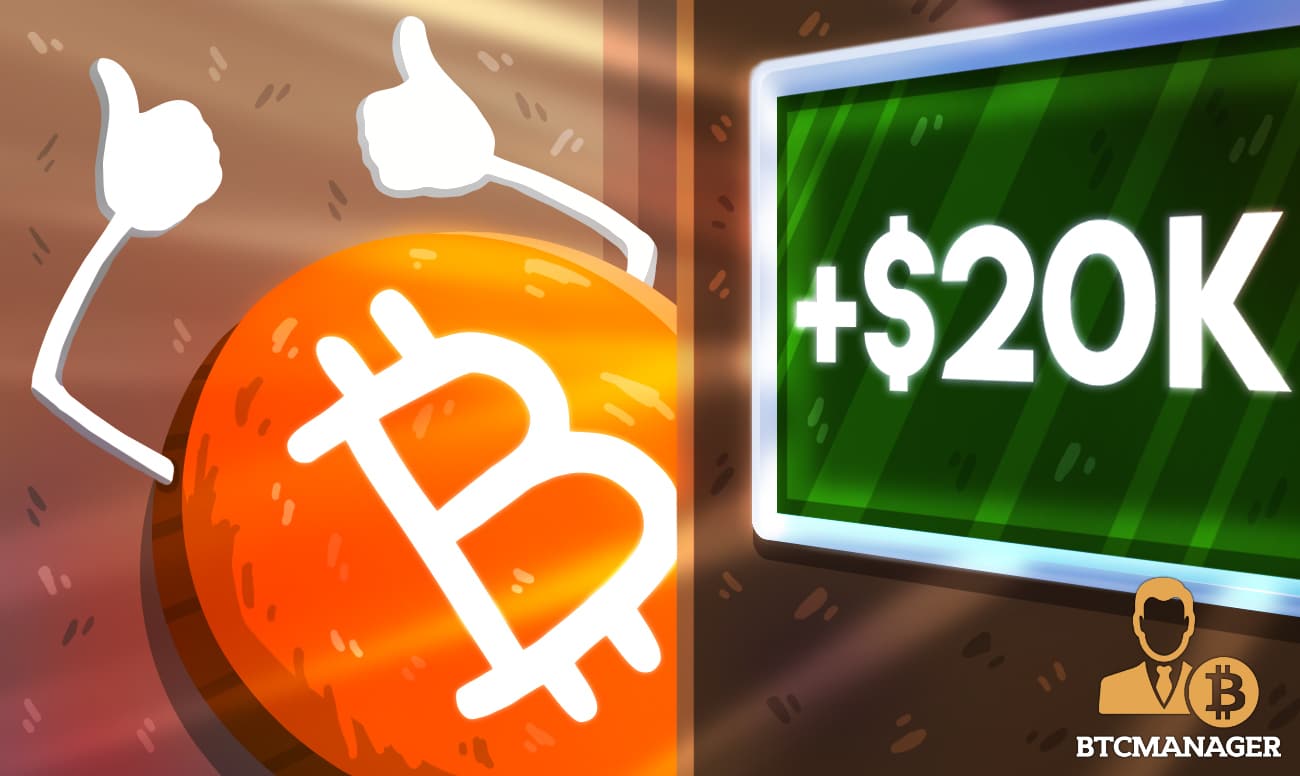 Bitcoin has just surpassed the $20,000 mark in what is a major milestone for the leading cryptocurrency. This is the first time that Bitcoin will be achieving this milestone and this makes the bullish run of 2020, the biggest witnessed by the leading coin.
Bitcoin Surges Past $20,000
Bitcoin achieved this milestone 1.45 UTC as the bullish momentum took the coin to a record high of $20,640.  This latest bullish run comes after Bitcoin hit a monthly low of $17,800 last Friday and rebounded over the weekend. Trading at around $19,300 yesterday, Bitcoin has gained over $1,000 in the past 24 hours and is currently valued at $20,320.
 Bitcoin bullish run has surpassed all expectations as it has been able to successfully navigate through a global pandemic that has crippled world economies. Since it hit a yearly low of $3,400 in March, Bitcoin has been relentless in its movement, breaking different records on its way to its latest mark.
Bitcoin had made several attempts to test the $20,000 mark in recent weeks and this achievement comes on the back of institutional adoption of the leading currency.  There have been major purchases by top institutions in recent months with MicroStrategy and Grayscale leading the way in adoption.
Crypto Community Over the Moon
The milestone has been celebrated within the crypto community with several stakeholders tweeting the feat. Litecoin bobby lee was among those that celebrated the milestone.
Finally! #Bitcoin over $20,000! To the moon and beyond!!!!!! pic.twitter.com/75tM9Fx7sS

— Bobby Lee – Ballet: World's EASIEST wallet! (@bobbyclee) December 16, 2020
Bitcoin maximalist Adam Back believes that traders could begin to sell and the price could retract. There have already been some major predictions trending with some analysts claiming that Bitcoin could soar to $318,000 by 2021.  Bitcoin hitting the $20k mark is the second major milestone in recent weeks as the coin hit a three year high in November prior to setting this new peak. There are expectations that Bitcoin will continue to evolve in the coming months.
The leading cryptocurrency is now well known globally than when it traded for a few cents for several years after its launch in 2008 by the unknown software developer Satoshi Nakomoto. It will be interesting to see how high the price reaches in the coming days as the current sentiments levels of the market is at an all-time high.