Bitcoin and Ethereum Levels on Exchanges are Falling to Record Lows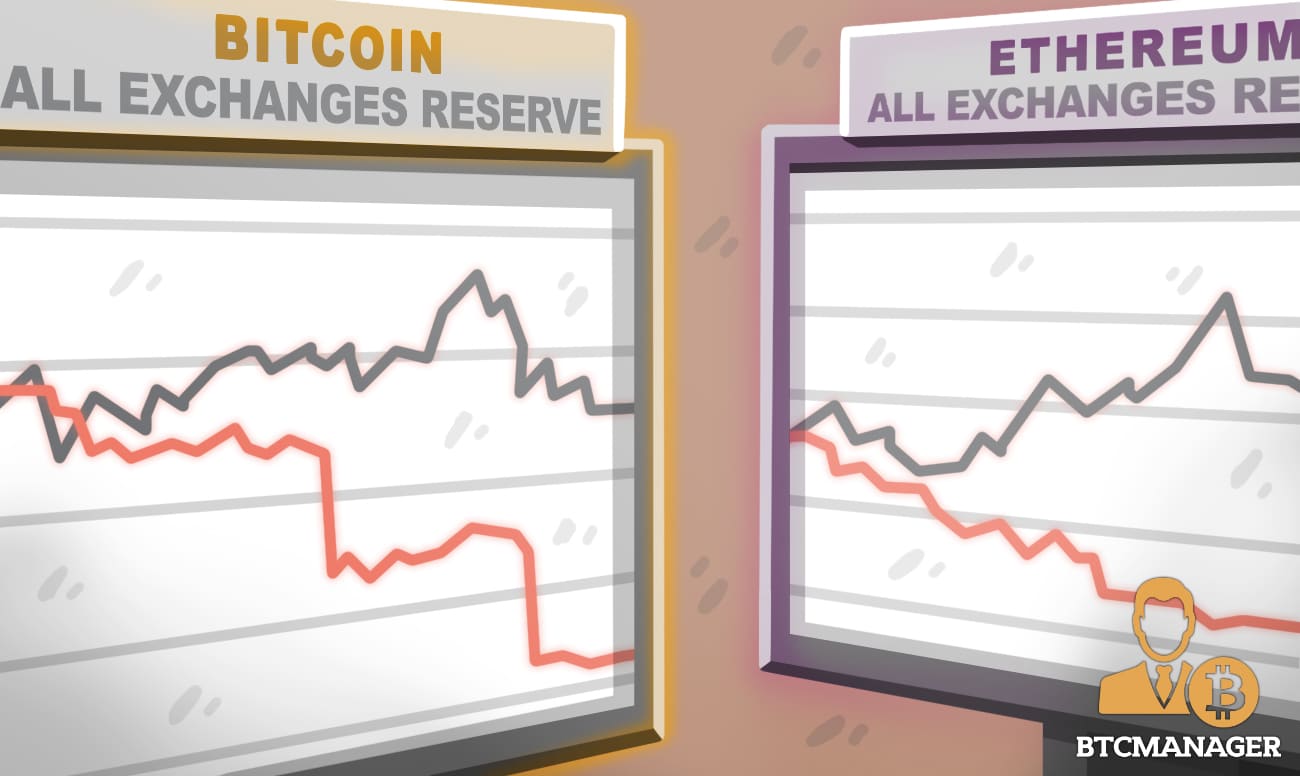 According to crypto transactions data tracker Cryptoquant, crypto exchanges are experiencing low Bitcoin and Ethereum levels. Cryptocurrencies are slowly regaining their glory after most of their prices plummeted over the weekend. 
A Forgettable Weekend
After Bitcoin soared to a record level of $63,475 on Thursday, several cryptocurrencies such as Ethereum, Ripple, and Dogecoin jumped on board the following day,  posting all-time highs. However, the price of Bitcoin dropped to $50,500 on Sunday morning, losing 20 percent from its record high, while some other coins such as Ethereum saw declines between 30 percent to 40 percent.
Image Sources: CryptoQuant.com
A Good Sign of Crypto Adoption
With the swift rebound in crypto prices, analysts now conclude that the sudden fall was a remedy and not market entry into bear territory, as coin prices are currently going up. The Ethereum and Bitcoin levels in exchanges indicate that crypto holders believe that market prices will grow higher. As seen on CryptoQuant, crypto traders are displaying an inactive spell in crypto selling platforms. They are simply purchasing cryptocurrencies with no intention of selling them for a while.
People buying

HODLers aint selling

Miners aint selling

You do the math

data @cryptoquant_com @unchainedcap pic.twitter.com/5AJrJaGvTK

— Josh Olszewicz (@CarpeNoctom) April 11, 2021
The adoption of cryptocurrency is at new heights. More people are purchasing crypto, and the vast demand is more than can be mined. It can only last a while before miners run out of large crypto volumes.
According to Glassnode, long-term bitcoin holders are accumulating their cryptocurrencies once again. Selling went on until April, but now, it seems that long-time holders are accumulating their digital assets again.
Additionally, on the issue of adoption, people are using crypto as a modern-day saving account. They may have reaped more benefits from crypto than what they would have through banks. Some holders are also keeping their crypto as a hedge against inflation that fiat currencies are constantly facing. That right there is a sign of good adoption. 
Crypto Price Fluctuation 
Some analysts claim that the sudden weekend plunge occurred after a significant power outage in northwest China, home to a massive amount of bitcoin. Since November 2017, the failure led to the most crucial single-day drop in the mining hash rate.
According to some leaks from social media on Sunday, the United States Treasury was also rumored to charge a group of unspecified financial institutes for using Bitcoin and money laundering crypto.
India and Turkey also recently introduced some rules on crypto markets, where demand for coins is high. In the future of the $2 trillion crypto market, investors became uncertain. These factors, all combined, are speculated to have caused the sharp drop in most cryptocurrencies.