Bitcoin, Ether, and XRP Weekly Market Update: December 27, 2018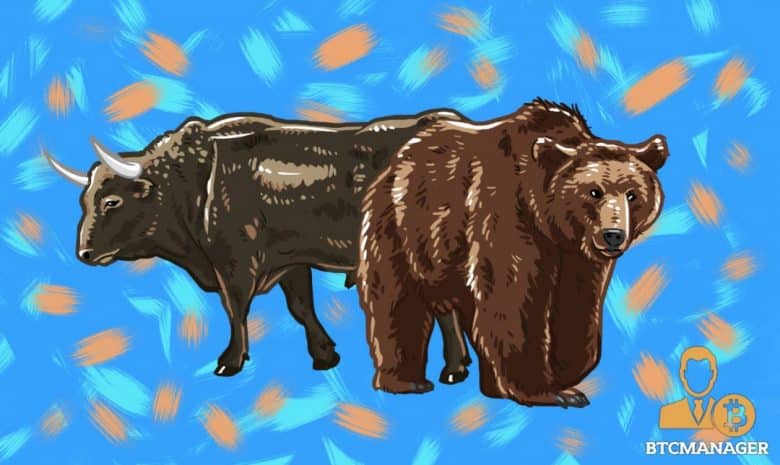 Total crypto market cap rose to $127 billion since our last report a week ago as ether and bitcoin cash were the biggest gainers during that period overshadowing the modest price increase for bitcoin, XRP, and EOS. 
BTC-USD
Bitcoin marked its 6th consecutive day of gains on December 20 and closed the day at $4,200, 10 percent up for the day and 28 percent for the above mentioned period. The bull case was strong for the BTC/USD pair and traders were hoping for a 2017-like end of year rally.
The most popular cryptocurrency dropped below $4,000 on December 21 and stopped at $3,960 in a move that most of the people attributed to profit taking rather than the return of bears in this short-term rally.
Bitcoin price could not establish a trend during the weekend trading sessions as it moved up to $4,130 on December 22, 2018, then dropped again to $4,075 on December 23, 2018. In one of its best weeks so far in 2018, it was 23 percent up.
Social network giant Facebook is reportedly developing its cryptocurrency for transfers on its WhatsApp application. First reported by Bloomberg, the company is working on a stablecoin aimed at the booming remittance business in India by reducing costs and increasing transaction speeds dramatically. As per the World Bank, Indian expatriates sent $69 billion India in 2017 making the country a leader in such transactions.
On December 20, 2018, two U.S. congressmen introduced a bill  ("Token Taxonomy Act of 2018") in the House of Representatives that would exclude digital assets from being defined as securities. The congressmen emphasized on the need of a new "asset class" for cryptocurrencies and digital assets as the law "would prevent them from being classified as securities, but would also allow the federal government to regulate initial coin offerings more effectively."
Hong Kong-based cryptocurrency exchange Bitfinex introduced new margin trading for stablecoin Tether (USDT). Per the official press release, the new feature "will not only allow for more efficient price discovery but in an important move for risk management, unlock the ability to hedge the exposure taken on stablecoins."
Earlier this month, the second largest exchange regarding trading volume OKEx launched a new crypto derivative product – the Perpetual Swap or a virtual derivative that lets users speculate on the future value of BTC/USD, according to OKEx's index.
The $4,200 level proved to be hard to hold and it has become the main target for bulls to confirm their dominance. On December 24, 2018, the price of BTC rose back to $4,140, but could not keep up the pace from the previous days and made a 5.7% correction to $3,900 on December 25, 2018. 
China officials have released the latest government-sponsored rankings of major cryptocurrencies on December 24, 2018. On the leading spot is EOS, with ETH on second place and GXchain (surprisingly) on third. China's Center for Information and Industry Development (CCID) under the Country's Ministry of Industry and Information Technology placed BTC on the 18th place based on  "basic tech," "applicability" and "creativity."
Bitcoin was struggling to find its direction on Christmas as it stayed in the $3,900 area, but in the early hours of December 27, 2018, it was already eyeing the next downward support at $3,800.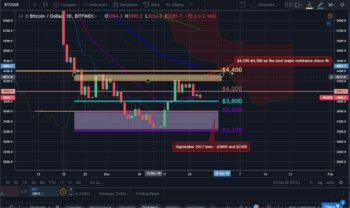 (Source: Tradingview)
ETH-USD
Ethereum stormed pass the $113-$114 resistance zone during its run on December 20, 2018, and registered 15 percent of gains, almost reaching $120. The ETH/USD continued to be one of the best performing pairs in the top ten since December 15, 2018. The increasing trading volumes suggested a reborn interest in crypto as we approach year-end.
Now with Constantinople upgrade of the Ethereum network already in sight (which will occur approximately January 14, 2019), the future looks bright for the third-largest cryptocurrency regarding the market cap.
In a recent tweet dating from December 21, 2018, Ethereum co-founder Joseph Lubin declared that he is "calling the crypt bottom of 2018". According to Lubin, the crypto market's bottom "is marked by an epic amount of fear, uncertainty, and doubt," specifically from industry media and social commentators, which he refers to as "our friends in the 4th and crypto-5th estates."
On the same day, however, his project made a slight correction to $111. It did not last long though, and ETH made a solid bull run during the weekend of December 22, 2018, breaking $120 and also $130 to close the week at $133, 54 percent up for the seven days.
Ethereum continued its rapid rise on December 24, 2018, when it peaked at $142, the level it last saw on November 20, 2018. 
On December 25, 2018, though, ETH/USD dropped with $10 back to $132, and even though the price stayed relatively stable on December 26, 2018, the $130 could not be held.
We currently see ETH moving towards $120, but $130 and mainly the zone between $125 and $130 are essential for buyers as they will need to defend that level and turn it into solid support to attack higher numbers. If $130 holds, $150 and then $175-$183 are important levels to seek.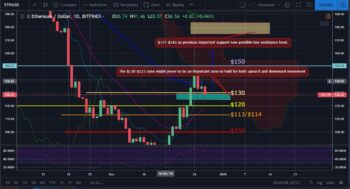 (Source: Tradingview)
XRP-USD
The Ripple company token made a quite impressive bull run in the December 16-20, 2018 period. It closed December 20, 2018, at $0.387 and, even though it was overshadowed by Ethereum where trading volumes were skyrocketing, it managed to keep up the proper pace.
The decentralized crypto exchange CryptoBridge announced on its blog that it had launched XRP trading on its platform, with two trading pairs—XRP/BTC and XRP/ETH—currently on offer.
After a short-lived correction drop to $0.366 on December 21, 2018, XRP/USD rose to $0.38 during the weekend of December 22, 2018, and closed the seven days 29 percent higher. The second biggest cryptocurrency extended gains to $0.413 on December 24, 2018. 
The current growth in XRP price can be attributed to a recent move by Binance. On December 24 the second largest crypto exchange regarding trading volume announced in a blog post it will add XRP-based trading pairs on its platform. The TRX/XRP (Tron) and XZC/XRP (Zcoin) pairs are the first to use XRP as the base currency there. XRP jumped more than 20 percent on the news, peaking to a one-month high of around $0.467 on the same day.
On December 25, we saw XRP/USD dropping once again below $0.40 to $0.374 during the trading session and to $0.391 at the end of the day. No sudden price moves during the Second day of Christmas, still the pair continued moving south, this time to $0.387.
The $0.38-$0.37 is now an important area to hold in order not to allow a further decline in price. We see "the ripple" moving right in there during the early hours of December 27, 2018.