Bitcoin, Ether, and XRP Weekly Market Update: November 29, 2018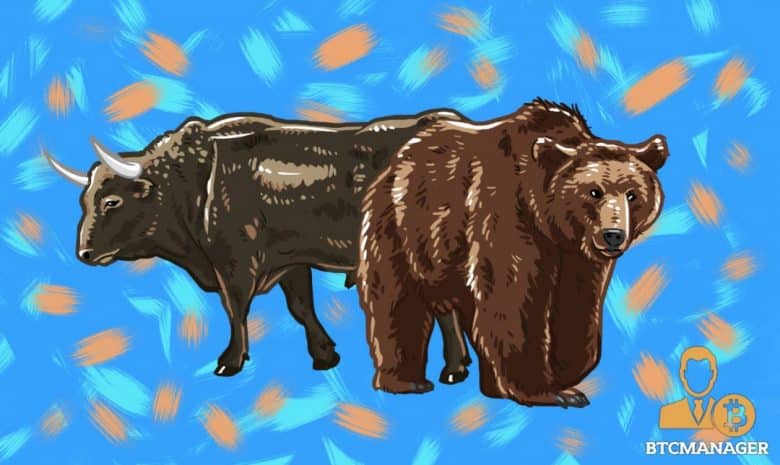 The majority of the cryptocurrencies extended their losses during the last seven days as we saw the total market cap erase yet another $16 billion from its value.
BTC/USD
Bitcoin dropped below $4,500 on November 22 and closed the day at $4,370. The biggest cryptocurrency in terms of market cap continued its decline with its 7th red candle on the daily chart since November 14.
The BTC/USD pair rose to $4,420 on November 23, but this was not enough to ignite a short-term recovery and on November 24 we saw its price moving right below $4,000 for the first time since September 2017. Bitcoin managed to partially compensate for the losses on Sunday, November 25 and closed the day and the week at $4,090 with a 27% loss for the 7 day period.
On November 27 Bloomberg reported that NASDAQ is still planning to offer Bitcoin Futures despite recent market crash. The New York exchange operator wants to allow trading in the first quarter of 2019 as soon as it complies with The Commodity Futures Trading Commission requirements.
The largest cryptocurrency mining company in the world – Bitmain is facing $5 million class action suit by an American citizen. Gor Gevorkyan claims that the Chinese conglomerate has been secretly using his mining machines to earn money during the configuration period. ASIC devices can take between a few hours and several days to set up, so the amount generated by Bitmain in this way is significant.
Another lawsuit, this time against the U.S.-based cryptocurrency exchange Coinbase. The company is facing a class action lawsuit filed by traders, alleging there was insider trading ahead of its listing of Bitcoin Cash (BCH), the cryptocurrency created through a fork of the Bitcoin (BTC) network. Per the lawsuit document, Coinbase insiders were given the chance to buy BCH prior to platform listing, which allow them to benefit and accumulate coins on lower price. As Coinbase opened the market with only buy orders available to regular users, its insiders were able to sell the cryptocurrency, at a premium.
BTC started the new week with another drop on November 26, this time to $3,865. The price movements suggested that if there is no major break above $4,000, Bitcoin could decline towards the $3,600 and $3,500 levels.
Binance, the largest platform in terms of trading volume, announced it is creating a new, unified stablecoin market. The compay has renamed the USDT Market (USDT) to now be a combined Stablecoin Market (USDⓈ). This is to support more trading pairs with different stablecoins offered as a base pair, the official press –release reads. The USDⓈ is not a new stablecoin, but the symbol of Binance's new stablecoin market.
Talking about stablecoins, the most controversial among them, Tether now offers its users the possibility to exchange USDT for USD directly from their newly designed platform. Until now, anyone wishing to redeem USDT for USD had to go to Bitfinex. Tether also reopens account verification with new requirements and fees, which can be examined on the official page.
In the meantime, the Singapore-based cryptocurrency exchange Huobi has launched a new platform for derivative trading – the Huobi Derivative Market (Huobi DM). The new feature will allow users to purchase and sell digital currencies at predetermined prices at specified times in the future, giving investors and traders an opportunity to open both long and short positions.
We did not see any significant price change on November 27 as the most popular cryptocurrency was ranging in the $3,850-$3,890 zone. On November 28, however, it finally made a breakthrough and added 11% to its value, right above the $4,300 mark.
If there is a proper close above $4,300, there could be a solid bullish wave towards upper levels.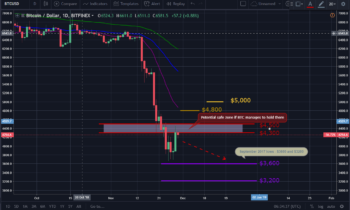 ETH/USD
Ethereum is still searching for stability after turbulent two weeks. The ETH/USD pair closed November 22 at $126, down from $138 the previous day. It dropped to $125 on the next day, November 23, closing the workweek with third consecutive red candle on the daily chart.
The most popular altcoin continued its decline and found itself below $120 for the first time since May 2017 on November 24, 2018. It could not fully recover from $114 on November 25, 2018, and remained below the mentioned line (at $118). ETH/USD lost 33 percent of its value for the seven day period.
In an interview with Quartz published on November 26, Ethereum co-founder Vitalik Buterin shared his views on current blockchain adoption and implementation. According to him the technology is not applicable in every industry and needs more development time and efforts. Buterin identified cryptocurrencies and cross-border payments as industries for which blockchain tech is most suitable at the moment and criticized IBM and corporate blockchain projects, which is in conflict with the initial idea of distributed technology.
Ethereum continued its march south on November 26 and closed the day at $110. No significant price changes were observed on November 27.
On November 28, the overall positive sentiment in the market resulted in an 11 percent price increase as ETH break above $120 once again to $124.

XRP/USD
The Ripple company token moved below the $0.45 line on November 22 and closed the trading day at $0.4269. It dropped even lower on November 23 and nearly broke the previous support at $0.41.
During the weekend of November 24-25 XRP/USD extended its losses, but could not breach the October low at $0.38. The now second biggest cryptocurrency in terms of market cap, closed the week at $0.3862, with a 26 percent loss.
Cory Johnson, Ripple company's chief market strategist, reportedly expressed his opinion that XRP is being used more than bitcoin and is more advanced as a technology. In a short video, shared on Twitter, he claimed that the Bitcoin network has some real technological limitations in terms of transactions and the overall mining process – restrictions, power consumption and expenses the fact that about 80 percent of all bitcoin is being mined in China.
The new week came with yet another dip to $0.3637 on Monday, November 26 and little to no movement on November 27 when XRP closed the day at $0.366. On the next day, November 28, we registered a price increase of 7 percent for the Ripple currency as it closed the day at $0.395.