Bitcoin is a Sh*tcoin, Says Nouriel Roubini in Latest Anti-Cryptocurrency Rant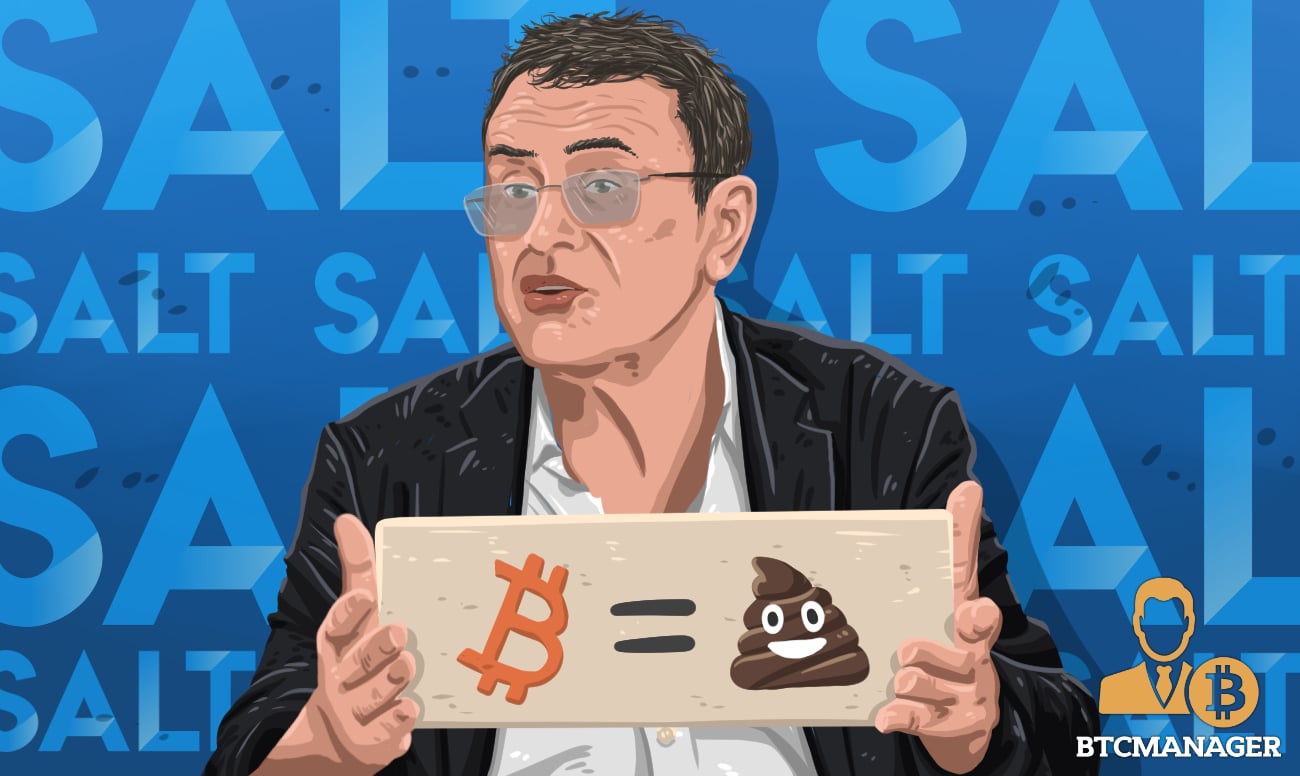 Like clockwork, every so often, nocoiners take turns to try to bash bitcoin (BTC) but with little success. This time around, it is New York University (NYU) Economics Professor, Nouriel Roubini, using colorful language to describe bitcoin while ranting that he didn't care about the price of BTC, the New York Post reports May 8, 2019. Meanwhile, BTC permabull, Mike Novogratz predicts that the top-ranked cryptocurrency will triple in value within the next 18 months.
Sh*tcoin is a Technical Term
Speaking at the SALT Conference in Las Vegas, the Nobel Laureate used salty language to describe the top-ranked cryptocurrency. The NYU professor called bitcoin a "sh*tcoin," a term popular within the cryptoverse as a pejorative descriptor of cryptocurrencies with questionable economic merits.
Defending his use of the term, Roubini retorted:
"There are 500,000 items on Google if you search 's- -tcoins. It's a technical term."
Roubini or "Dr. Doom" as he is called in the financial circles for somewhat predicting the 2008 financial crises has a history of espousing negative sentiments about bitcoin. The NYU professor even called blockchain technology "nothing but a glorified spreadsheet" back in 2018.
Nocoiners Stay Missing the Point About Bitcoin
Many nocoiners like Roubini, Warren Buffett, and the likes continue to repeat the same diatribe against bitcoin and cryptocurrencies in general. Warren Buffett, the Berkshire Hathaway CEO once referred to bitcoin as "rat poison."
However, sentiments aside, it is factually inaccurate to say bitcoin doesn't serve any useful purpose aside from criminal activities. In countries undergoing dire economic conditions, many have turned to cryptos to survive.
On the subject of virtual currencies encouraging criminality, all the evidence suggests such fears are overstated. Cryptocurrencies constitute in many countries, a minute percentage of money laundering and other financial crimes.
Novogratz Predicts BTC Tripling in 18 Months
For Mike Novogratz, the CEO of Galaxy Digital, Roubini's latest rant aside, BTC is getting ready for another massive price rally. Speaking opposite Dr. Doom at the SALT Conference, the ex-Goldman Sachs investment banker predicted that bitcoin would top its previous all-time high (ATH) before the end of 2020.
Bitcoin is currently trading above the $6,000 price mark for the first time since November 2018. The top-ranked cryptocurrency is up more than 65 percent since the start of the year and gained almost 50 percent between April and May 2019.