A Bitcoiner's Travel Guide: Exploring the 'Bitcoin Stad,' Arnhem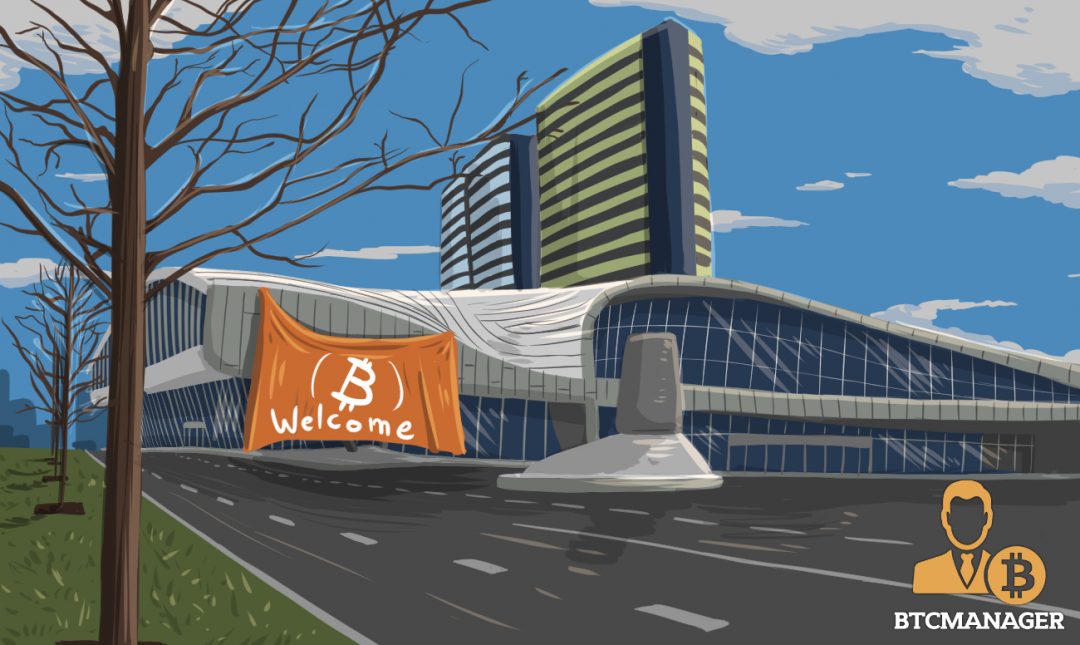 You can read the second installment of BTCManager's series, 'A Bitcoiner's Travel Guide' here, which details bitcoin merchants in Vienna. In the third installment, we move to Arnhem, in the Netherlands.
The bitcoin city of Arnhem boasts the highest concentration of merchant adoption of the cryptocurrency and stemmed from the enthusiasm and interest of three school friends who wanted to do something fun with their bitcoin, such as buy a beer. At the time, many webshops accepted this virtual currency, but not physical ones.
BitKassa was created to fulfill this vision and put forward the proposition of bitcoin to merchants across the city. But the hardest part of the process was getting a bank account, Patrick van der Meijde says, where all but one (ABN Amro) sent back rejection letters. At first 50 merchants were on board, and the number has since grown. Patrick van der Meijde, along with Annet de Boer and Rogier Eijkelhof, are the three friends behind Arnhem Bitcoin Stad.
Van der Meijde noted at the Future of Bitcoin conference that more and more merchants have begun asking if they can keep the cryptocurrency they receive from their customers. He said that around 20 percent do not cash out to fiat, preferring to keep bitcoin instead and is beginning to be used business to business. For example, a restaurant buys bread from the bakery with bitcoin given to them by one of their customers, precipitating a cycle of unwinding from the traditional financial sector; exactly what bitcoin was created to do. Unsurprisingly, this came with cheers and applause from the crowd.  
After hearing their story, I was inspired. I decided to check out some of the businesses in Arnhem and see what I could do with my bitcoins.
Let's Take it Back, Way Back…
Where better to start than one of the best vantage points in the city?
Eusebius, which is integral to Arnhem's identity, has overlooked the city for around half a millenia. The church was damaged by artillery from the second world war and has been under reconstruction ever since. With the old market square opposite, it is the historical center of Arnhem with commerce still going strong. As I asked for a ticket in English, the lady behind the counter displayed a warm, surprised smile, as if not many British people had come here.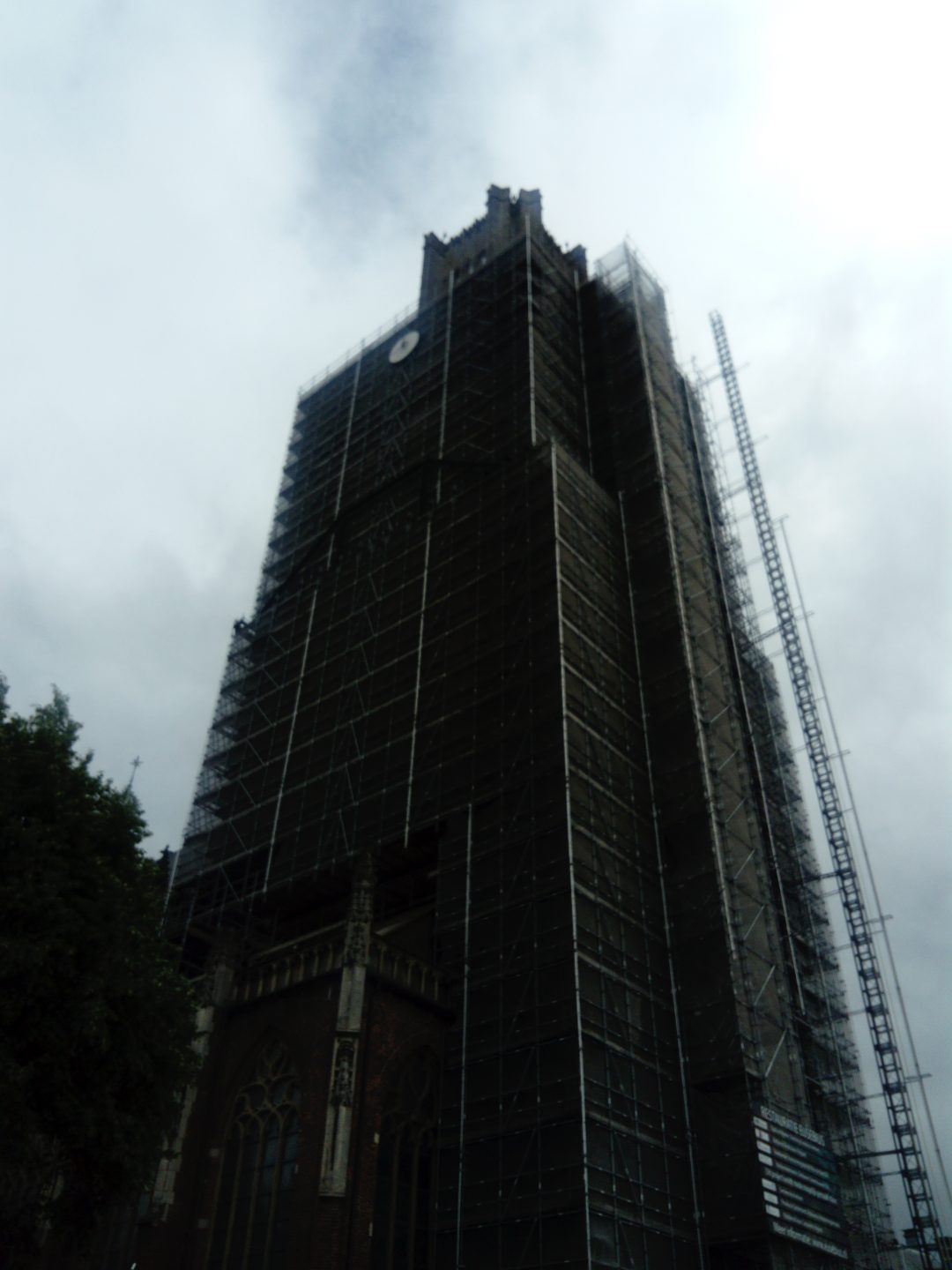 Here you can pay with bitcoin to enter the panoramic elevator, taking you 73 metres high. For six euros ($6.80), you can get to the top and see the church hall. The river Rhine is visible as well as the John Frost Bridge, which was renamed in 1978 in honor of the British commander's attempt at taking the strategic point in the Battle of Arnhem. Despite failing the objective, his courage and unwillingness to give in to defeat has seen his story make it to the big screen in A Bridge Too Far. Captured by Germans, Frost was later freed when American forces arrived deep in Nazi territory.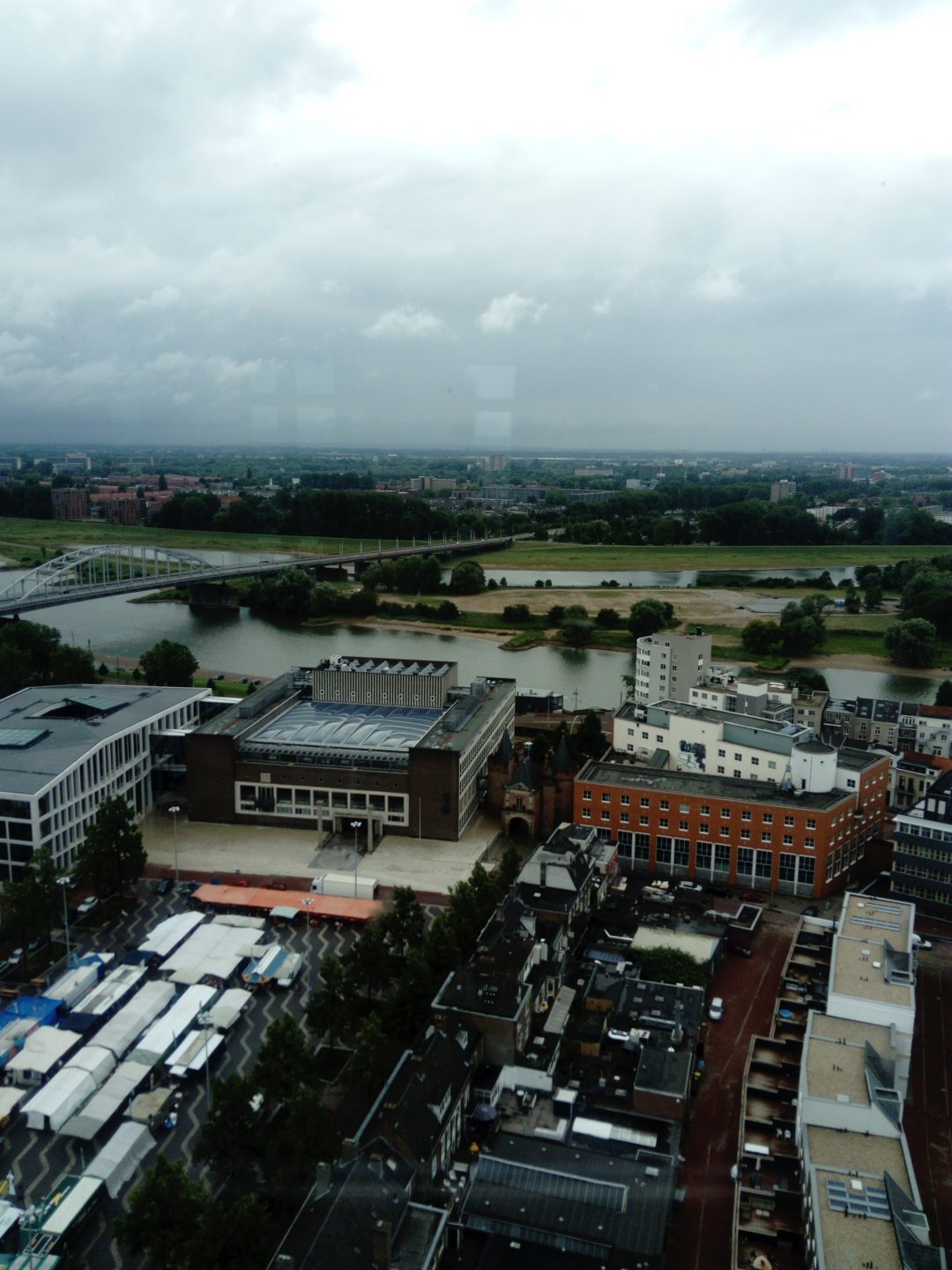 To the North lies the shopping district and its wavy streets, as well as the residential areas and fields further away. On the seventh floor, you can use the binoculars to see the details of the architecture of buildings in the city, with the churches and greenery providing pleasant scenery. To get to the maximum height, you must take a spiral staircase to the eighth floor, accompanied by a resident falcon outside of the observation deck.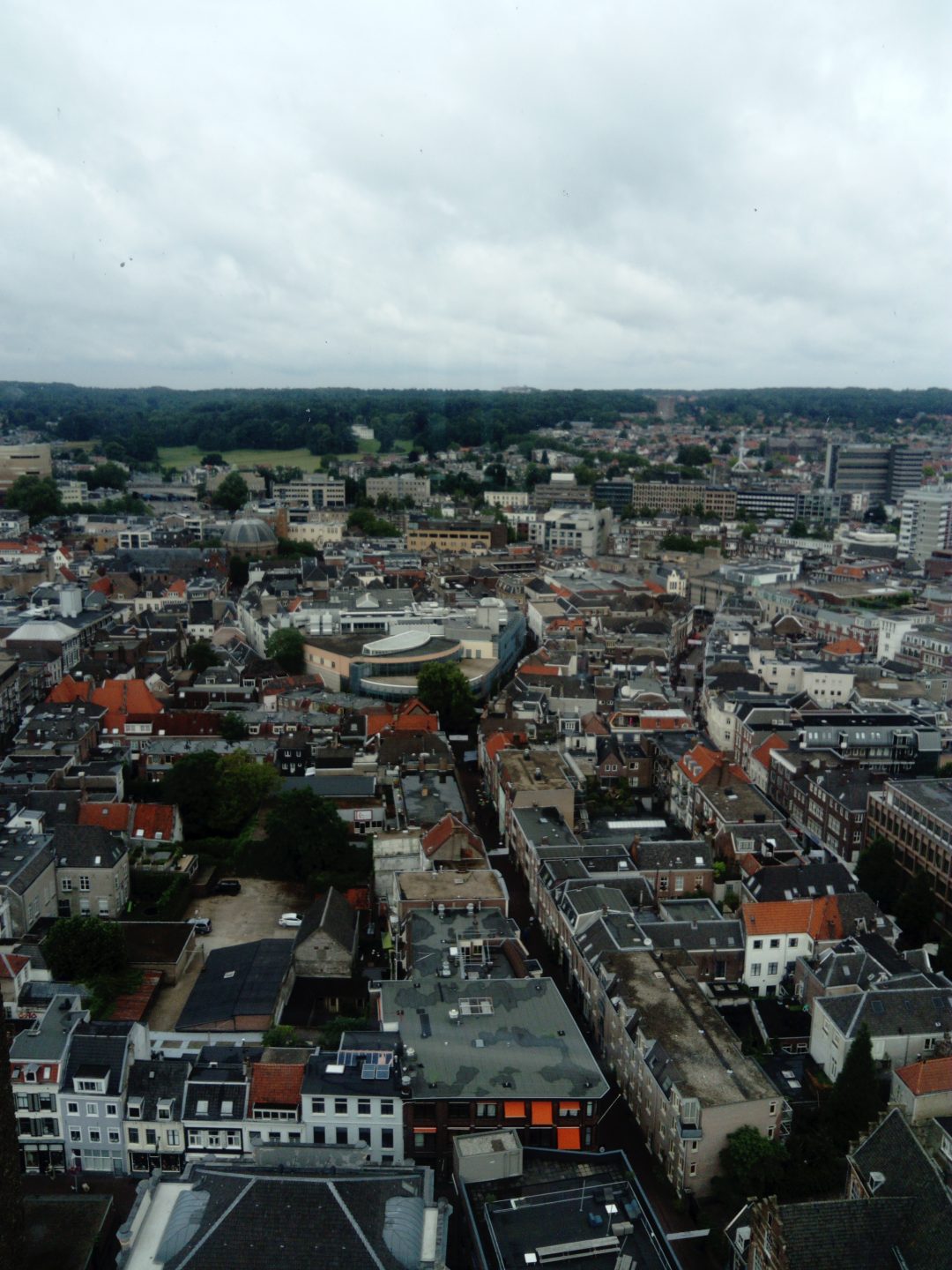 As well as visiting the observation deck, the church hall is also worth the visit. Eusebius is known as a musical church and the calming sounds of the organ adds even more to the atmosphere. While the Battle of Arnhem took a heavy toll on the gothic-style building, many of the authentic elements remain intact.
Bitcoin, and Stepping Up to the Plate…
Surrounding Eusebius are several food shops that accept bitcoin. Anne&Max is a cafe with a cosy, warm atmosphere, serving an all-day breakfast menu, lunch and dinner.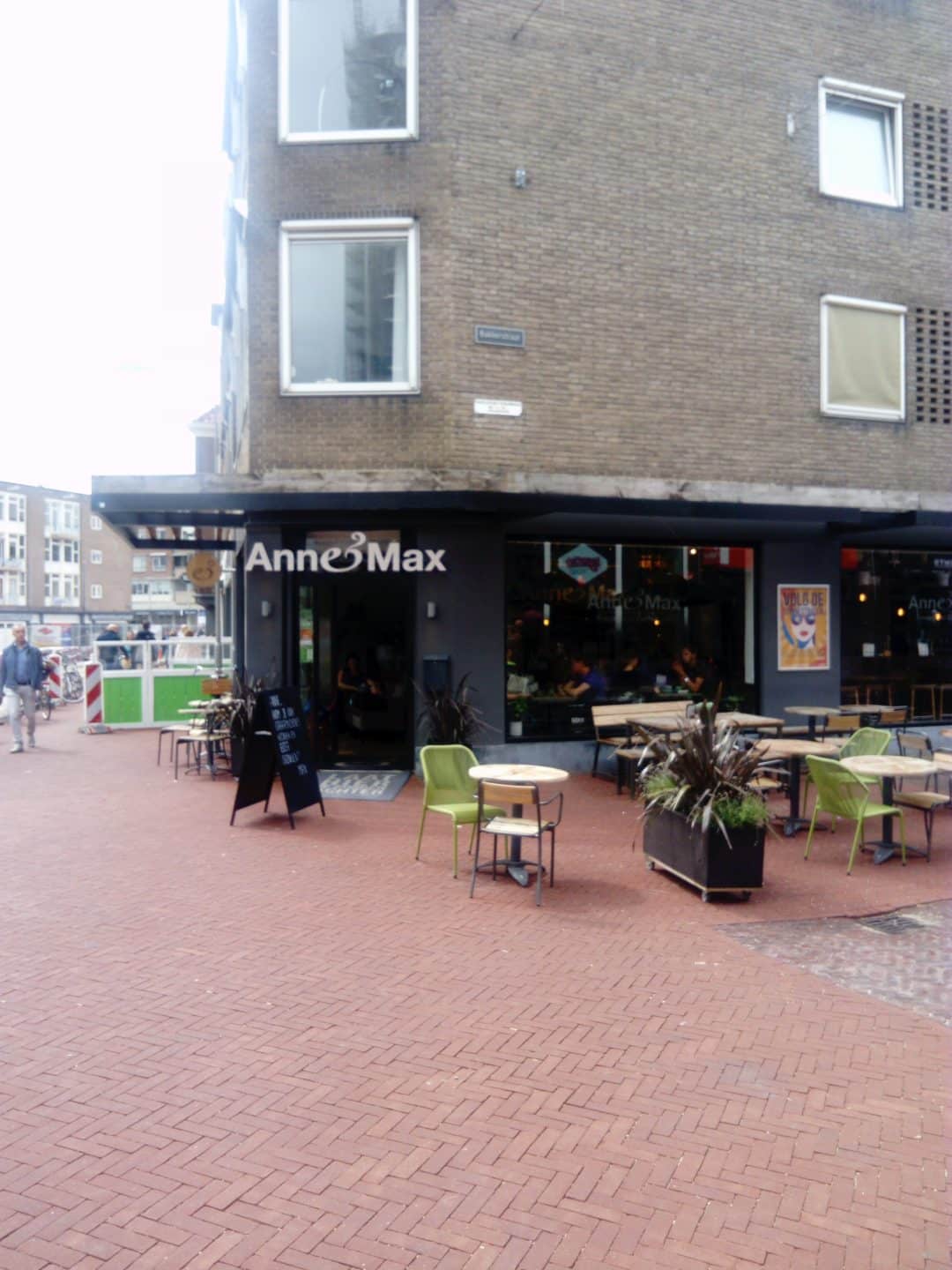 I opted for the American pancakes, which came with maple syrup, banana and cranberry compote along with some tea. There was good service, the staff were friendly and it was very easy to pay with bitcoin.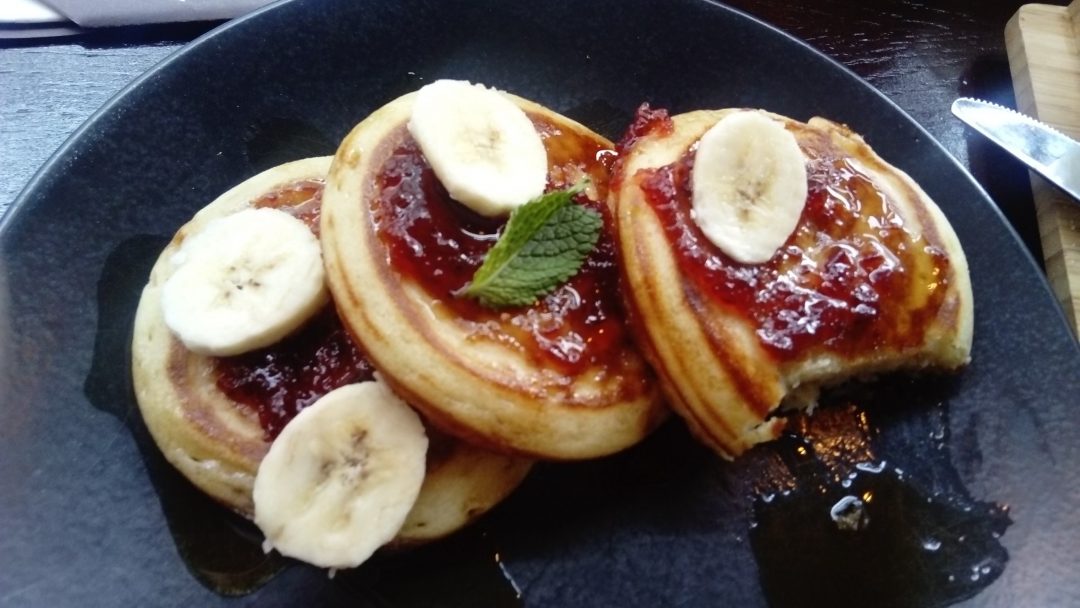 Also, there is a shop that sell frozen yoghurts and smoothies, Iogurties and a health foods market next to Eusebius too, known as Mimint Bio Market. The Mimint Bio Market had many interesting items, mostly health foods but also some nice ornaments, such as china tea pots and other miscellaneous items. Finally, in the old market square adjacent to Eusebius there is Dames en Heren Culinair Cafe, a cafe committed to 100 percent pure foods, serving breakfast dishes, sandwiches, salads, soups and toasties.
Later on the same day, I decided to eat at Cantina, a Mexican restaurant on the bank of the river. As the sun was setting, I sat outside to enjoy the view and it was so scenic as I could also hear a musical or an event that was taking place on the opposite side of the river. Just a bit further down the same road, there is another restaurant that accepts bitcoin, known as Rosie's Lounge.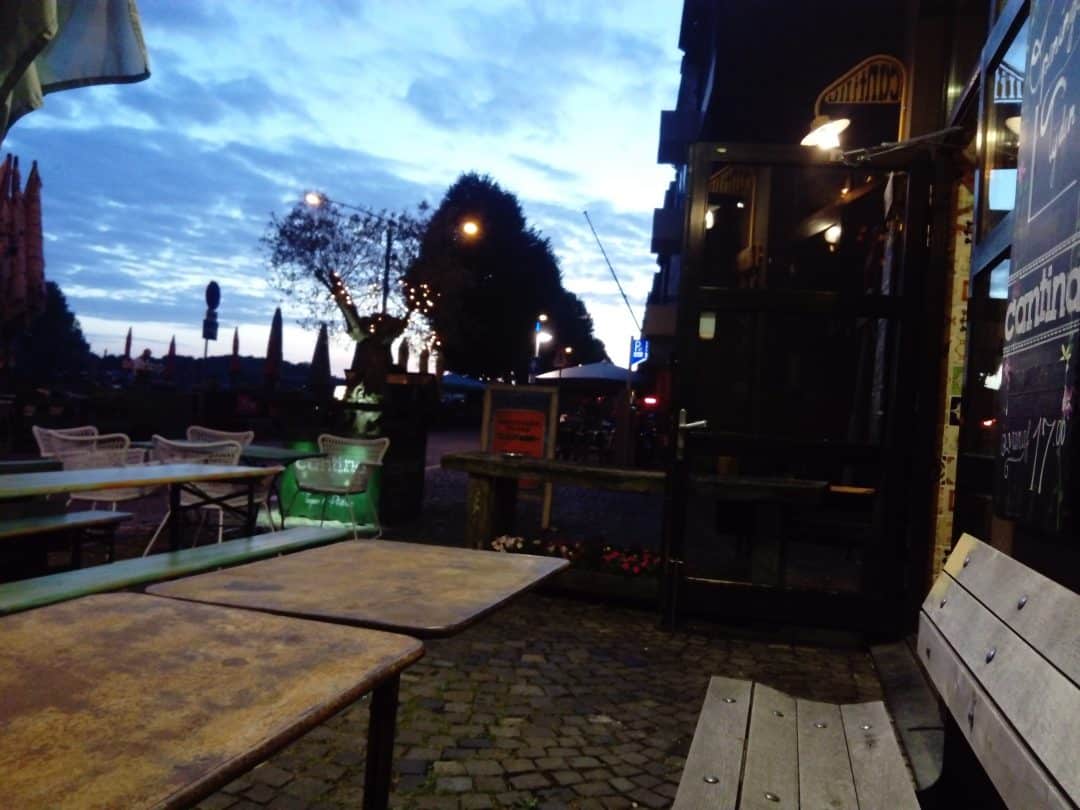 As a lover of Mexican food, I did not need to look at the menu, as I had already toyed with the thought of a taco and some chicken wings. As I settled, I ordered the chicken wings and a pumpkin taco. I wasn't too hungry, so I decided to see what the portions were like. I would have probably ordered three of four items if I had a bigger appetite. The food was served quickly and the waiter was kind and helpful. As I went to pay with bitcoin, there was some confusion, but it was well handled and smooth enough anyway. From my short stay in Arnhem, I found that one of two things will happen when you pay with bitcoin; you will be served by the first person you meet or they will get the owner. Either way, from my experience, the process is always swift. I paid with 0.006 bitcoin, worth around 12 euros ($13.71), and included two drinks.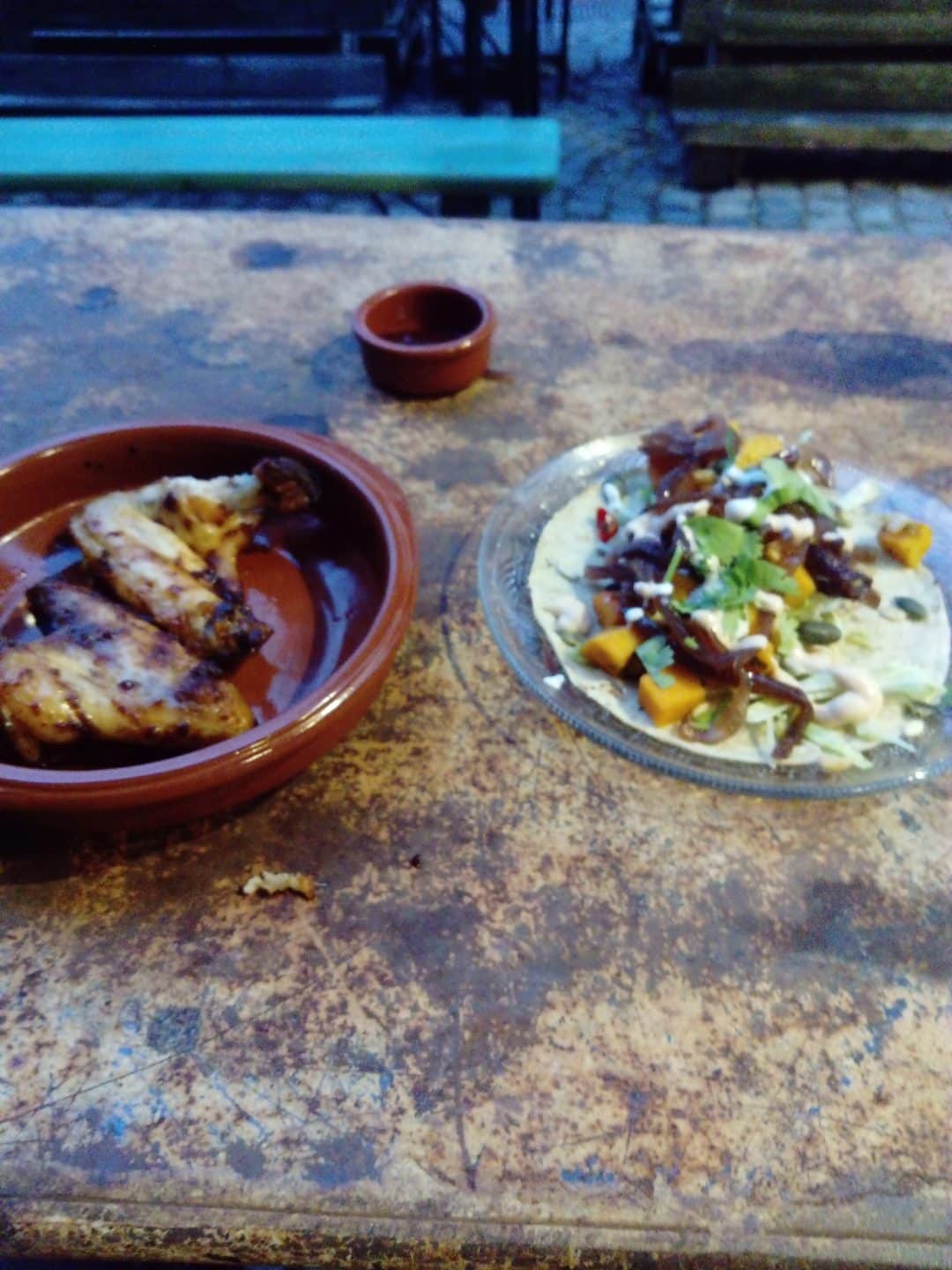 While many big corporations dislike bitcoin and its supporters, and vice versa, Burger King in Arnhem central is one of the many merchants that accepts the cryptocurrency.
Many Dutch claim that their chips (or french fries if you're American) are better since they have better potatoes. After eating Burger King, as well as other vendors that serve chips, I think they're right; their chips seemed to have a richer taste and not as bland like those from where I live in the UK.
According to Patrick van der Meijde, the Burger King in central Arnhem was easier to convince than the franchise at Arnhem station, which is owned by the railway and does not accept the cryptocurrency. An advantage with paying with bitcoin is that you get a second Whopper free, so for around seven euros ($8), a meal with an extra burger is not so bad.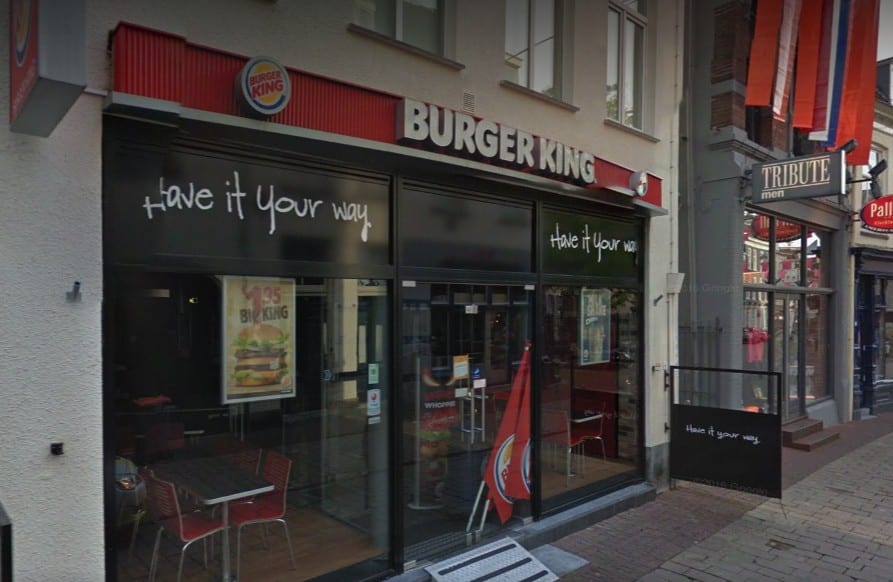 Taking just a few paces away from Burger King and we get to another place of interest. Boekhandel Hijam Ongerijmd is a bookstore with both English and Dutch language books. The store has a large collection of books on various subjects, such as the 'Filosophie' section which caught my attention. Here it was also easy to pay with bitcoin, and I bought a book that I could read to learn the Dutch language.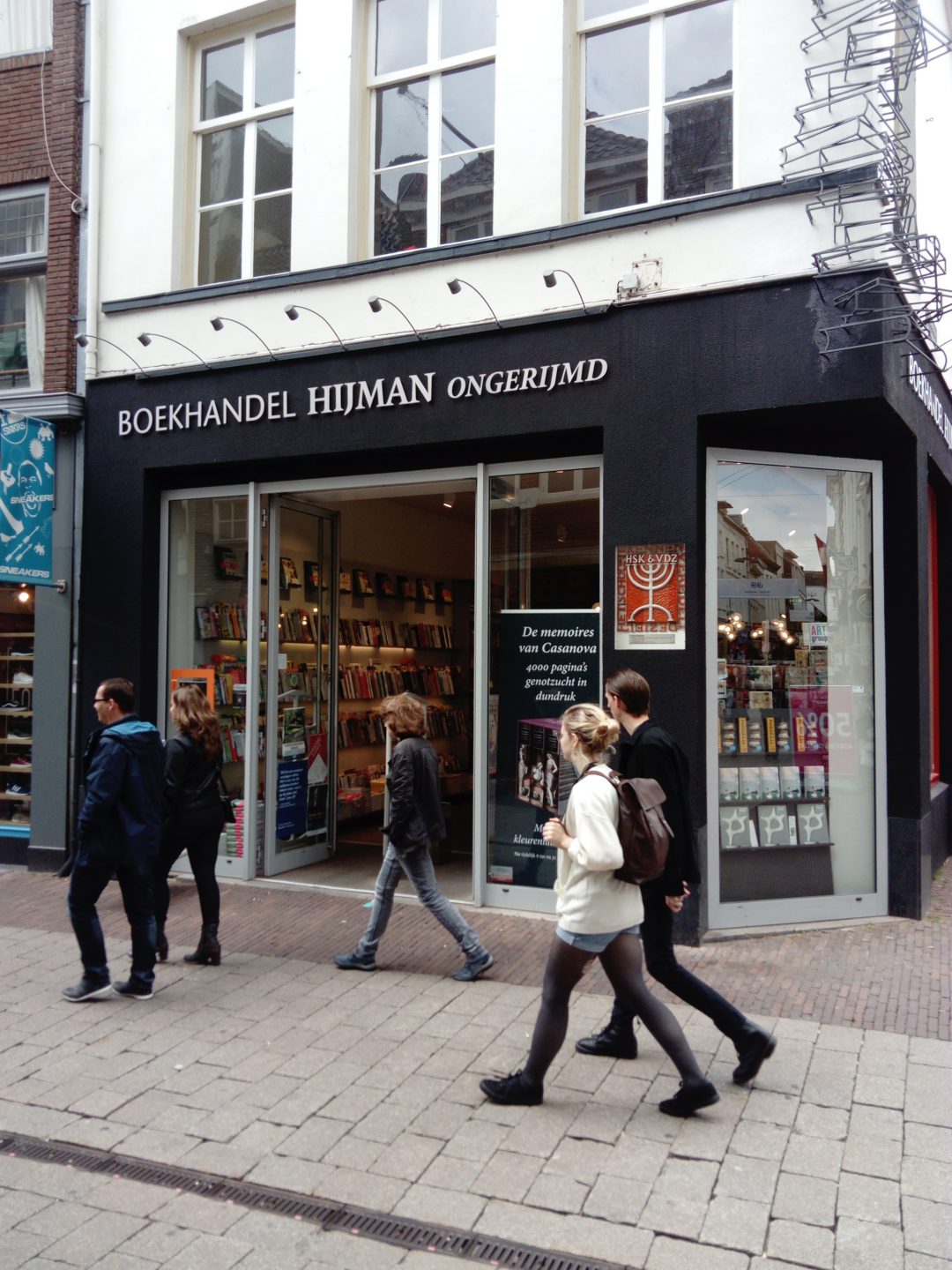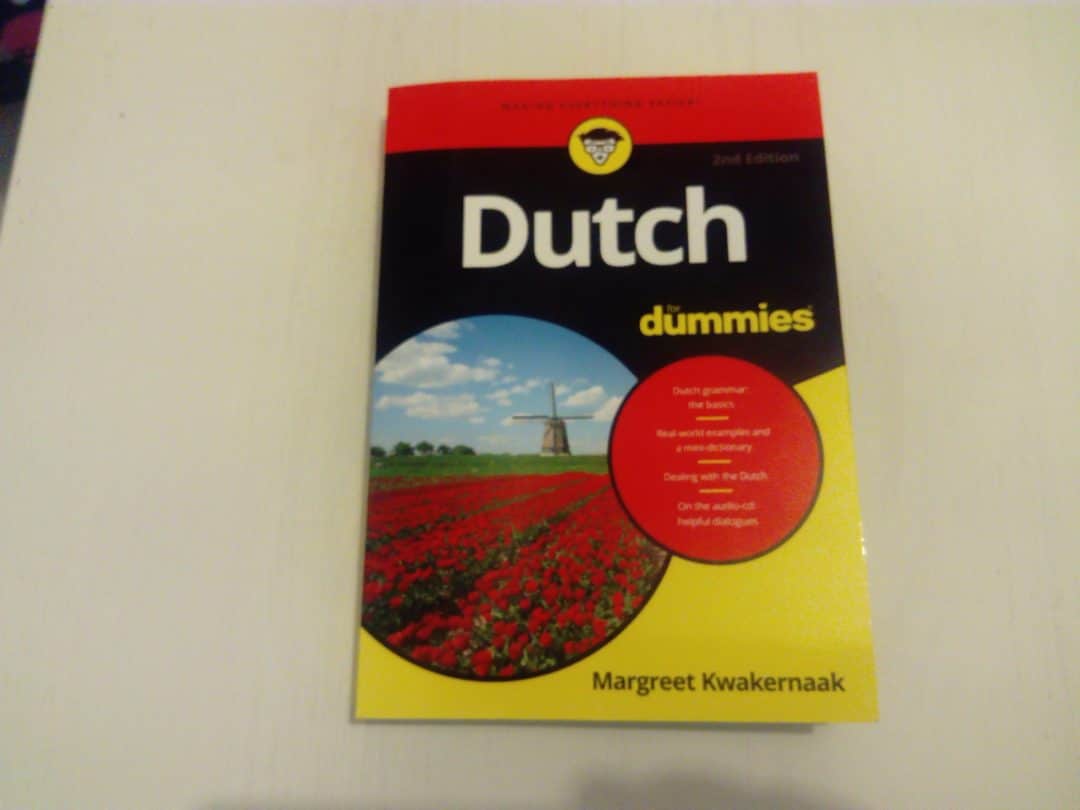 Immediately outside of Arnhem centraal train station is a bitcoin merchant that is important for one key reason. It is the first supermarket in the Netherlands, and perhaps in Europe, to accept bitcoin, allowing you to buy everyday groceries with cryptocurrency, negating a frequently repeated criticism. SPAR Arnhem Centraal has a wide variety of fresh foods available and a bakery. Groceries aside, even if you're a smoker, you can buy it with bitcoin, alcohol too. Open from 07:00 until 23:00, it is an essential store if you plan on bypassing traditional foreign exchange and using bitcoin during your stay in Arnhem.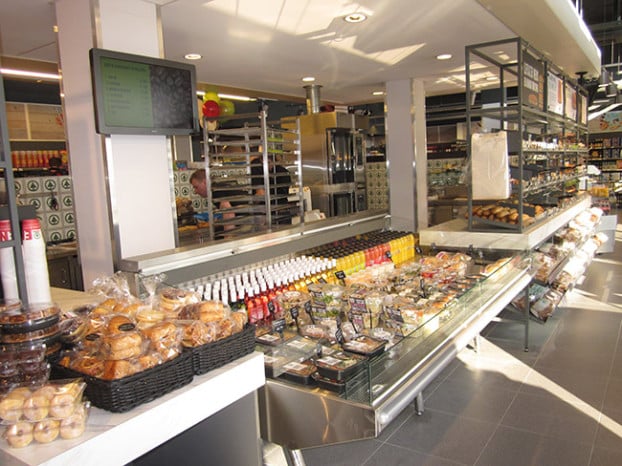 SPAR has supermarket chains across Europe Asia, and Africa, and are familiar to the British with more than 2,500 stores in the UK. But what is not so familiar to me is using bitcoin in a convenience store to buy groceries, as I did in Arnhem, something that I've never done in the UK. Again, the process was easy and it was a smooth transaction for some snacks, smoothies and drinks.
Staying in Arnhem and Nightlife
Walking for a couple of minutes away from the SPAR and across the road, you will find a square populated by cafes and pubs, with a small cineplex sitting in the centre; many of the bars here accept bitcoin too. For instance, we have Café Pavlov, Café de Barron, The Cavern Café, and Barley's Biertgarten. This area is lively on the weekends and a hangout for many locals; this is the spot to visit if you want to drink with the Dutch. The Cavern Café is more like a bar than a cafe, and is the business that closes its doors last in the city (it is open until 05:00), so if you're a night owl, this bar will probably be an important checkpoint. Barley's Biertgarten has two floors with a terrace and you can also pick up some food, as they have their own rotisserie.
Walking deeper into the shopping centre of Arnhem, you will find somewhere where you can use bitcoin to rest your head. Dudok's Studios offer accommodation for travelers and is in a prime location. With a modern theme, their studios come with WiFi, a balcony overlooking the shops, a fridge and many other amenities. Hotel Modez is another place where you can spend your bitcoin to stay in Arnhem and is located in the Fashion district, and comes with close proximity to the city center. Moreover, the sister cafe of the hotel, Caspar, also accepts the cryptocurrency. Finally, a bit further out is Bed and Breakfast Molenbeke.
Even if you haven't packed enough clothes or underwear, you can spend bitcoin to ensure your outfits are complete. For instance, you can get suited and booted at Tailormadesuits. Near the Hotel Modez is Okimono which offers t-shirts with original designs and made in an eco-friendly manner. There are many other clothing stores, including fancy dress, a shop selling handbags, and even clothes for babies and weddings.
After exploring the city, I felt like I need to visit again to cover all of the bitcoin merchants, as there are more than one hundred scattered mostly in the centre of the city but also in the outer areas. For someone who gets paid in bitcoin, it is an attractive proposition to live here. The small city has charm and none of the hustle and bustle of a metropolis. Interacting with the locals was fun too, and to visit again, learning some basic Dutch language skills would be beneficial.
Thanks to the enthusiasm of three friends for bitcoin, Arnhem will attract return visitors from the Future of Bitcoin conference and hopefully some bitcoiners who may be reading this guide. With a vast array of services and goods available for the cryptocurrency, it is possible for you to entirely bypass foreign exchange and take the entirety of your spending money in bitcoin, with bars, hotels, restaurants, clothing stores, cafes, and tourist attractions just some of the businesses where you can spend your bits.
It is a challenge but going back equipped after a thorough read of the Dutch language book, I aim to seek out more items and merchants on my return visit and support the wide variety of businesses who embrace bitcoin.
You can read the entire series by BTCManager, 'A Bitcoiner's Travel Guide,' here.