Bitcoin's been Forked 44 Times Since Bitcoin Cash: We Explore the Ten Strangest Forks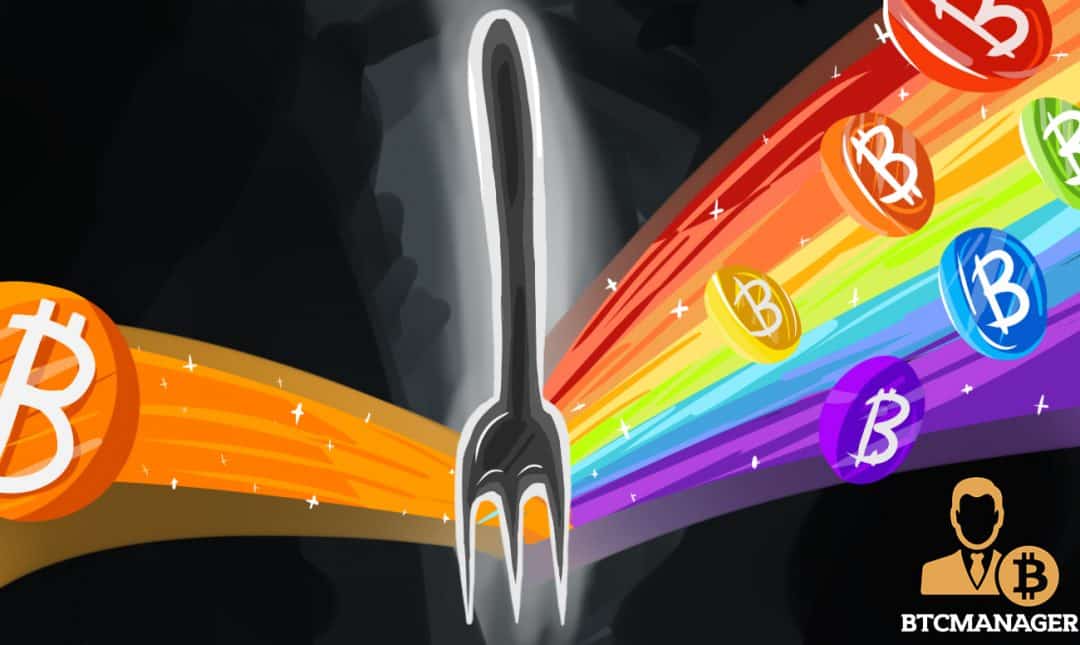 BitMEX Research, the analytical wing of one of the leading margin trading exchange BitMEX, reported that 44 Bitcoin forks have emerged following the Bitcoin/Bitcoin Cash split. Here we explore the ten strangest Bitcoin forks.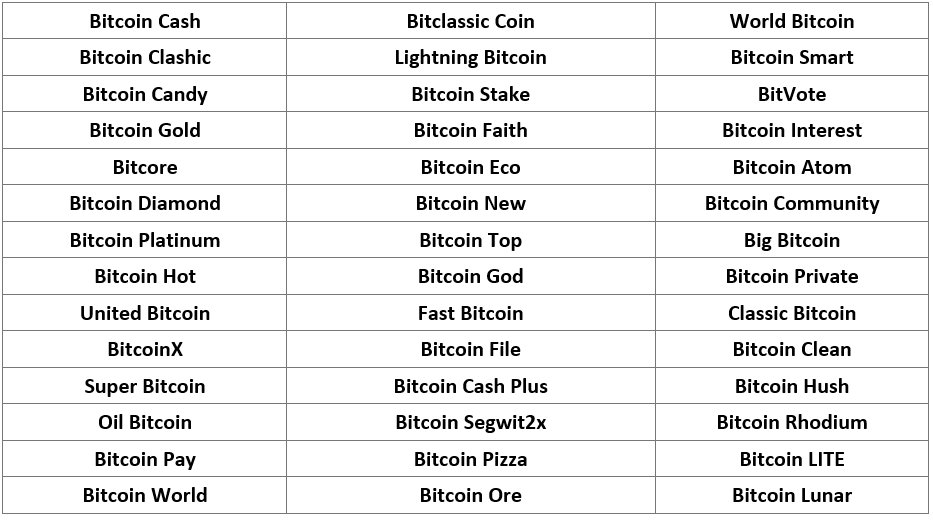 Source: BitMEX Research
Bitcoin Pizza (BPA)
Bitcoin Pizza (BPA) incorporates DAG (Directed Acyclic Graph) technology used by IOTA with a short 120 second block time for faster confirmations. It went live on January 1, 2018, with block 501,888 – granting every bitcoin holder the same amount of BPA.
Bitcoin Ore (BCO)
Bitcoin Ore (BCO) is aiming to be a less wasteful and more environmentally friendly version of Bitcoin. Based on Proof of Capacity, it enables to be mined more efficiently, thereby saving the environment. It started to be operational on January 28, 2018, granting each bitcoin holder the equal amount of BCO.
Bitcoin Faith (BTF)
Bitcoin Faith (BTF) brings a built-in intelligent contract, larger block size and zero-knowledge proof for privacy. Forked from block height of 500,000, on December 19, 2017, it granted every bitcoin owner an equal amount of BTF.
Oil Bitcoin (OBTC)
By "drilling the oil from digital currency," Oil Bitcoin (OBTC) aims to issue rewards by using Proof of Stake consensus mechanism to enhance trading speed and equity distribution. With Autonomous Community, Safeguard Privacy and Replay Protection it was issued on December 12, 2017, granting each bitcoin holder an equal amount of OBTC.
Super Bitcoin (SBTC)
Implementing the proposals recommended by the community, Super Bitcoin (SBTC) aims to provide zero-knowledge proofs to safeguard privacy and expand the block size to 8MB. Furthermore, support Turing-complete smart contracts it enables more functionality, increasing BTC scalability. It was forked on December 12, 2017, with the block 498,888, granting every Bitcoin holder the equal amount of SBTC.
Bitcoin Hot (BTH)
Created at block height 498,848 with a new Proof of Work algorithm – BTHash, Bitcoin Hot (BTH) aims to reduce the cost of transfers while increasing the speed. It holds larger supply than bitcoin, making it more affordable for everyone. Every bitcoin owner can claim their BTH with a ratio of 100 BTH for every bitcoin they hold. The block size is 16MB, and the project was established in December 2017.
Big Bitcoin (BBC)
Big Bitcoin or BBC claims to operate at "extremely high speed with considerably powerful technology" while being one of the "most in-depth hard forks of the Bitcoin blockchain ever seen." BBC has a shorter block time (2.5 minutes), bigger block size (16 MB) and adapts a difficulty adjustment algorithm while supporting SegWit and Lightning Network. BBC was forked at block height 508,888, and the supply is fixed at 210 million.
Bitcoin Clean (BCL)
Bitcoin Clean (BCL) is another attempt to make Bitcoin clean and green again with a tagline "Mine bitcoin solely using renewable energy." It employs 'Proof of Greenness Protocol' to ensure miners use only renewable energy.
Forked at block height 518,800 on April 18, 2018, it granted every bitcoin holder the same amount of BCL. The team behind it claims to work nonstop to make this fork a genuinely viable alternative to Bitcoin and curb the pollution being generated due to mining.
Bitcoin File (BIFI)
Aiming to create a global decentralized file system, Bitcoin File (BIFI) combines IPFS file systems and the Bitcoin settlement network. Fully self-monitored and decentralized, it offers 21 billion tokens, among which 17 billion were airdropped to the bitcoin holders with the ratio of 1000 BIFI for every bitcoin held. It claims to be a more stable, fair and green alternative to BTC.
Bitcoin Candy (CDY)
The newest fork out there – Bitcoin Candy (CDY) combines a Proof of Work algorithm with a two-minute block time for increased transaction speeds. Claiming to be safer with total supply adjusted to 21 billion, it was distributed with block 512666.
The distribution took place on January 13, 2018, on the Bitcoin Cash chain with a ratio of 1000 CDY for every 1 BCH. Furthermore, the coin conducted an additional hard fork on May 15, 2018 (along with Bitcoin Cash), incorporating some significant upgrades to the chain.
Conclusion
While some take it as a great sign that many bitcoin forks are trying to solve existing problems, others argue they are all distractions from the bona fide version; there will only be room for one form of sound, honest money and the network effects backing bitcoin make it the strongest contender.
The only requirement for receiving the forked coins is to own bitcoins at the time of the fork while storing it on a separate, non-exchange wallet. Every bitcoin fork (even those ridiculous) could be a great way to make additional money, but many are scams designed to enrich their founders or steal your funds.
While the number of bitcoin forks since Bitcoin Cash is at 44 presently, this number could easily reach 100 by the end of 2018 as 'fork mania' persists.