Blockchain Documentary Produced by Ethereum Co-Founder Brings Crypto to Masses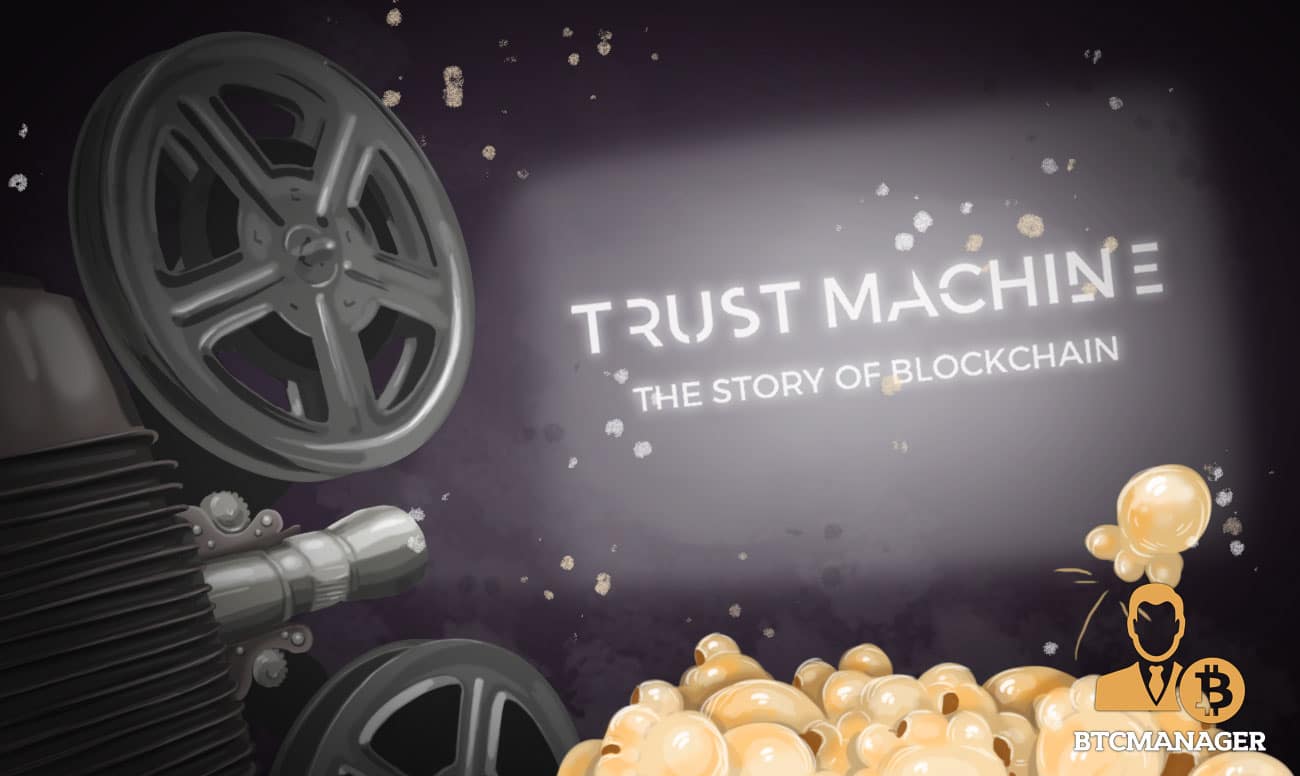 Movies have always had a way of broadcasting new ideas to the mainstream audience. Whether the film is about religion, politics, or a new way of thinking, cinema has been a surprisingly effective catalyst for bringing new ideas to people. A new film about Blockchain, Trust Machine: The Story of Blockchain, is looking to do the same, reported Forbes on September 25, 2018. 
Explaining Blockchain Technology to a Mainstream Audience
The film will be released in two major cities of the U.S., debuting in New York on October 26th, 2018, and in LA on November 16th, 2018.
The movie has taken a topic, cryptocurrency, and blockchain technology, and distilled it into something a mass audience can not only tolerate but enjoy.
People immediately affected by blockchain will, of course, be interested, like those working in the tech space or people in business trying to stay ahead of competitors, but even those merely interested in digital privacy will enjoy this thrilling documentary.
While BTCManager has covered the creative clash between cinema and cryptocurrency before, Trust Machine: The Story of Blockchain is different because the film will appeal to a broader audience and is truly special regarding content, the team behind the project, as well as how it was developed.
Cryptocurrency Influences On and Off Camera
The film is SingularDTV's first feature-length documentary, a milestone for the project. SingularDTV helps filmmakers throughout the entire content creation process regarding funding, developing, and distributing content.
Producers over watching the movie include SingularDTV executive procuder Zach LeBeau, Futurism CEO and Forbes 30 under 30 member Alexander Klokus, Futurism Studios president Geoffry Clark, president and founder of SingularDTV Kim Jackson, and even Ethereum's co-founder Joseph Lubin.
Regarding on-camera appearances, viewers will be treated with interviews from Tim Draper and Bil Tai. Prominent figures outside of the cryptocurrency industry will also be present within the film, including JPMorgan's CEO Jamie Dimon.
Bitcoin and blockchain technology has the power to disrupt so many parts of everyday life. The way money is seen and conceived, solving the refugee crisis or world hunger, virtually every aspect of life could see a benefit from blockchain.  
Moreover, while there's a chance that Bitcoin could come crashing down horribly, the people behind this cinematic project feel that more people should know about this revolution coming to them regardless.