Ethereum's Blockchain Lends Voice To #MeToo Movement After China Censors Student's Rape Claims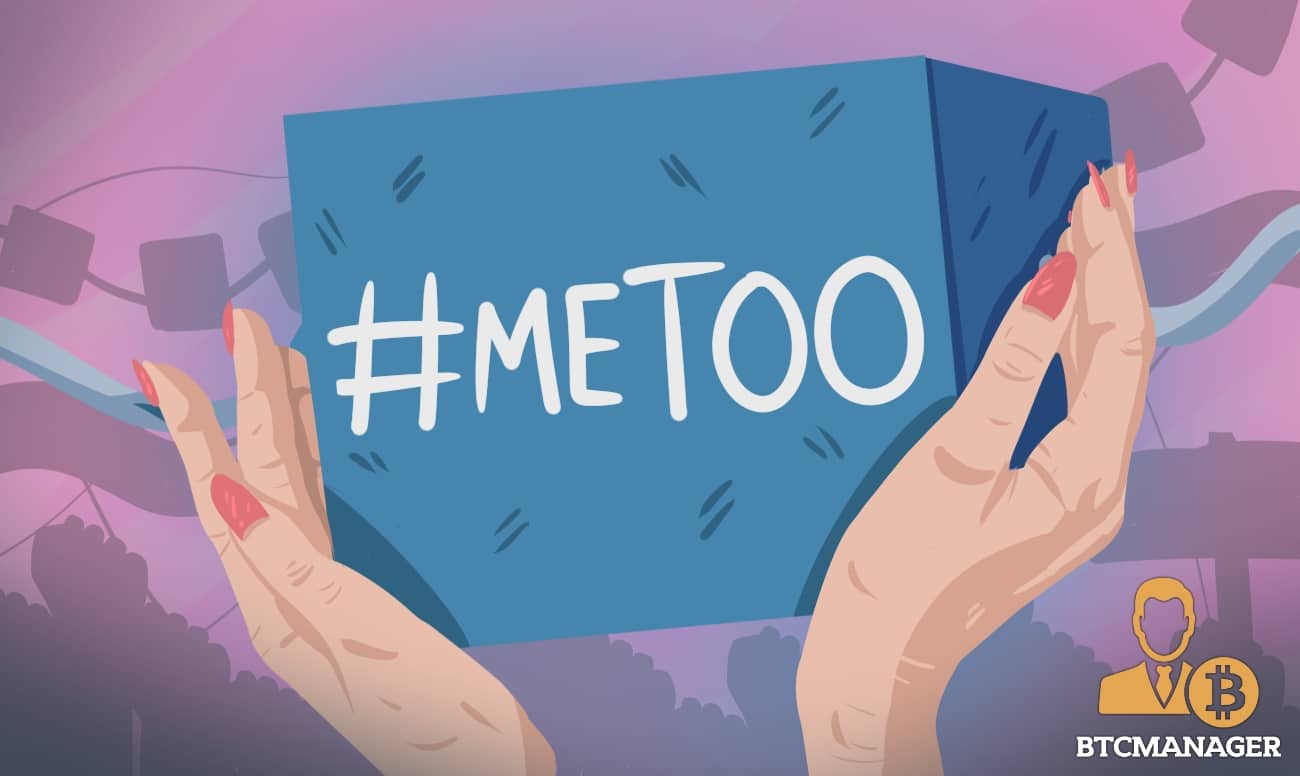 Blockchain, the technology behind bitcoin, has come to the rescue of student activists who have reportedly been censored by the Chinese government after trying to launch the #MeToo movement there.
Students have repeatedly asked the government to do more to prevent rape, sexual assault and harassment in China, but their pleas have fallen on deaf ears. And now, it seems some universities have also hopped on the censorship bandwagon.
Peking University student Yue Xin accused her school of intimidating her after she tried to spotlight the tragic 1998 suicide of Gao Yan, a student who killed herself after allegedly being raped by former Peking University professor Shen Yang.
Student: I Was Censored For Discussing Rape Prevention
In an open letter translated by the China Digital Times, Yue said Peking University harassed her by doing the following:
"At about 11 in the evening on April 22, my adviser suddenly tried to call, but because it was already late, I missed it. At 1 a.m., my adviser abruptly came to my dormitory with my mother, woke me up, and demanded that I delete all data related to the freedom of information request from my phone and computer, and that I go to the Office of Student Affairs the next morning to guarantee in writing that I'd have no more to do with the matter."
"Other students on my floor can verify this. Soon afterwards, my parents took me home, and I still haven't been able to return to school."
Yue's open letter went viral after being posted on popular Chinese online platforms WeChat and Weibo. The Chinese government reacted by having her letter deleted from those sites, according to multiple press reports.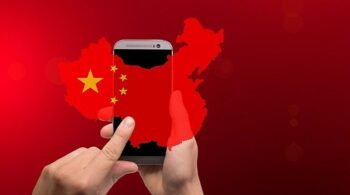 The Chinese government is accused of censoring the Me Too movement in the country. (Pixabay)
That's when her supporters posted her missive on the Ethereum blockchain on April 23, so it couldn't be deleted or doctored, Bloomberg reported.
"An anonymous user attached Yue's letter to an ether transaction and posted it to the blockchain: the decentralized ledger that records all activity for the cryptocurrency. That transaction cost the poster all of 52 cents, according to the record."
Du Guang, a former researcher at a Chinese government think-tank, said the incident is potentially revolutionary to spotlight the long history of Chinese government oppression and censorship.
"This is the biggest incident in more than ten years that students decided to ask the authorities to do more to boost transparency," Du told Bloomberg. "This incident reminds me of the student movements in the early Communist era."
'Decentralized Media Gives People New Hope'
Isaac Mao, a San Francisco entrepreneur who's building a media platform that uses blockchain technology to combat censorship, said the Chinese government could still find a way to delete Yue Xin's letter, but the symbolic gesture offers hope. "Decentralized media still has miles to go, but it gives people new hope," Mao said.
Bloomberg's China tech reporter Lulu Chen hailed the "symbolic" victory on Twitter, writing: "The Peking University petition letter has now been stamped on ethereum so it can never be scraped from the web. Meanwhile, posts on the same topic are disappearing from WeChat fast."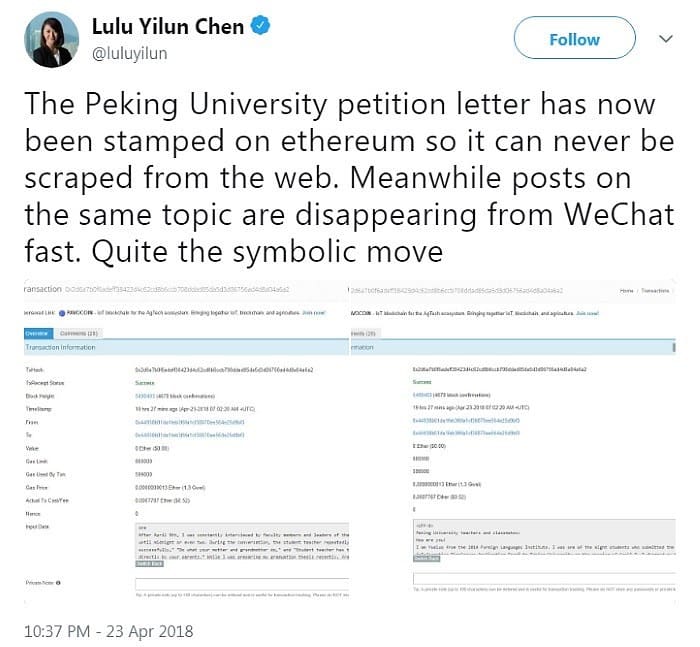 Blockchain enthusiasts commented online that even if the Chinese government censored Yue Xin's letter, there would always be a record of it.
"Blockchain has no 404 page, it's permanent," wrote one person, who explained that an error code will always denote the missing web page for all to see.
The incident underscores how blockchain could be used to circumvent censorship in oppressive regimes around the world, not just in China. Chinese commenters on Etherscan hailed this use of blockchain as "historic."