BTCC Exchange offers users up to 150x leverage on tokenized futures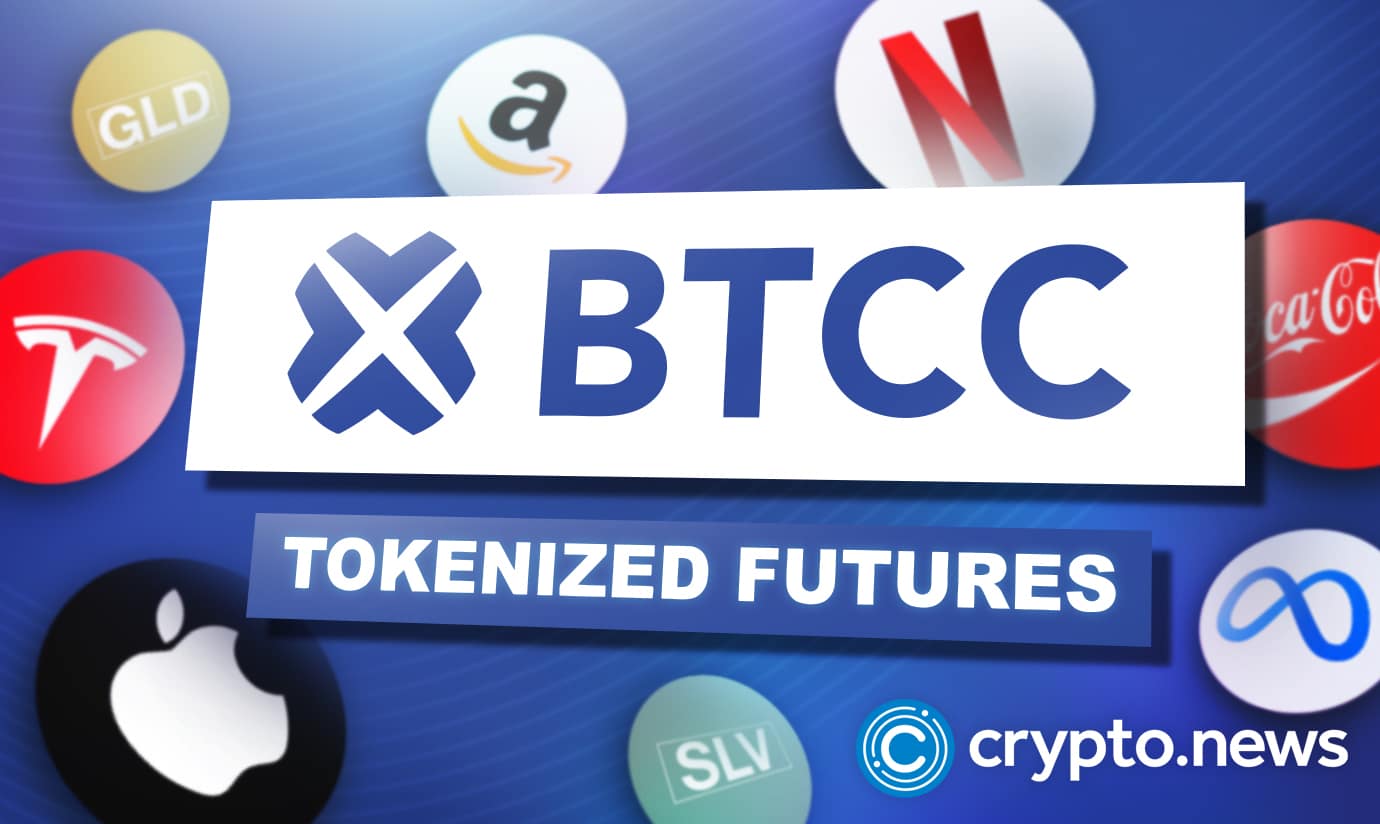 BTCC crypto exchange's newly launched tokenized futures gives users access to tokenized stock futures, tokenized commodity futures, and other financial instruments all in one place, enabling crypto traders to buy stocks and commodities with USDT.
Crypto, stocks, and commodities trading
BTCC, a bitcoin (BTC) trading platform and crypto exchange, recently added support for tokenized futures, a product that allows users to buy or sell stocks and commodities using USDT.
The tokenized futures product created by BTCC saves users the time they would otherwise open new accounts on Forex trading platforms and exchanges to trade traditional financial instruments such as stocks and commodities.
The BTCC tokenized futures product supports several financial instruments including the stocks of leading Silicon Valley and Wall Street heavyweights like Apple (AAPL), Amazon (AMZN), Meta (META), Microsoft (MSFT), Elon Musk's Tesla (TESLA), Netflix (NFLX), TSM, Gold, Silver and more.
In addition to giving users access to various financial instruments all in one place, the BTCC tokenized futures supports up to 150x, adaptable to the trading habits of various users. Users can hold the tokenized perpetual futures position for as long as possible, with funding rates reduced to as low as 0.01%.
With more than one million registered users, including institutional traders, liquidity of supported assets on BTCC is guaranteed at all times. Traders can easily buy the financial instruments of their choosing at the exact price they want without bothering about slippages.
Despite already supporting a plethora of financial instruments on its platform, the BTCC team continues to work hard to introduce more perpetual futures contracts.
Key similarities and differences
While the BTCC tokenized futures are similar to crypto futures, they operate quite differently from the former in a number of ways.
For one, the trading hours of tokenized futures are tied to the trading hours of the underlying stocks or commodities, unlike crypto futures products which run on a 24/7 basis. In essence, tokenized U.S. stocks are only available for trading during the U.S. stock market trading hours. Users can find the exact trading hours of each tokenized future contract on the instrument's intro page.
The price of each BTCC tokenized futures product is pegged at a 1:1 ratio with the market price of the target financial instrument and leverage is relatively higher (1x to 150x) than what's obtainable on regular exchanges. As such, traders are advised to choose the leverage that best suits their risk tolerance.
Disclosure: This content is provided by a third party. crypto.news does not endorse any product mentioned on this page. Users must do their own research before taking any actions related to the company.