Burger King Partners with Robinhood for Bitcoin (BTC), Ether (ETH), and Dogecoin (DOGE) Giveaway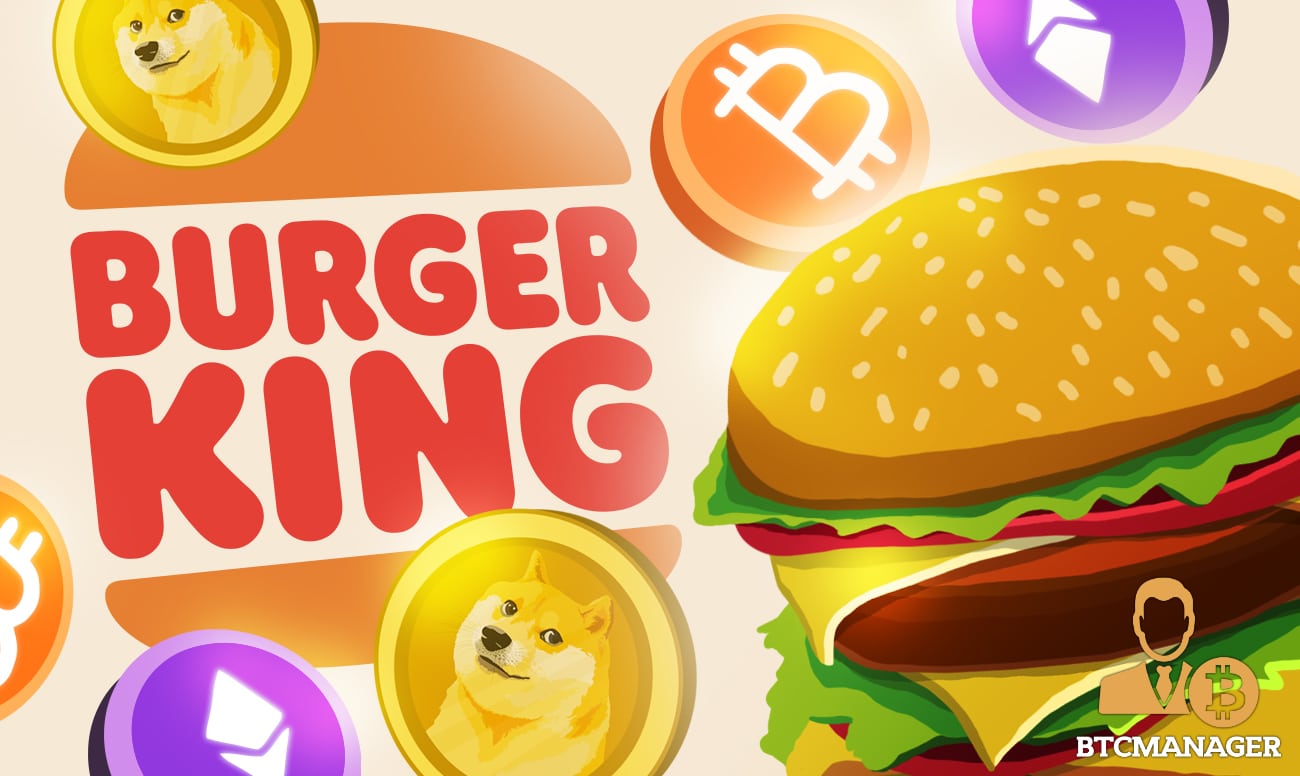 The premier meme cryptocurrency dogecoin (DOGE) is now supported by fast-food giant Burger King as the food outlet plans to integrate cryptocurrencies into its sales operations.
Burger King Unveils Support for BTC, ETH, DOGE
According to a press release issued recently, leading fast-food franchise Burger King has partnered with trading app Robinhood to give away several leading cryptocurrencies such as bitcoin (BTC), ether (ETH), and dogecoin (DOGE) in a promotion.
Specifically, Burger King is offering 20 BTC, 200 ETH, and 2 million DOGE, worth $1.17 million, $800,000, and $472,000, respectively. Per the announcement, users have a chance of 1 out of 100,011 to win the bitcoin prize.
Notably, the aforementioned cryptocurrencies will be given to Burger King's Royal Perks members. However, to be eligible to redeem the said crypto prizes, the recipient is required to have or open a trading account with Robinhood.
For the uninitiated, Royal Perks is Burger Kings' loyalty program where members stand a chance to win "crowns" for every USD they spend on fast-food items. Later, the received crowns can be redeemed for more fast-food items.
The promotion is scheduled to run from November 1 through November 21 or until all the crypto prizes have been claimed by the winners. All prizes must be claimed by December 17, the company said.
In an official statement, Burger King said:
"As a brand, we are always looking for ways to reward our most loyal guests with exclusive offers that are exciting, unique, and culturally relevant. Cryptocurrency (crypto) has been a hot topic of conversation recently, but we know it can be difficult to understand. That's why we wanted to bring crypto to our guests in a way that was accessible and digestible (literally and figuratively) — through our food."
While Burger King's latest promotion tactic looks to encash the current cryptocurrency frenzy around the world, the company declined to comment whether it would accept digital currencies as payments in the future.
Dogecoin Adoption Continues to Grow
While it's not surprising to see BTC and ETH being adopted by corporates due to their strong fundamentals and actual use-cases, the top meme cryptocurrency DOGE has seen just as much adoption in recent times.
In recent news, BTCManager reported that AMC Theatres is accepting DOGE as a payment option for its digital gift cards.