Busted: Indian Police Raids CoinX Trading Office, Unearth $1.43 Million MLM Scam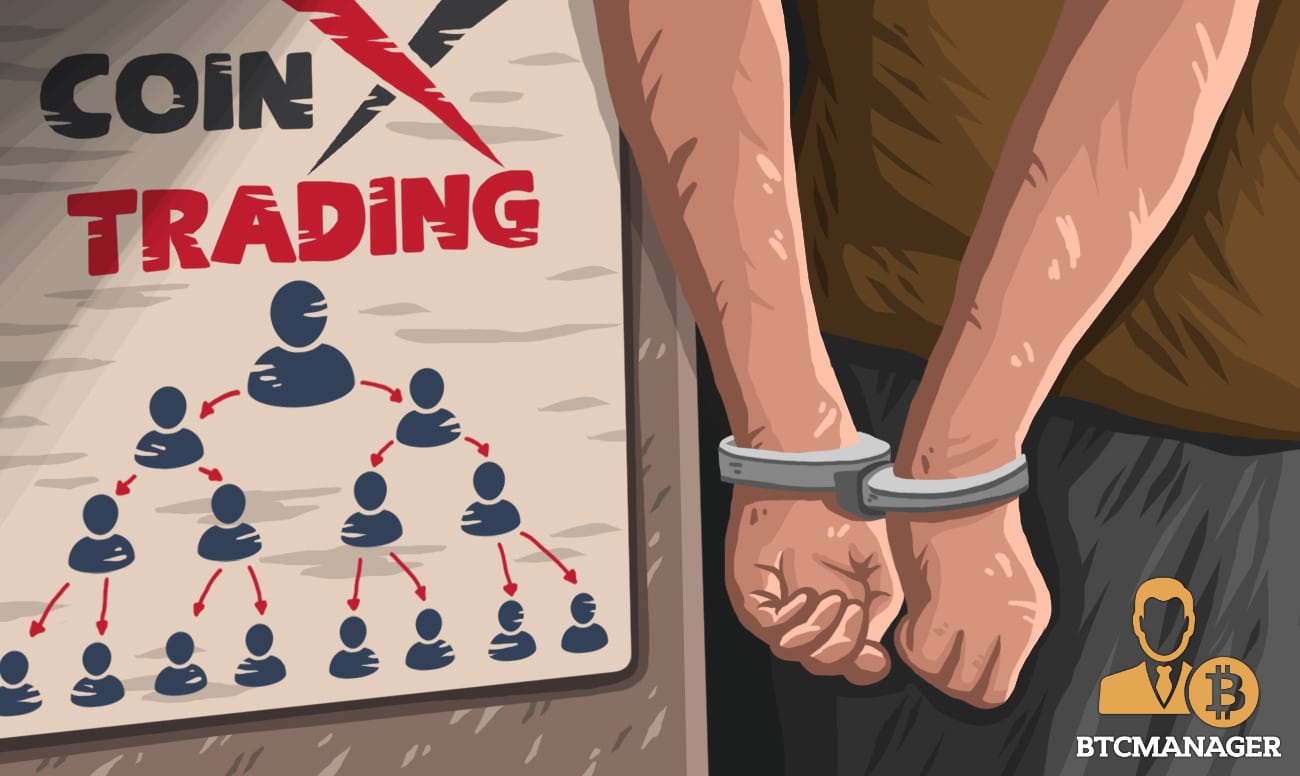 Yet another cryptocurrency-based Ponzi MLM scheme surfaced on August 25, 2018, as the police caught five fraudsters in the city of Hyderabad, India. While raiding a local real estate firm, GRM Estates Pvt. Ltd, cops caught imposters, including the brain behind the fraud company CoinX Trading, Gardas Ramesh. The company duped innocent investors by promising them lucrative investment plans based on multi-level-marketing schemes.
A Shady Past
The scam is estimated to involve around $1.43 million with more than 1,200 investors putting their money into the fake scheme. The mastermind, Ramesh has also had a history of indulging in similar MLM-based frauds.
The idea behind this scam was conceptualized sometime in 2016 when Ramesh approached a software company in Mumbai, named C.B. Online. Ramesh placed a request to develop a fancy website with the name coinxtrading.com, and the webpage was designed in a way to attract customers and make the business look legitimate.
Notably, the now-defunct website displayed office address at the World Trade Center, New York. It also claimed that the company was founded in 2013, and offered multiple tiers of MLM scheme investment plans in cryptocurrencies. The website has been inaccessible since August 6, 2018.
Gardas' modus operandi included tricking the gullible public into making short-term investments with big returns. He encouraged t investors to put their money in CoinX Trading, claiming that the firm had operational offices in U.S. and U.K.
As an incentive to customers for attracting new individuals, the company promised a 60 percent commission to successful referees. To make the business look genuine, Gardas even transferred some amounts to customer's bank accounts directly.
Crypto Getting a bad rep
Since bitcoin arrived onto the world's stage during its landmark bull run last year, many enterprises in India have tried to milk the buzz surrounding cryptocurrencies. Although banks are still not allowed to partake in crypto transactions in India, crypto enthusiasts have found alternatives to trade crypto tokens through P2P platforms such as Koinex. For our interested Indian readers, here is a comprehensive guide to using Koinex's wallet.
Unfortunately, India has witnessed many scams related to cryptocurrencies. BTCManager reported on August 20, 2018, the arrest of Divyesh Darji. Darji orchestrated a massive $2.4 billion bitcoin Ponzi scheme until fleeing to Dubai to escape the judicial authorities. However, Darji's luck ran out as he was arrested at Delhi airport on his way back from Dubai.