Cake DeFi Releases Q2 2022 Transparency Report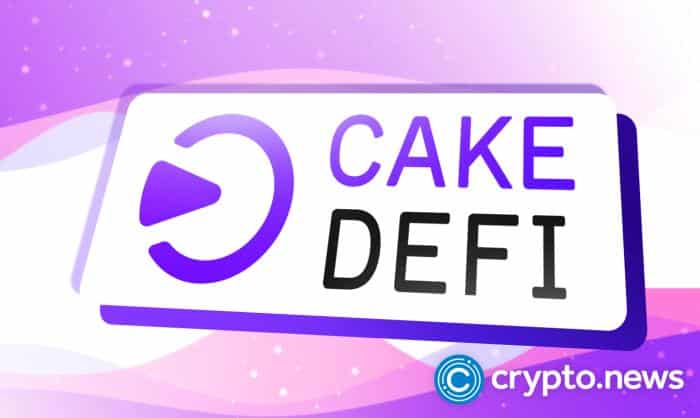 Cake DeFi's freshly released Q2 Transparency Report shows that the leading decentralized finance platform reached several impressive milestones in the second quarter of 2022 despite the ravaging bear market. Cake DeFi witnessed an average weekly user growth of 3.25 percent and it paid out over $58 million in rewards to its users in Q2 2022, upping its total payout since its launch in 2019, to $375 million.
Cake DeFi Q2 Transparency Report
Cake DeFi, an innovative, regulated, and highly transparent decentralized finance (DeFi) platform has released the result of its performance for the second quarter of the year 2022, in a report entitled Q2 Transparency Report. 
It's no news that the year 2022 has been quite gloomy for the traditional financial ecosystem, no thanks to the ongoing war in Ukraine, coupled with the devastating COVID-19 pandemic which is yet to disappear completely.
The cryptocurrency industry has not been spared either, as a good number of blockchain-focused businesses have called it quits during this crypto winter, which has been described by market analysts as the worst so far in the 13-year history of bitcoin (BTC).
However, despite the uncertainties, Cake DeFi, has remained strong in 2022, reaching several significant milestones in the decentralized finance space.
According to Cake DeFi's report, Q2 2022 has been the strongest quarter for the project since its inception, in terms of customer growth, funded accounts, and payouts. Specifically, the team has revealed that Cake DeFi's average weekly user growth increased by 3.25 percent and it paid out $58 million in rewards to its users in Q2 2022, taking the total payout since its launch to $375 million.
Improved User Experience
In a bid to improve its user experience, the Cake DeFi team successfully switched to an automated KYC system with a 3-minute verification and approval time. The Cake DeFi mobile app was also tweaked to become more user-friendly.
Importantly, at a time when numerous crypto businesses have found it almost impossible to stay afloat due to unfavorable market conditions, Cake DeFi says its financial health remains excellent and it's now looking to hire more professionals and even diversify its treasury.
The team declared:
Cake is still cash flow positive and still hiring people. Even in the unlikely event that revenue would dry up completely, its treasury provides for at least four years of runway. Building on the company's financial strength, the Cake DeFi Board has decided to diversify its treasury even further, and it will be publicly investing 15 million dUSD into decentralized assets.
Adding,
Considering how far crypto prices have dropped in the general markets, this may provide great potential upside. Cake will make this completely public, so people can actually monitor the progress.
Based in Singapore, Cake DeFi is fully compliant with all regulatory requirements of the Monetary Authority of Singapore (MAS). The decentralized finance project currently holds an exemption under the Payment Services (exemption for Specified Period) Regulations 2019 grants by the MAS, allowing it to continue to offer DeFi services in the region while its application to provide crypto payment services is being processed by the regulators.
What's more, Cake DeFi is also a FATF-compliant project and it recently secured a crypto license from the Registrar of Legal Entities of Lithuania, laying a strong foundation for its registration and authorization across the European Economic Area (EEA) member states and for future conversion into an EU-wide crypto license when the MiCA regulations finally go live in 2024.
Founded in 2019 by Dr. Julian Hosp, and U-Zyn Chua, Cake DeFi boasts over a million users from around the world. Cake offers its users an avenue to earn passive income from their idle crypto holdings via liquidity mining, lending, staking, and more.