Celsius Files Lawsuit Claiming KeyFi Stole Millions of Dollars in Crypto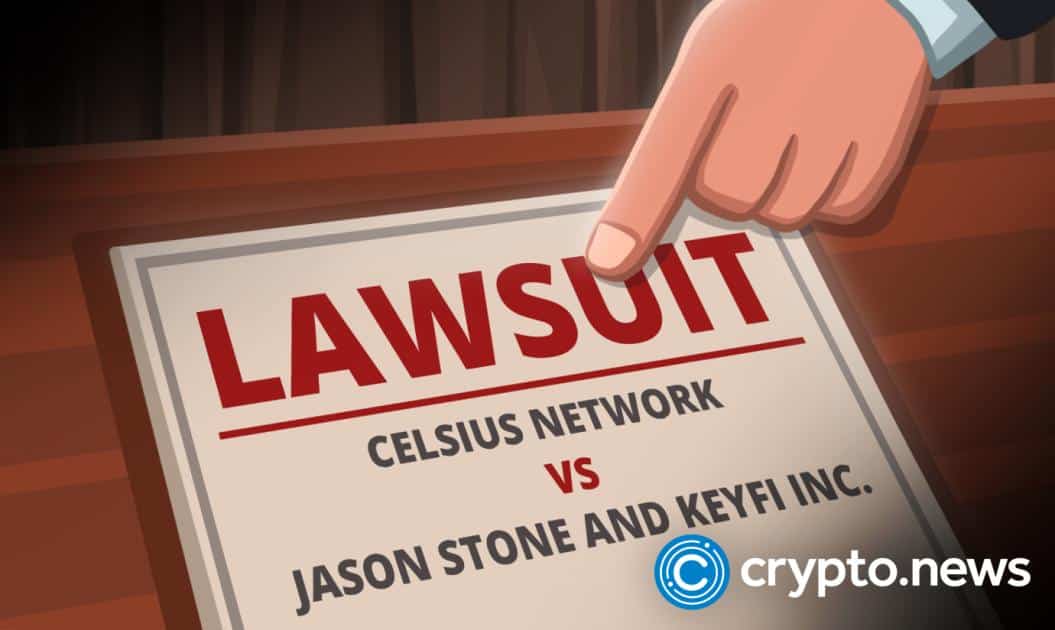 Celsius on Tuesday filed a countersuit against DeFi aggregator KeyFi and its chief executive, Jason Stone, alleging the defendants had stolen valuable property from the crypto lender.
Stone Allegedly Used Tornado Cash to Cover His Tracks
The Celsius lawsuit describes Stone and his company as "incompetent thieves." Additionally, Celsius alleges that Stone used Tornado Cash, a crypto mixer recently banned by the U.S. treasury, to hide his theft of the assets.
In the lawsuit, Celsius accuses Stone of falsely identifying himself as an industry leader in currency staking and DeFi investments to get access and control over the crypto lender's assets. Unfortunately, Stones and his company found themselves unable to manage the funds put in their trust and appear to have mismanaged thousands of Celsius coins.
Celsius claims that Stone and KeyFi transferred millions of dollars worth of coins from Celsius wallets to addresses they allegedly controlled. Additionally, the bankrupt crypto company accused Stone of using Celsius assets to buy hundreds of NFTs without providing Celsius with any notice. Furthermore, the lawsuit alleges that Stone and KeyFi later sold some of the NFTs for millions of dollars. Additionally, it appears that Stone and KeyFi bought stakes in several blockchain-related businesses and services using funds stolen from Celsius.
KeyFi Previously Sued Celsius for Failure to Pay Fees
Celsius's new filing is interesting because early last month, KeyFi sued the crypto-lending platform over unpaid fees for services rendered.
The KeyFi lawsuit made gravely concerning claims about Celsius's trading and risk-management procedures as the company attempted to provide the enormous returns it promised depositors.
In the suit, KeyFi contended that Celsius hadn't reimbursed it for profits it generated from trading on Celsius's behalf. KeyFi was allegedly guaranteed 7.5% of profits for all staking and 20% for DeFi trading. The agreement reportedly stated that earnings would be expressed in U.S. dollars.
Celsius Sues Prime Trust; Demands Return of $17 Million
In yet another lawsuit, Celsius has sued infrastructure provider Prime Trust for over $17 million in crypto tokens.
At the request of Celsius, Prime Trust offered custody and other services for Celsius customers in New York and Washington. But according to Celsius, when the two businesses ended their partnership in June 2021, Prime Trust only returned digital assets worth around $119 million. Celsius claims that Prime Trust still holds an estimated $17 million in crypto assets.
The lawsuit lists the assets as 2,261,448 USDC, 196,268 Celsius tokens, 398 BTC, and 3,740 ETH.
Celsius is asking a judge to issue an order compelling Prime Trust to hand over the remaining assets and any others that Celsius customers may have transferred to Prime Trust after the partnership ended. Additionally, the crypto lender is seeking damages in an amount to be established at trial.
"By this action, Celsius seeks the turnover and transfer of crypto assets that are in the possession of Prime Trust, an entity that continues to exercise dominion and control over property over which it has no claim or title," Celsius argued in the 54-page suit.