Chainlink and First Labs Organizing a Web3 Summit and Hackathon to Empower Individuals and Projects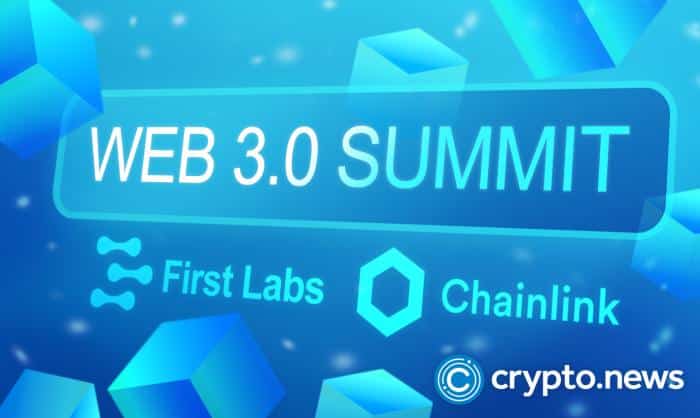 Chainlink, a leading oracle provider, is partnering with First Labs of Pitango, a fund that manages over $1.8 billion in assets, to organize a web3 summit and hackathon on September 8, 2022, from 10 AM to 5 PM at Reichman University, Herzliya, Israel.
Highlighting Strides made by Web3 Startups
In a press release on August 17, the upcoming summit and hackathon will showcase the efforts made by web3 creators in Israel, revealing the strides made in the past few years.
As a global event that will draw thought leaders, investors, and policymakers from across the globe, it shall be an opportunity to connect initiatives by projects with interested parties.
Chainlink and First Labs will also use the summit and the hackathon to highlight how existing problems can be resolved using crypto solutions forwarded by innovative founders in the Israeli scene leveraging the blockchain.
Crypto solutions, primarily anchored on top smart contracting platforms like Ethereum or the BNB Chain, are revolutionizing processes, especially in finance.
By mid-August 2022, the total value locked (TVL) by DeFi protocols, for instance, exceeded $65 billion, recovering after deep corrections following the crypto market winter.
According to Ayal Itzkoviz, the Managing Partner at Pitango, Web3 solutions will break boundaries adding that their partnership with Chainlink will empower startups Israel to realize their full potential:
We believe that in the coming years, Web3 will break the boundaries of the crypto community and become a dominant modality for data sharing and novel applications used by native Web3 users and legacy "web2" users and organizations. We're honored to partner with Chainlink Labs, the global leader in connecting real-world data into the blockchain networks, and together to assist the thriving Web3 Israeli ecosystem to realize its full potential.
Chainlink and First Labs are collaborating to Empower Teams and Individuals
Under the terms of this collaboration, blockchain startup communities in Israel will be plugged into Chainlink's well-developed infrastructure, thereby receiving the necessary technical support for them to expand.
According to David Post, the Managing Director, Corporate Development and Strategy at Chainlink Labs, their support of web3 startups in the country will drive innovation. Specifically, David adds, the summit and hackathon will allow attendees to access "top-tier" mentors and thought leaders.
We see a lot of exciting opportunities for the Israeli tech community to contribute to Web3. To help drive innovation, we're collaborating with First Labs on the first-ever Web3 hackathon in Tel Aviv, with attendees able to gain exclusive access to top-tier mentors and thought leaders. We're looking forward to seeing what the Israeli startup ecosystem develops with the support of Chainlink, the industry-leading oracle solution.
In making the summit and hackathon a success, Chainlink and First Labs are joining hands with Outlier Ventures, Reichman University Venture, MarketAcross, and several startups based in Israel. Participants will be tasked with forwarding practical solutions to solving complex challenges that propel the development of open source and cross-chain infrastructure.
Developers or teams interested in participating can register ahead of the release of the event's challenges on August 25. This will be two weeks before the hackathon kicks off.