Chinese Yuan's Usage in Bitcoin Transactions Falls Dramatically After Regulatory Crackdown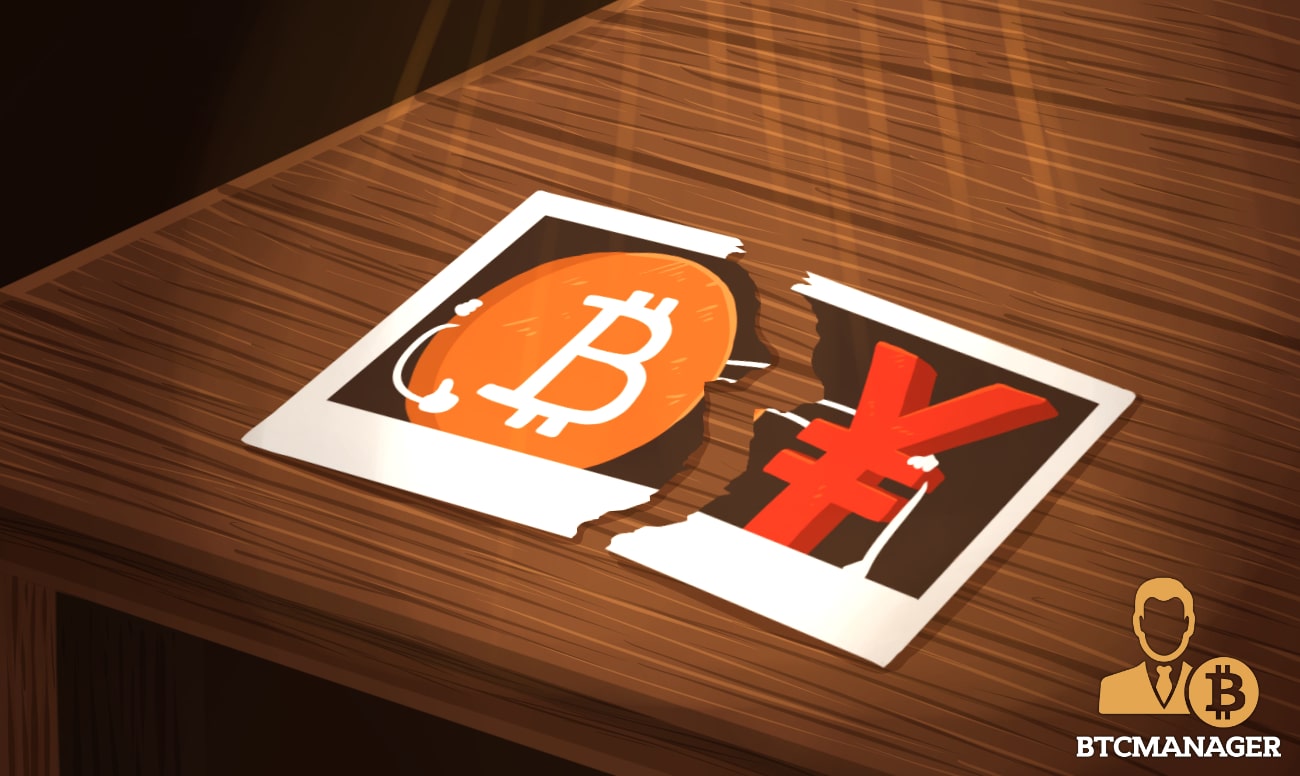 A report from the Chinese news agency, Xinhua, has revealed that the Chinese Yuan's share of bitcoin transactions has fallen dramatically following the Chinese government's decision to impose a series of bans and restrictions on cryptocurrency trading and ICO fundraising in the world's second largest economy.
Crypto Trading Shutdown in China
Since September 2017, Chinese authorities have engaged in a series of aggressive crackdowns on crypto-related activities in the country. They first banned Initial Coin Offerings (ICOs) and later banned cryptocurrency exchanges. Prior to the bans, the yuan's share of global bitcoin transactions topped out at over 90 percent.
The situation alarmed Chinese regulators who feared that bitcoin-yuan trading was being used to circumvent tax regulations and anti money-laundering (AML) laws. China also has some of the world's strictest capital control measures in place, so there was a major risk of bitcoin being used to illegally export capital from China.
In response to these fears, the central government instituted restrictions aimed at severely curtailing the popularity of crypto in the country. According to the Xinhua report, since September 2017, 110 platforms offering cryptocurrency exchange services were shuttered by the Chinese government, most notably including BTCC, Huobi, OKCoin, and Binance, all of whom subsequently moved abroad.
In the same period, Chinese authorities closed down 85 ICO exchange platforms. Cryptocurrency trading was also banned in its entirety, with regulators going as far as working with payment services like Alipay to identify and shut down more than 3,000 accounts engaged in peer-to-peer cryptocurrency trading.
"Successful Policy"
According to the report, the policy has been extremely successful, yielding a stunning drop in yuan-bitcoin transaction volumes in less than a year. Data from the People's Bank of China (PBC), shows that the policy measures have reduced the global share of the yuan in bitcoin transactions "without any risks"  from 90 percent to below one percent, a drop of roughly 99 percent.
The report also stated that the ban on bitcoin trading is not likely to be lifted anytime soon because the severe price fluctuations are seen as a risk to Chinese investors. A number of experts also say that they expect the policy to carry on, based on the success that it has recorded thus far. Speaking about the policy results, Guo Dazhi, research director with the Zhongguancun Internet Finance Institute, said:
"This indicates that the policy has been very successful. It is within expectations that the yuan's share in global Bitcoin transactions would drop after China announced the ban. The fluctuation for Bitcoin has been huge and obviously that is very risky for investors. [Many Chinese investors] could not bear such risks."
BTCManager earlier reported that despite the actions of countries like Thailand, Philippines, Australia, Malta and Japan to regulate the crypto economy and open it up for investment, Chinese regulators have adopted a zero tolerance attitude, forcing Chinese crypto platforms and miners to relocate overseas.