Coinbase Suspends Ethereum Classic Transactions after Double Spend Attack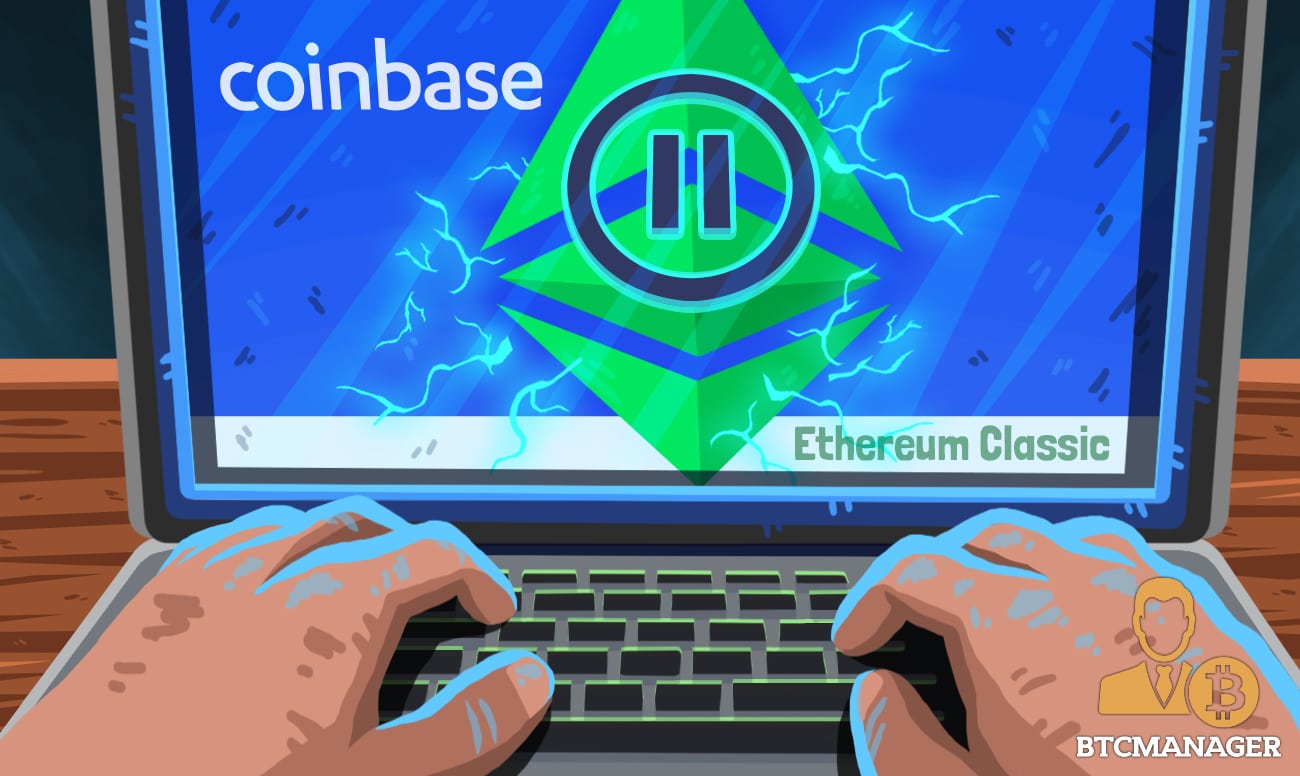 Shortly after detecting a deep chain reorganization of the Ethereum Classic blockchain (ETC) on January 8, 2019, cryptocurrency exchange platform Coinbase Tweeted that it has stopped all transactions related to the cryptocurrency.
Ethereum Classic Blockchain Reorganized
After having a monumental 2018, Coinbase would have hoped to carry the positive momentum into 2019.

However, the U.S.-based crypto trading behemoth was in for a surprise on January 8, 2019, when it was forced to abruptly pause transactions related to one of the cryptocurrencies in its portfolio.
Two important lessons from this shitcoin's demise:
1- The price has barely budged, which shows that demand for these shitcoins has nothing to do with their function, security, or safety and is entirely driven by speculation on exchanges.

— Saifedean.com (@saifedean) January 7, 2019
In a bid to safeguard investor funds and mitigate any further damage because of the double spend attack, Coinbase temporarily halted all interactions with the ETC network.

In crypto terms, chain reorganization attacks are akin to theft. Basically, these attacks rewrite the entire history of transactions on the affected blockchain network, which could retrospectively change the route of cryptocurrency transfers. Typically, cybercriminals and hacker groups quickly move the digital tokens to their crypto wallets during such an attack.

In a blog post pertaining to the matter, Coinbase stated that it found 12 additional reorganizations that included double spends to the tune of 219,500 ETC ($1.1 million).

Emin Gün Sirer, a professor at Cornell University, substantiated on the 51 percent attack on the Ethereum Classic Network. Through a tweet, posted on January 8, 2019, Sirer explained that a deep reorganization on a blockchain network marks the complete failure of its immutability, a feature which is one of the cornerstones of DLT. He dubbed the 51 percent attack a "catastrophic failure" for the ETC network.
The Ethereum Classic community, on their part, also acknowledged the chain reorganization attempt by hackers. The community's official Twitter account appealed to major cryptocurrency exchanges and mining pools to allow a higher number of confirmation blocks on ETC withdrawals and deposits.

As per the latest tweet, the ETC community is in discussion with blockchain security firm SlowMist to come up with solutions to improve the cryptocurrency's proof-of-work (PoW) consensus mechanism.
51 Percent Attacks Continue to Plague the Cryptocurrency Ecosystem
While digital currencies have come a long way in the past decade, 51 percent attacks continue to be a dire chink in the armor of poorly-managed cryptocurrencies.

BTCManager reported on November 13, 2018, how AurumCoin, a cryptocurrency backed by gold fell victim to a 51 percent attack, resulting in the loss of $11,233. Similarly, on April 5, 2018, reports emerged that cryptocurrency project Electroneum has succumbed to a 51 percent attack.