Coinbase Unveils Paycheck Deposit Service for U.S. Customers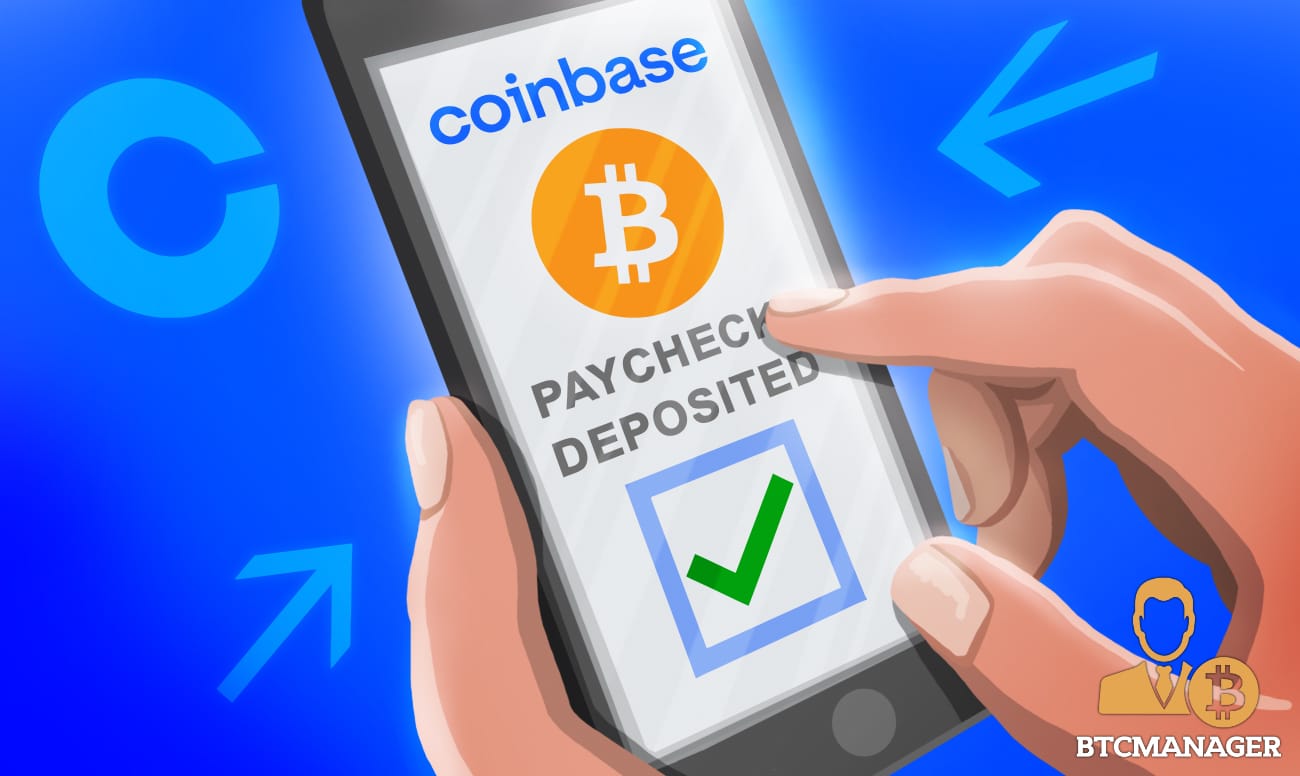 Leading cryptocurrency exchange Coinbase is set to roll out its very own crypto payroll service.
A Step Closer to Crypto Payroll
In an announcement made yesterday, U.S.-based cryptocurrency trading platform Coinbase announced that in the coming few weeks, it will roll out a crypto payroll feature that will enable customers in the U.S. to directly deposit their paycheck into Coinbase.
One step closer to crypto payroll… https://t.co/PxPFbHlC2I

— Brian Armstrong – barmstrong.eth (@brian_armstrong) September 27, 2021
The crypto payroll service means Coinbase customers in the U.S. will soon be able to trade and store cryptocurrencies in a seamless manner without having to worry about converting fiat into crypto.
Additionally, the U.S.-based Coinbase customers will be able to make crypto trades more regularly, spend on Coinbase Card, and earn crypto rewards.
The crypto payroll service unveiled by Coinbase will help customers save on the extra steps that it takes for them to start earning interest on their income or earn rewards via their Coinbase Card. Moreover, the customers will have to pay zero transaction fees on direct deposit funds so as to ensure they have instant and free access to the budding crypto space.
The crypto payroll feature will allow Coinbase customers in the U.S. to stay in complete control over their money by depositing as little or as much of their paycheck into the exchange as they deem fit.
Customers will be able to get paid in any of the 100+ digital assets available on Coinbase or in USD, the announcement reads.
It adds:
"Choose to get paid in crypto so you can make recurring buys or earn interest on your income (by getting paid in USDC, DAI, or other interest-yielding assets), or choose to get paid in US Dollars to be ready for any trade or to spend with your Coinbase Card."
Leading the Crypto Payroll Race
In its announcement, Coinbase added it is committed to making it easier for business to pay their employees in crypto.
To that effect, Coinbase has already partnered with several companies such as Fortress Investment Group, M31 Capital, Nansen, and SuperRare Labs, to allow employees throughout the creator economy and financial services to enter the future of payroll.
In recent news, BTCManager reported on August 20 that Coinbase would invest 10% of all its future profits to purchase cryptocurrencies.