CoinMarketCap Testing the DeFi Waters with Token Swap Feature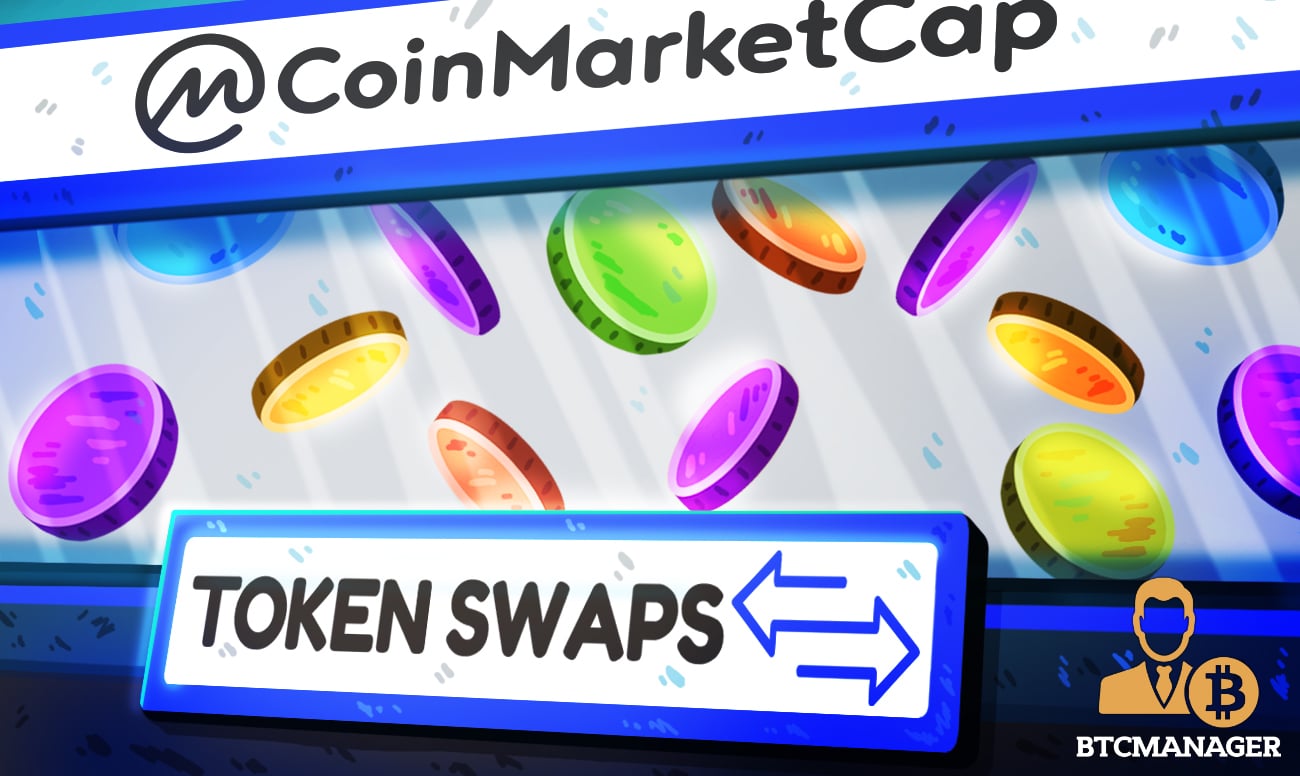 CoinMarketCap has announced that its users can now easily swap their Ethereum-based DeFi tokens right from the website. The feature will initially support only Uniswap V1 and V2, as well as all Uniswap compatible wallets including MetaMask, WalletConnect and Coinbase wallet, amongst others, according to a blog post on June 29, 2021.
CoinMarketCap Token Swaps 
CoinMarketCap, a leading cryptocurrency price, and market data aggregator, has announced the addition of a token swap feature to its website, making it easier for market participants in the fast-growing decentralized finance (DeFi) space to provide liquidity.
As stated in its blog post, Uniswap  (V1 & V2) is the first automated market maker (AMM) supported by CoinMarketCap Swap, however, the platform may integrate more decentralized exchanges as time goes on.
In the same vein, Ethereum is the only blockchain network currently supported, while all Uniswap-compatible wallets, including MetaMask, WalletConnect, Coinbase Wallet, Fortmatic, and Portis are also available on the platform.
"As of today on CoinMarketCap, users can actually swap the tokens whose prices they had been admiring (or bewailing).On every supported network and token, you will be able to connect a supported crypto wallet and swap your tokens right on CoinMarketCap in a safe and secure way," the team wrote.
How it Works 
To carry out a token swap via CoinMarketCap, the team says a user must first navigate to the page of the crypto asset, "you will see a converter between a selection of two coins on the right side of the page, and the option to 'Swap on CoinMarketCap," wrote the team.
"Make sure that you have checked the liquidity provider fee that will be charged, the route, the price impact, the minimum received, and the slippage tolerance before confirming your swap, " it added.
Acquired by Binance crypto exchange for $400 million in 2020, CoinMarketCap has managed to remain one of the top crypto market data aggregators despite having its fair share of controversies. 
Per data available on Similarweb, the CoinMarketCap website has received more than 270 million visitors in the last six months.
At press time, the total value locked (TVL) in the Uniswap (UNI) DeFi protocol sits at $4.4 billion, according to DeFi Llama.