CoinZoom Joins Visa's Fintech Fast Track Program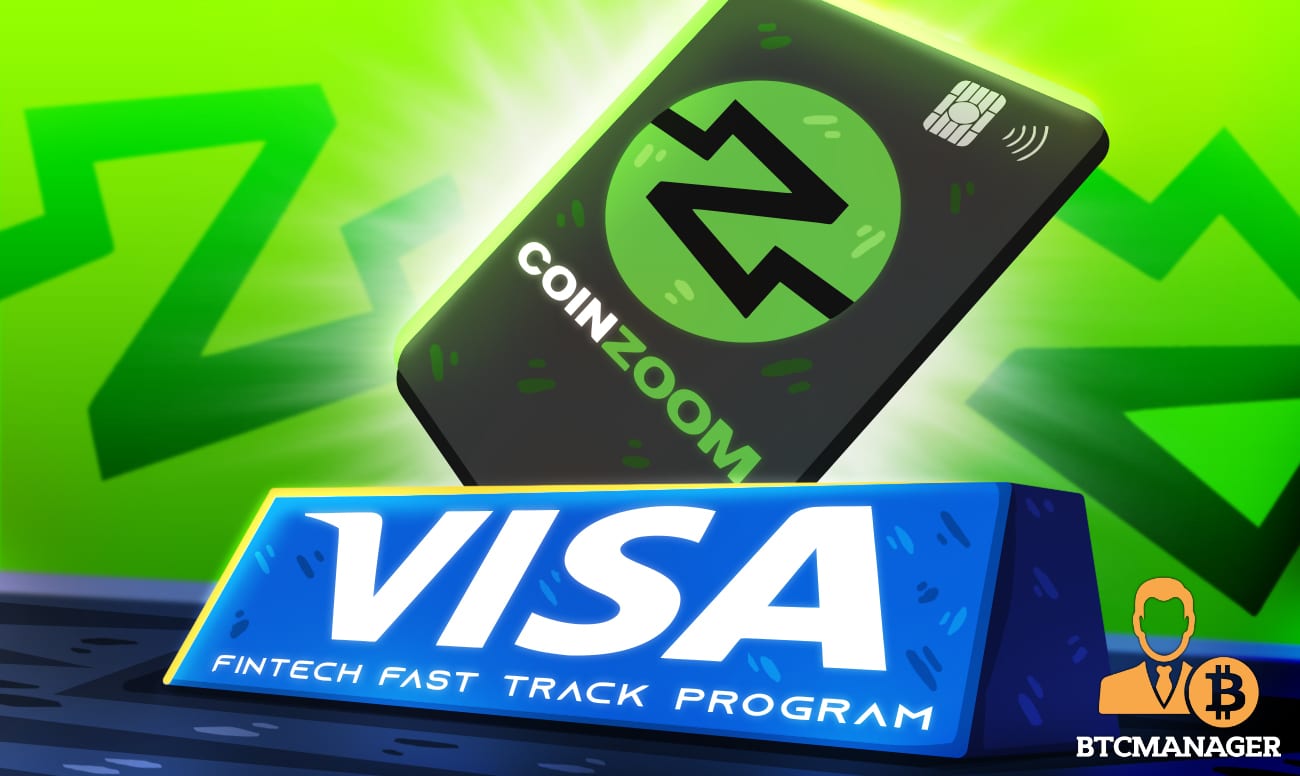 Leading U.S based cryptocurrency exchange CoinZoom has announced that it has joined Visa's Fintech Fast Track Program. This development is expected to speed the process of integrating with Visa and expand CoinZoom's capability to leverage the capabilities and security of the Visa global payment network. 
CoinZoom to Launch New Products in Collaboration With Visa
The crypto exchange made this announcement in a press release on Friday, May 14, 2021, with key details. CoinZoom customers will be able to send funds from their wallets to their debit cards in real-time using the Fast Track technology. The collaboration will also enable CoinZoom to integrate Visa Direct, a real-time push payment platform. 
CoinZoom will utilize Visa Direct and launch a new service called CoinZoom Instant. With CoinZoom Instant, users will be able to convert their crypto to fiat and send funds to their debit cards. The innovative service will also allow money to be sent to eligible debit card and prepaid card accounts to complete payouts, P2P transfers, app withdrawals, and many more. CoinZoom estimates that the service will reduce the confirmation times for transactions from 2-3 days to within a few hours. 
CoinZoom customers will also be eligible to receive up to 3% moneyback in crypto when they send their funds using CoinZoom Instant. Currently, CoinZoom offers Visa debit card that allows U.S customers to exchange their crypto for fiat and spend in over 53 million merchants and ATMs globally. This development is expected to take the level of collaborations between the two companies to the next level. 
Visa's Fintech Fast Track Program is a bootstrap program that provides startups with the ability to access Visa's partner network and resources. Startups like CoinZoom will be able to build new products with the support of Visa and expand payment services in the most efficient way possible. 
Speaking on the partnership with Visa, CoinZoom CEO Todd Crosland revealed his delight and stated that it represents a major milestone for the exchange.
"Our customers can currently send fiat or crypto instantly to other users for free via our peer-to-peer transfer feature, ZoomMe, and now through our expanded collaboration with Visa, we will be able to provide a premier service to global customers in the peer-to-peer marketplace that totals over $20T per year.''
He also added that the integration would reduce the wait time for crypto to fiat transfers.
"Through the integration with Visa Direct, our U.S. customers will be able to convert crypto and send their fiat to their eligible debit cards in real-time, as opposed to waiting 2-3 days for a bank wire. With CoinZoom Instant, customers will be able to easily send fiat or crypto from one account to another, one bank to another, or one country to another in real-time," Crosland concluded. 
Terry Angelos, SVP and Global Head of Fintech, stated that CoinZoom had a lot to gain within the Visa Fast Track program.
"Fast Track lets us provide new resources that rapidly growing companies need to scale with efficiency." 
About CoinZoom
CoinZoom is a U.S registered exchange and available in 50 states. The exchange also has subsidiaries in Australia and Ireland. The digital asset exchange uses novel technology to provide a user-friendly experience for traders. It offers customer-focused tools and trading features to ensure that customers can access the best trading opportunities. CoinZoom offers buying, selling, and transaction services for crypto assets and supports popular assets like Bitcoin, Ripple, and Ethereum. Its primary product is the CoinZoom Visa card that allows users to instantly convert crypto to fiat and use it in over 100 countries globally.