Cross-chain, Secure Cryptocurrency Swaps Made Possible by Faast and Trezor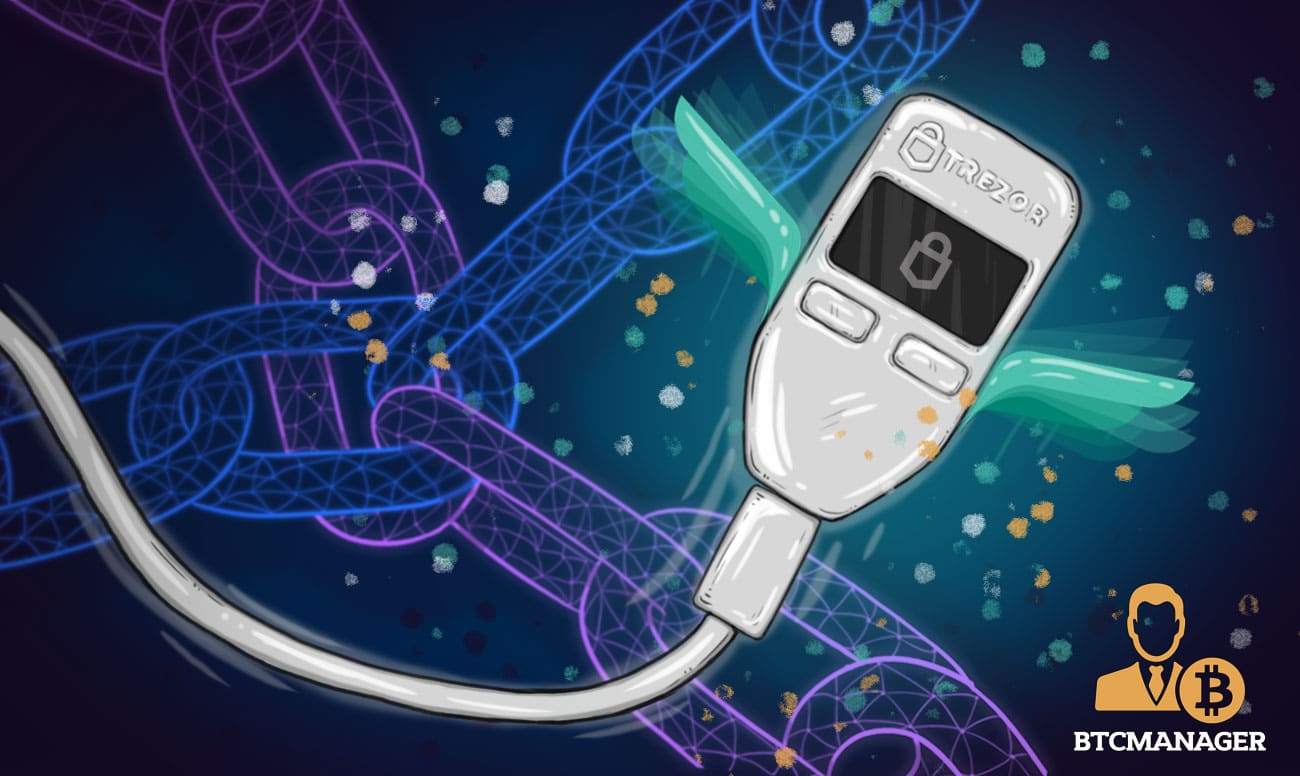 You can now swap between bitcoin and altcoins within hardware wallets like Trezor thanks to the integration of cryptocurrency portfolio app Faast.
The rising use of cryptocurrency is marked with a proportional increase in their theft, with over $1.3 billion worth of cryptocurrency stolen in 2018 alone. Undeniably, the safest bet to store digital assets and keep cybercriminals at bay is to utilize a personal hardware wallet, as exchange wallets have proven to be unreliable on several occasions.
While hardware wallets are often criticized for their intimidating functionality, alongside the lack of trading features, the sentiment looks primed to change soon.
The Faast and The Trezor
Faast, a cryptocurrency portfolio building app, has released a short guide which allows busy individuals to integrate their offering with the Trezor hardware wallet, to facilitate a secure, cross-chain trading experience.
As stated:
"Using your Trezor device with Faast is literally the most secure way in the world to trade and build a diverse cryptocurrency portfolio without putting your funds at risk on an exchange you don't control."
Here's How it Works
Users must connect their Trezor wallet to PC and install Trezor Bridge. After installation, visit Faast's portfolio page, ensuring a small amount of bitcoin/ether/ERC-20 token is present for the trading process.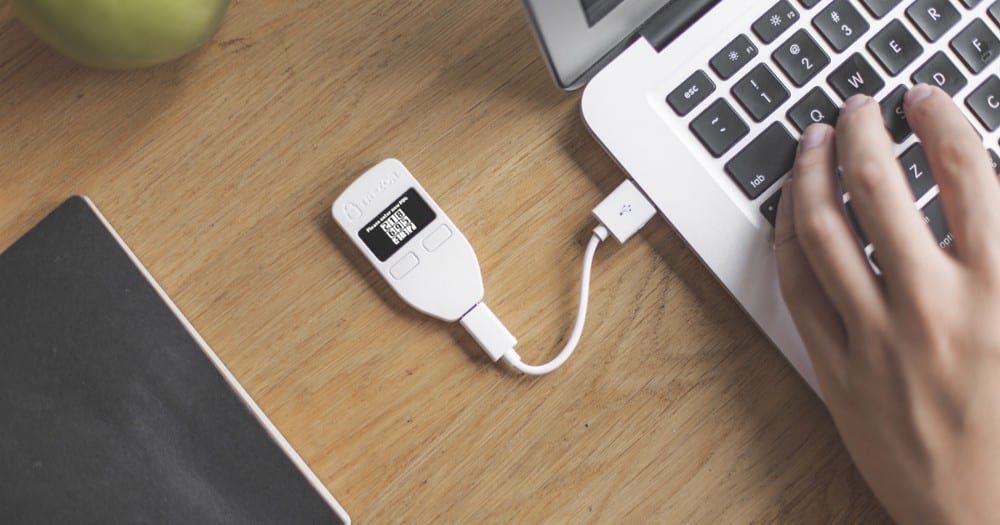 Trezor connected to a PC. Source: Trezor
2. Below the "Select your wallet," a selection for either Trezor or Ledger is available. Click on the Trezor Icon.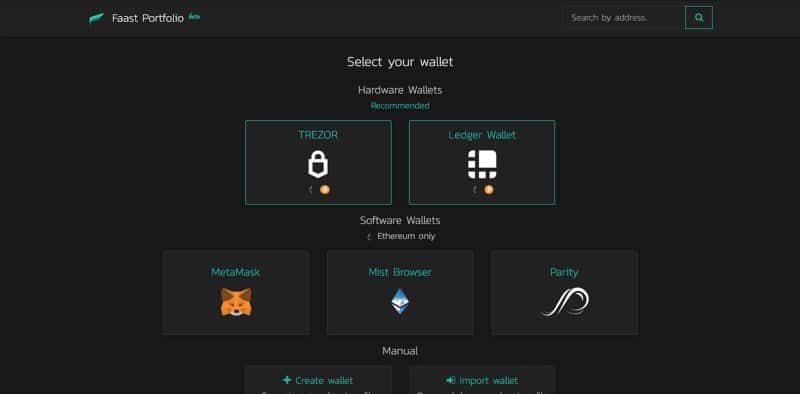 Source: Faast
3. Click "Add All Currencies" after the pop-up window prompt.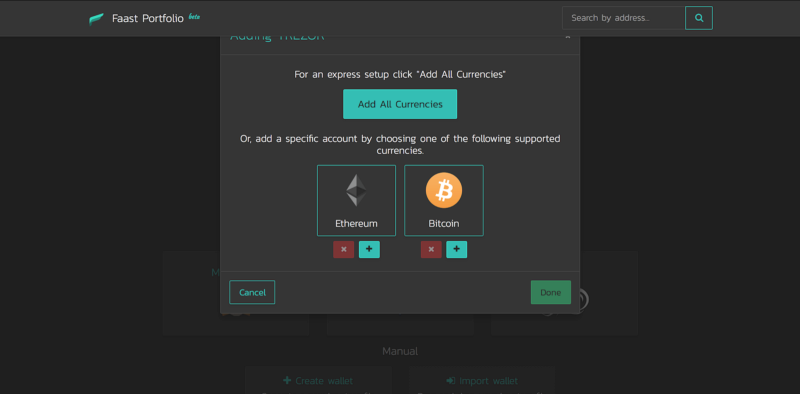 Source: Faast
4. Enter the Trezor PIN, and choose bitcoin/ether on the chosen trading accounts.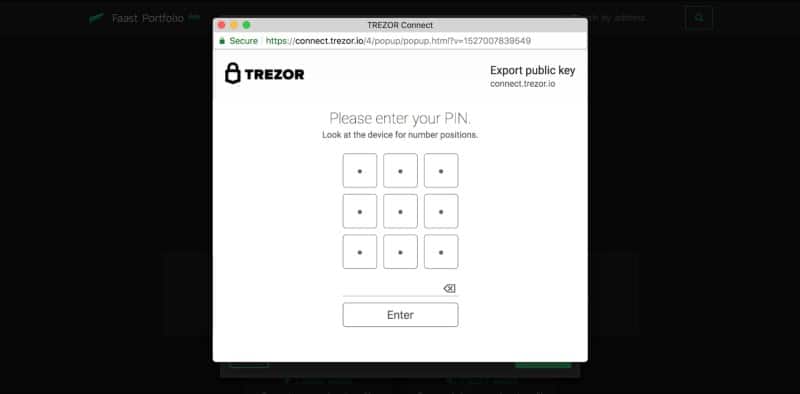 Source: Faast
5. All of a user's cryptocurrency holdings can now be seen on a single screen on Faast.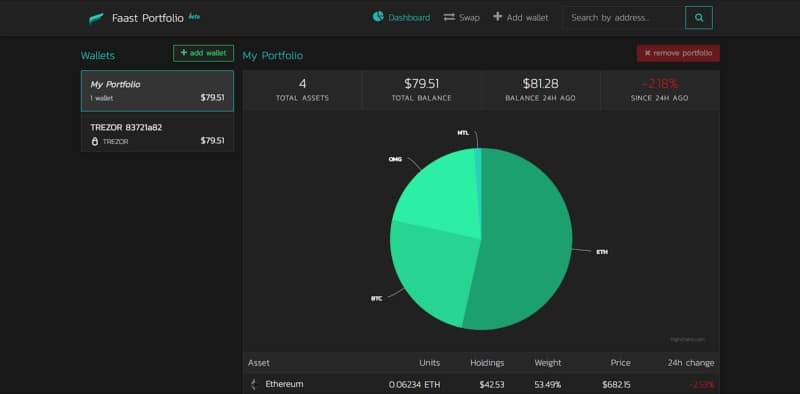 Source: Faast
6. Cross-chain trading is now possible; the click-and-drag interface is simple and intuitive enough to select the exact amounts for each token.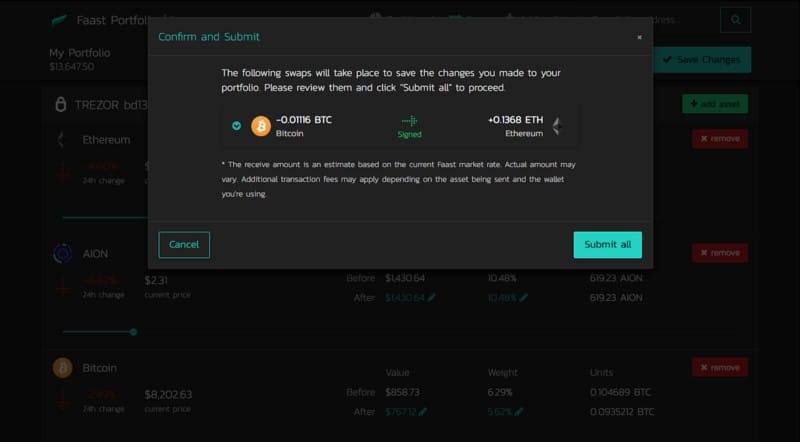 Source: Faast
The swap takes place over Faast's secure platform, with all funds directly sent to the user's Trezor wallet.
Salient Features of Trezor+Faast Setup:
The advantages of using such a setup are listed below: 
1.Swift and Safe Trading:
Connecting the wallet with the cross-chain platform fuses the benefits of a hardware wallet and liquidity of an exchange.
2.Cross-chain Trades, Simplified:
When combined with Trezor, Faast allows users to skip an extra step and directly trade cryptocurrencies via their hardware device. It eliminates the need to transfer your funds to multiple wallets and omits the possibility of a chosen token being unavailable.
3.Greater Privacy:
The recent thefts and hacks in the market have forced regulatory bodies to augment their security, and require exchanges to provide information on personal details. However, this setup needs one to connect their Trezor wallet and begin trading.
At the time of writing, bitcoin and ether trade at $7573 and $602 respectively, according to data collated from CoinMarketCap.